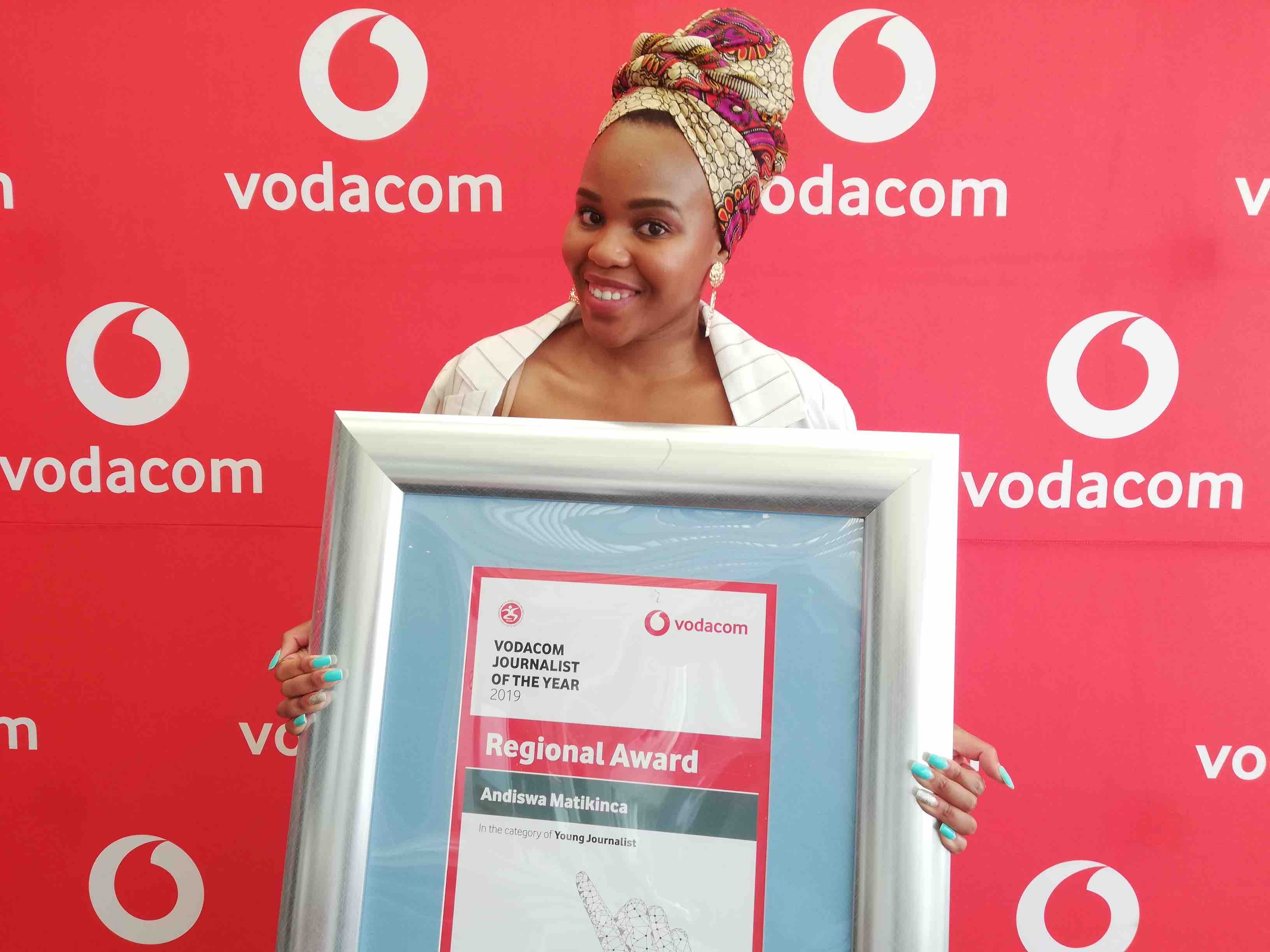 11 Nov

#MineAlert shines at Vodacom Awards
A year after joining Oxpeckers, Andiswa Matikinca was crowned regional winner of the prestigious Vodacom Young Journalist of the Year Award
Oxpeckers associate and manager of our #MineAlert digital tool, Andiswa Matikinca, won the Vodacom Young Journalist of the Year Award for the KwaZulu-Natal and Mpumalanga region on November 7 2019. The title automatically puts her in line as a finalist for the national Vodacom Young Journalist Award, due to be announced in Johannesburg on November 21. 
Matikinca graduated from Rhodes University with a Bachelor of Arts in journalism and media studies and sociology in April 2018. She joined Oxpeckers in September 2018 as an intern and three months later took over the role as programme manager. In recent months she has overseen the launch of Mining your Water, a geojournalism tool that tracks water use licence applications and licences for mining developments.
For the Vodacom Young Journalist Award, entrants had to submit a body of work done while working in a newsroom for less than three years, along with a strong motivation "showing commitment to the vocation of news well above the norm", said Vodacom's convenor of judges Ryland Fisher. 
Matikinca won the regional award for three articles she wrote for #MineAlert, which analyses data shared on the platform for journalistic investigations. The first story arose from a tip-off about coal mining activities in close proximity to the Greater Lakenvlei protected area in Mpumalanga. 
The second story documented the rise of attacks on anti-mining activists and environmental defenders. This story also received an honourable mention on Medium's quarterly Best Shortform Science Writing project for the data and investigative shortform category.
Her third article detailed non-compliance with water use conditions by eight coal mines operating in Mpumalanga province. It is this type of non-compliance with regulations, particularly in strategic water zones, that the Mining your Water project is tackling.
According to Fisher, the Vodacom Young Journalist Award aims to "further the career of a dynamic young journalist in South Africa". The national winner will be rewarded with an all-expenses-paid trip overseas and the opportunity to gain cutting-edge training in a newsroom context with the Thomson Reuters Foundation. 
• #MineAlert and Mining your Water are supported by the Open Society Foundation for South Africa and Code for Africa