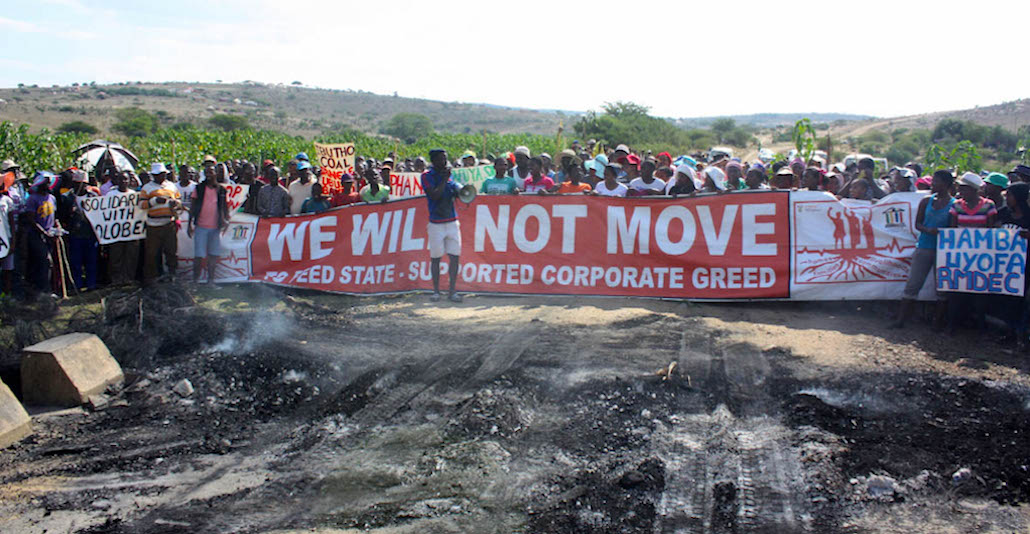 16 Apr

Mining opponents operate in 'environment of fear'
'We know our lives are in danger': Attacks on anti-mining activists and environmental defenders documented in new report. Andiswa Matikinca investigates
In the village of Fuleni, in the foothills of one of South Africa's oldest and largest wilderness areas, the Hluhluwe iMfolozi Park, an activist codenamed "Billy M" has received threats over the past five years from unidentified sources.
He believes these threats are linked to his role in opposing a coal mine that would have required the relocation of hundreds of people from their houses and farmlands, and would have destroyed their graveyards. The proposed mine's environmental impact assessment estimated that more than 6,000 people living in the Fuleni area would be impacted, and that blasting vibration, dust and floodlights could harm the community.
During the environmental consultation processes conducted by Ibutho Coal, which applied for rights to develop a coal mine in Fuleni in 2013, Billy M led opposition by community members that culminated in a protest in April 2016. The company reportedly abandoned the project in 2016, but in 2018 a new company, Imvukuzane Resources Ltd, applied for a prospecting licence in Fuleni.
Billy M reported hearing gunshots at the gate of his house on the night of August 13 2013. He did not report the incident to the police and although he did not know who was responsible for the shots he stated that he was worried traditional leadership in the area might have been involved.
He says he has recently been warned by community members that he will be in trouble if he continues to oppose mining.
"We know our lives are in danger. This is part of the struggle," Billy M told researchers in an interview in March 2018.
His statement is the title of a report documenting the harassment, intimidation and violence community activists in mining areas in South Africa face. Launched on April 16 2019 at Constitution Hill in Johannesburg, the report – We know our lives are in danger: Environment of fear in South Africa's mining-affected communities – was compiled by Human Rights Watch (HRW), an international NGO that conducts research and advocacy on human rights, together with local environmental NGO groundWork, the Centre for Environmental Rights (CER) and Earthjustice.
Documenting threats, attacks and other forms of intimidation against mining-affected communities between 2013 and 2018, the report focuses on the Eastern Cape, Limpopo, KwaZulu-Natal and North West provinces. It also highlights intimidation against environmental defenders via strategic litigation against public participation (SLAPP) lawsuits and social media campaigns.
These tactics have created an overall environment of fear when it comes to activism in mining-affected communities, the reports says.
"The issue is as topical as ever. Only last week, there was an arson attack against one of the activists' home and armed men threatened his family. The activist was going to be at the launch, but had to return home because of renewed threats at the weekend," said HRW spokesperson Birgit Schwarz on the eve of the launch.
Bazooka assassination
The most well-documented attack was the assassination in March 2016 of Sikhosiphi "Bazooka" Radebe, chairperson of the Amadiba Crisis Committee, a community-based organisation opposing titanium mining plans in Xolobeni. Radebe was killed by unidentified men in his home in the Eastern Cape and to date no one has been brought to book for his killing, which the community believes was linked to his activism.
Commenting on the assassination, CER attorney Matome Kapa said such incidents serve to spark more resistance and strengthen the environmental justice movement in South Africa.
"In terms of the law taking its course, that is something I am not sure I can comment on, but one thing I know is that as activists we will continue pushing to ensure that the law does indeed take its course," said Kapa.
Over the past year, clashes have erupted between the police and community members at Xolobeni, and in November 2018 the Pretoria High Court held that the government had to obtain Free, Prior and Informed Consent from the community before granting any mining rights in the area.
Although accounts from the Xolobeni community have garnered domestic and international attention, many threats and attacks against activists in other parts of the country have gone unreported or haven't received as much attention.
About 20km away from the proposed Fuleni mine several community activists critical of the Somkhele coal mine have experienced threats, physical attacks and damage to their property. This, they believe, is in response to their opposition to Tendele coal mine, the subject of court cases and protest action.
Elsewhere in KwaZulu-Natal, "community members opposing Chelmsford coal mine in Newcastle have also experienced threats because they oppose mining", says the HRW report.
In Limpopo's platinum belt, activists opposing mining have also received threats warning them to withdraw from their activism or "face the consequences".
Women activists
The report points out that women activists have often been targeted by their communities for voicing their concerns about the harms of mining that impact them directly. Women activists from KwaZulu-Natal interviewed in the report have received several death threats because of their activism.
"Lebogang N", an activist from Fuleni, said she had received several death threats from fellow community members who were hoping that a coal mine could bring them jobs. She did not report these threats to the police and also turned down offers of support by NGOs to help her leave the community.
"If I had left I would have worried about my family, especially my daughter," she said.
Research cited by the report has found that threats against women activists has adverse effects not only on them but on their families and children as they are usually the primary caregivers.
Community activists are also targeted by traditional authorities who in some instances have "consented" to mines on behalf of communities without consulting them. The branding of activists as being "anti-development" puts them at further risk and is, according to the report, a tactic created to weaken and isolate them.
The report documents instances of police misconduct, arbitrary arrest and excessive use of force during protests in mining-affected communities, which it says is part of a larger pattern in South Africa.
Municipalities and local government authorities have also had a hand in stifling activism from mining-affected communities by placing bureaucratic burdens on protest organisers, making it difficult and sometimes impossible for protests to take place.
"When the community members apply for a protest [about mining], we call a so-called rapid-response meeting. The goal is to prevent the march from happening," the report quotes a municipal official from Limpopo interviewed on August 8 2018.
When municipalities reject or delay approving protest applications, communities often protest without approval, which often leads to police violence and arrests of activists, the report finds.
Although everyone has a constitutional right "to assemble, to demonstrate, to picket, to peacefully and unarmed  present petitions", community members who were interviewed for this report said they struggled with tedious and lengthy protest notification processes created by municipal authorities.
"Government and all those actors need to allow space for communities to exercise their human rights to freedom of expression, to peaceful assembly, to protest," said attorney Ramin Pejan, from United States-based legal organisation Earthjustice.
"The key part of this report is to respect the human rights of these communities and to allow them in a democratic country to express their concerns," he said.
• Tales from the coalface: #MineAlert speaks to activists about violence, secret deals, a lack of access to information and unenforced laws.
• Find the HRW report here