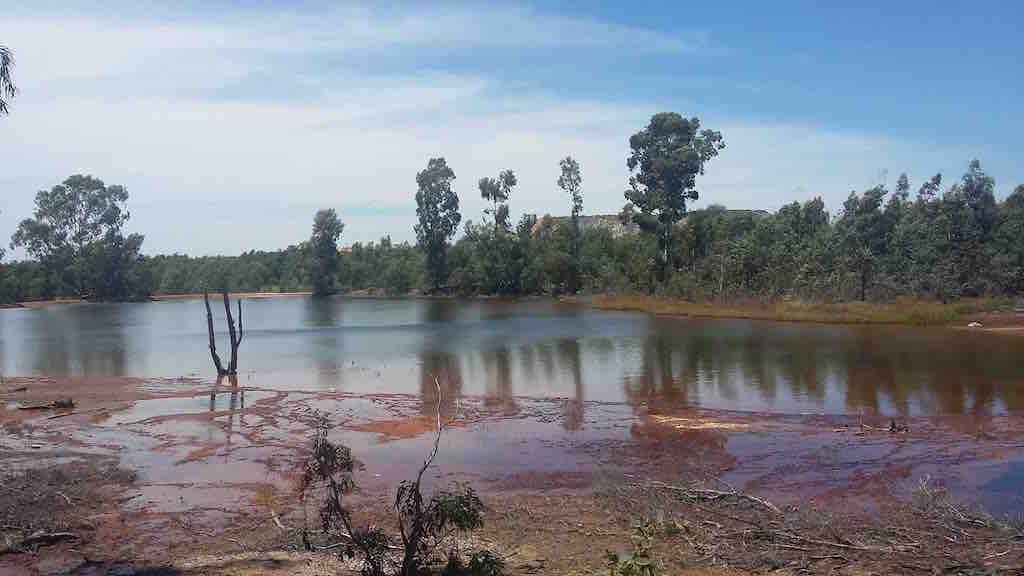 03 Jul

Non-compliance in water use: who takes the blame?
New report exposes 'gross violations' of water permit regulations by eight coal mines in Mpumalanga. Andiswa Matikinca investigates
Coal mines in Mpumalanga are in "gross violation" of water use regulations and there are "massive failures" by the Department of Water and Sanitation to make them comply, says a new report released by the Centre for Environmental Rights (CER).
Based on an assessment of eight coal mines operating in the province, the report shows coal mining is one of the main culprits of polluting both surface and underground water resources.
It highlights the disintegration of the regulatory system responsible for issuing water use licences as well as ensuring compliance. The regulatory breakdown makes it possible for both licence holders as well independent environmental auditors to be complicit in non-compliance, the report says.
"Mining companies are getting away with interpreting water use licence conditions in a way that limits the measures they should undertake, ignoring requirements not clearly stated and deviating from the commitments that were made in their licence applications as there is no working system that monitors compliance on an ongoing basis," the report says.
This situation has "had a devastating impact on the Olifants River catchment", a strategic water resource area that feeds into more than 30 major dams and services a large number of irrigation schemes, including Loskop. The Olifants catchment has been identified by the department as one of the "most stressed" catchments in South Africa in terms of water quality and quantity.
Previous research by #MineAlert shows that Mpumalanga ranks first on the list of mines known not to be complying with their water use licences.
In May, #MineAlert reported on the increase in the number of mines flouting water regulations across South Africa. Data showed 118 mines were polluting local rivers, inadequately testing for contamination, or otherwise dirtying waterways, while 115 were known to be operating without proper water use licences in place.
Attempts to get the department to comment on these figures and on why the department had allowed mining companies known to be non-compliant with water regulations to continue operating were unsuccessful.
Name and shame
The CER report, The Truth about Mpumalanga Coal Mines' Failure to Comply with their Water Use Licences, names the following culprits:
Tweefontein South (at the time of assessment, owned by Glencore Operations South Africa; Manungu Colliery (Tshedza Mining Resources); Leeuwpan Coal Mine (Exxaro Resources Limited); Khutala Colliery (South32 SA Coal Holdings); Vanggatfontein Colliery (Wescoal Mining); Isibonelo Colliery (Anglo American plc); Goedgevonden Colliery (Glencore Operations South Africa); and Kangala Colliery (Universal Coal Development 1 RF).
Initially 13 coal mines operating in the Olifants and Wilge River water catchment areas were chosen for assessment, but only the above eight had water use licences and independent audit reports that were available to be assessed over several months.
The report states that as a standard condition of all water use licences, external licence compliance audits should be undertaken and the results should be submitted to the department.
"Although the role of checking compliance has been outsourced, it seems to be failing as there is no active system in place to 'fact check' the reports from these audits and to hold licence holders accountable," the report says.
Problems at the department that assist licence holders to get away with flouting water regulations include an inability to issue water use licences within a reasonable amount of time, licences issued with inappropriate conditions and inadequate monitoring requirements, and slow processing of licence amendment applications.
Recommendations to improve water use licence compliance and monitoring include reviewing the capacity of the department. A report released in 2017 by the South African Water Caucus showed the department had just 35 compliance and enforcement officials to cover the entire country. This review will assist the department in fulfilling its regulatory function and ensuring that appropriate licences are issued within a reasonable amount of time.
The report also recommends that the department introduce a standard condition that would enable it to commission an independent audit at the cost of the licence holder and that the chief executive of the licence holder should certify that the results of external audits are true and accurate. Should this declaration be found to be inaccurate, the chief executive as well as the external auditors should be held liable and legal proceedings be instituted against them by the department.
CER believes that "one or two such precedents are likely to bring about a rapid and dramatic improvement in water management in the mining sector".
As South Africa faces a crisis with water security, the centre called on "legislators, regulators, industry, financiers and investors to use their spheres of influence to take immediate action for meaningful reform".
• Use #MineAlert to track and share mining licences across South Africa