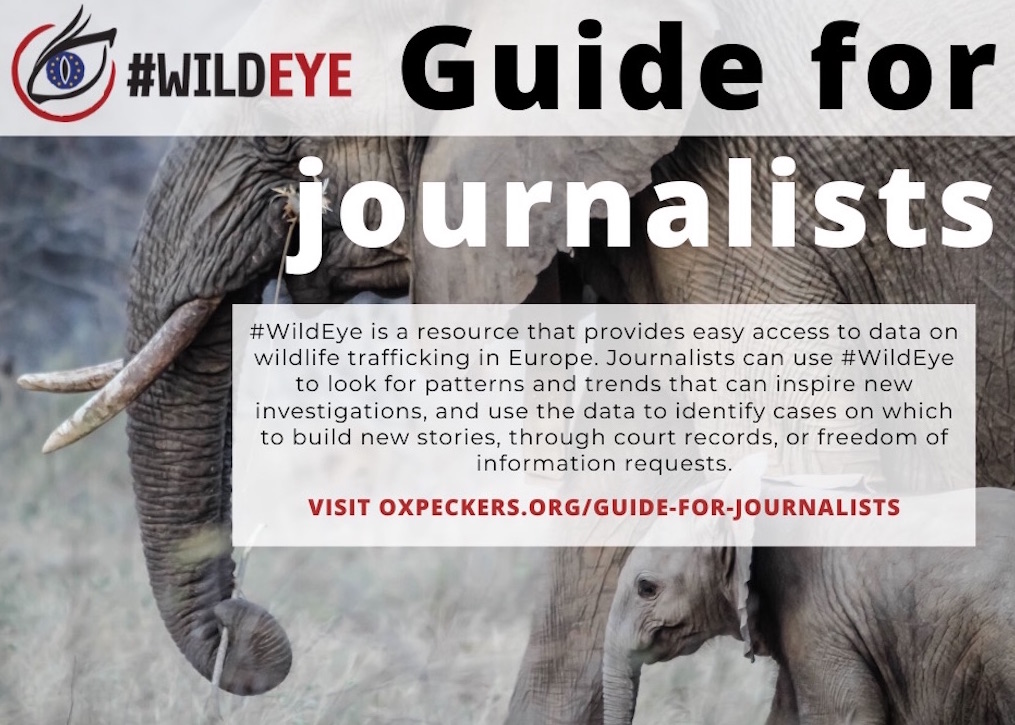 22 Nov

Talking wildlife crime in Europe
A recent #WildEye webinar raised lively discussion among journalists and other participants about Europe's role in the global illegal wildlife trade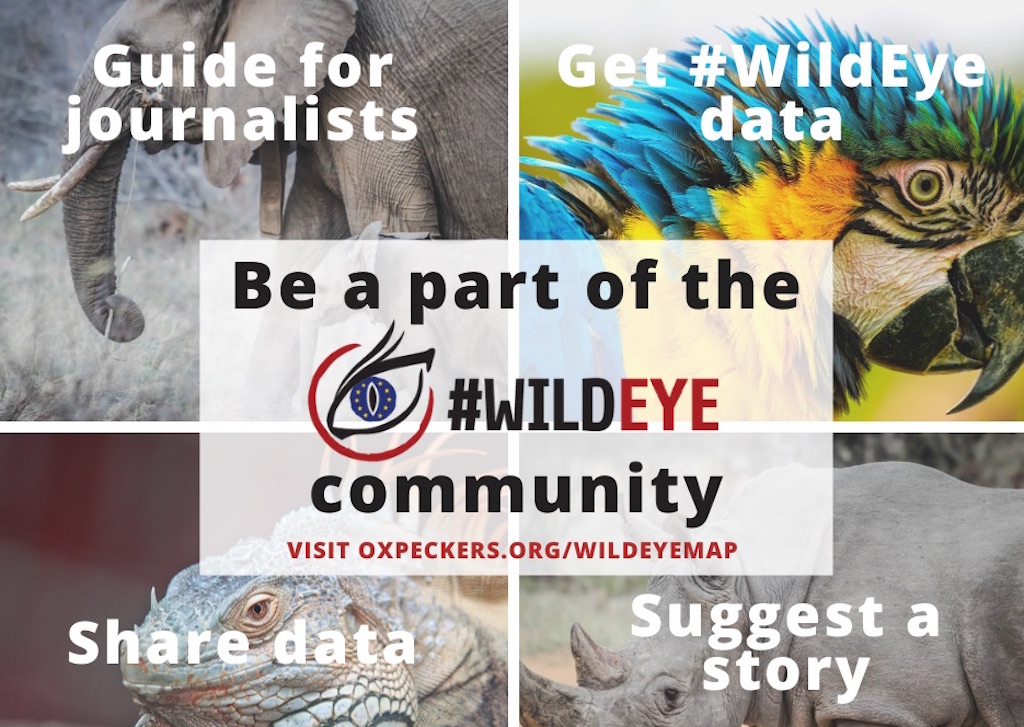 In early 2019 Oxpeckers Investigative Environmental Journalism launched #WildEye, a digitial geojournalism tool that maps and tracks data on Europe's role in the illegal wildlife trade. The tool is the first of its kind to create a centralised database that compiles information on seizures, arrests, court cases and convictions related to wildlife crime in Europe.
Less than a year after #WildEye was launched, we've made some exciting changes to the tool that allow users to access data more easily, suggest a story and share new information on wildlife crimes. The number of incidents on the map has also increased, with a stronger focus on incidents in central and eastern Europe and the inclusion of more incidents related to exotic reptiles, birds and eels.
To showcase these changes and encourage more journalists to use the tool, Oxpeckers and and our partner, Internews' Earth Journalism Network (EJN), co-hosted a live webinar on November 20 2019 for 25 to 30 journalists and other participants from environmental organisations around the world.
Among the questions we tried to answer was: why Europe, and why now?  
"Europe's role in the illegal wildlife trade is greater than most people realise," EJN's Mike Shanahan explained to participants. "It is an increasingly important conduit through which wildlife products are smuggled, as well as a major source and market of wildlife products."
But, as Shanahan went on to say, the media tends to focus on crimes such as rhino poaching in Africa and the consumption of products such as ivory in Asia. That is how the Investigating Wildlife Trafficking journalism project, a collaboration between Oxpeckers and EJN that includes the creation of #WildEye, came about.
"We wanted to shine a light on Europe and boost media coverage on Europe's role in the illegal wildlife trade," said Shanahan, who manages the project.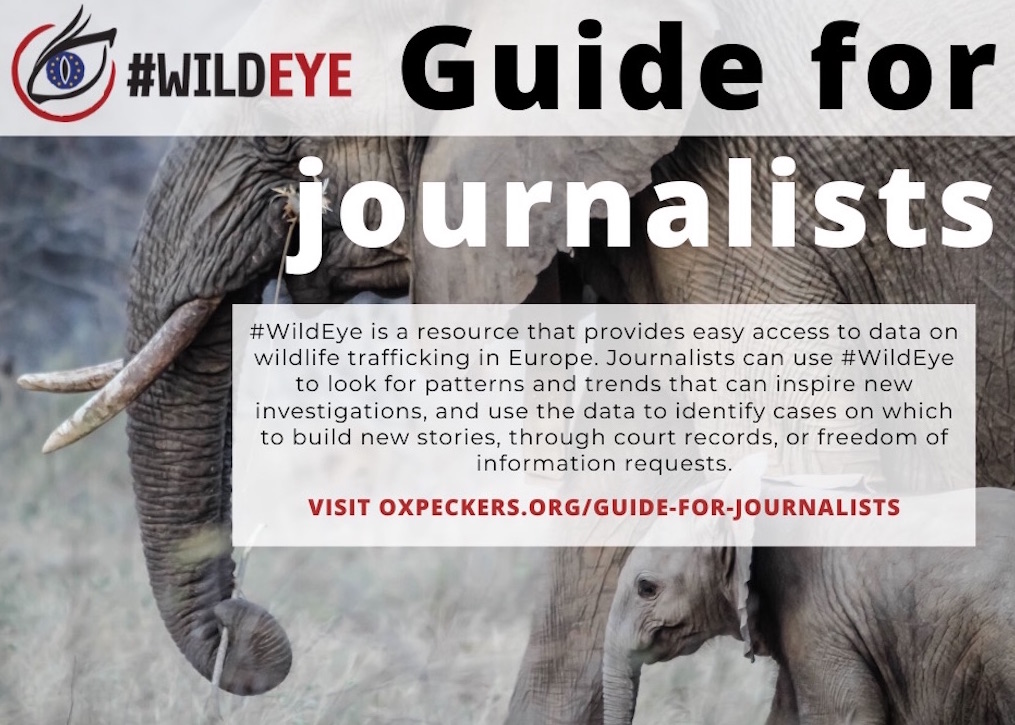 Journalistic investigations
So far about 15 journalists have received funding to report on issues surrounding wildlife trafficking, covering topics ranging from illegal tiger farms in the Czech Republic, to the black market for parrot eggs, songbird smuggling from Italy to Malta, and the poaching of sturgeons in Romania and Bulgaria. Others investigations have looked at what authorities are doing to enforce the law, including new forensic techniques for detecting wildlife crimes.
During the webinar, we explained to participants what #WildEye shows and taught them more about how to use the tool.
One issue that came up during the training was how little data is made publicly available. "If you look at a lot of the press reporting around wildlife trafficking, there are already a number of conclusions being drawn from a relatively narrow and sometimes misleading dataset," said Simone Haysom, a senior analyst at the Global Initiative against Transnational Organized Crime.
In these instances, people will often look at seizures exclusively and you will see a rush of articles around major seizures (e.g. several tons of elephant ivory impounded in Hong Kong), and then "never hear about the issue again", she said.
"I was really delighted when I heard that Oxpeckers was going to be tracking arrests, prosecutions, looking at the criminal justice system data much more holistically."
Several other participants, many of whom are based in Asia and South America, shared their own struggles with accessing data. 
Those challenges are, in part, why we recognise that #WildEye will take a while to become the comprehensive, all-encompassing wildlife trafficking database we envision it to become. In the meantime, we were thrilled to engage with so many journalists around the world, and by the end of the webinar, a number of cross-border collaborations had already been discussed among participants.
We are excited by how much the #WildEye community has grown over the past year and we look forward to seeing what journalists come up with after being introduced to the platform.
We also invite you to be a part of the growing community! A community-driven tool, designed by journalists for journalists, #WildEye allows you to request and share data, and to suggest stories that are linked to wildlife crime. If you would like to know about how to use #WildEye for your stories and investigations, read through the Guide for Journalists, available here.
• Find the webinar podcast here