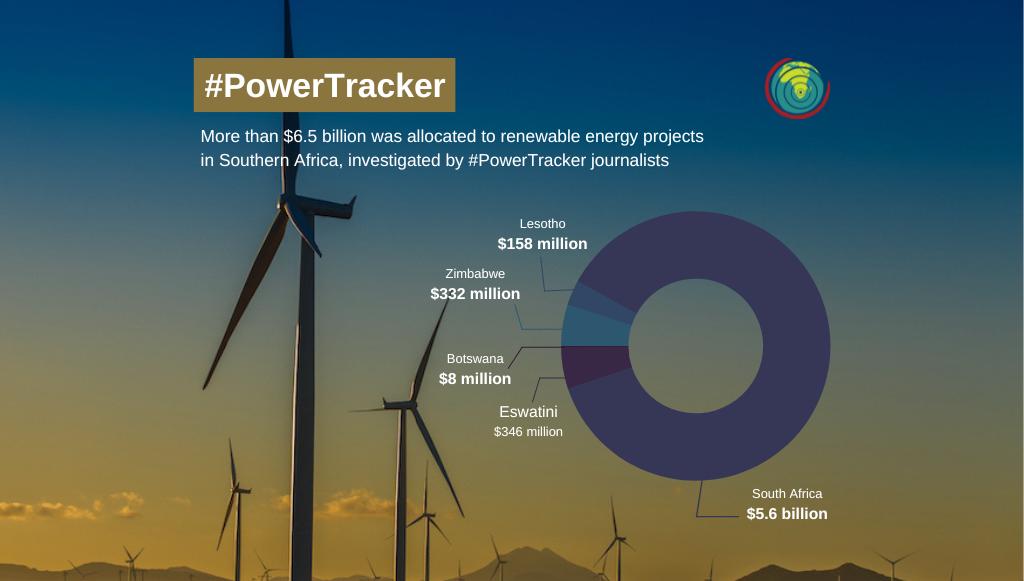 05 Dec

Journalists liberate new #PowerTracker data to follow energy investments
Local journalists create and share a new dataset that untangles green energy investments across Southern Africa
Journalists and stakeholders interested in the energy sector can now track and investigate the future of renewable electricity in Southern Africa, thanks to #PowerTracker, a climate crisis programme developed by Oxpeckers Investigative Environmental Journalism with the support of the Centre for Investigative Journalism's Open Climate Reporting Initiative (OCRI).
The first iteration of the #PowerTracker training and professional support programme was a nine-month project, culminating in a series of data-driven investigations by Southern African journalists who investigated the financing and feasibility of renewable energy projects. Their investigations are featured by Oxpeckers here, and have been published by various other media outlets across the region.
At a public webinar held in late November 2022, these #PowerTracker grantees shared their findings, tips and useful tools, challenges they faced and the impact global discussions could have on Southern Africa's shift to cleaner and greener energy sources.
As part of their investigative work, they collected and analysed information on close to 200 renewable energy projects in Botswana, Eswatini, Lesotho, South Africa and Zimbabwe. This dataset, launched during the webinar – and now available for download on the Oxpeckers Get the Data resource section – includes information on the capacities of the projects, countries where they are implemented, how much carbon emissions they are reducing, who is funding them, how much they cost and many other details.
What the data shows
Analysis of the data shows the majority of projects in South Africa (approximately 52%) are funded by the Independent Power Producer Procurement Programme – a government-run programme designed to reduce reliance on fossil fuels – followed by 33% of privately-funded projects.
South Africa has, to date, received the most funding for renewable energy, of about $5.6-billion in total. Onshore wind and solar power are at the forefront of the country's renewable energy mix, in an effort to aid a just transition towards its clean energy goals.
Botswana, on the other hand, has only received $8-million, with a focus on biogas energy sources. A biogas project funded by the Global Environment Facility (GEF) and the United Nations Development Programme (UNDP) was touted as contributing significantly towards the country's energy transition to increased renewables. Although more than $19-million had been committed by the government and parastatal bodies, only $2.2-million had been spent by the end of the project in March 2022.
Solar energy is seemingly the focus of Lesotho, after a wind farm hailed as the continent's largest renewable energy project came to a grinding halt. #PowerTracker data shows that the country has received approximately $158-million for its energy shift to date.
Eswatini and Zimbabwe received roughly double that amount – $300-million each. Their approaches to clean energy are quite different to that of their neighbours, with companies and government-led initiatives focused on cogeneration and electric vehicles, respectively.
Follow the money
OCRI's project manager, Adeolu Adekola, remarked during the launch that the dataset is "important in interrogating how renewable energy doesn't just stand alone as a subject or topic in climate change conversations but intersects with development, sustainability, and financing".
He also explained that the collaboration's objective was to raise the standard of environmental investigations to enable thoroughly researched public interest reporting and evidence-based advocacy.
Reflecting on her experience of the programme, Zimbabwe grantee Debra Matabvu said data had helped the journalists put their investigations into context, and one of the group's main findings was that most African countries "are not harnessing renewable energy".
Lesotho-based journalist Sechaba Mokhethi advised other journalists investigating renewables in the region to "untangle these investigations by following the money". He also urged them to make sure that they understand how project cycles work, as well as the sources and types of financing involved.
Thabo Molelekwa from South Africa touched on the needs for increased funding in order to achieve a just transition to renewable energy over the next five years: "There needs to be a restructuring of the pledge to have more grants from foreign investments instead of loans."
According to Botswana-based journalist Sharon Tshipa, this shift to renewables should "benefit the environment, create employment and not burden developing economies". You can find out more about their experiences and advice in the recording of the session on the Oxpeckers Learning Kit here.
Moving forward
The webinar took place days after the recent United Nations Climate Change Conference (COP27), held in Sharm El-Sheikh, Egypt. Reflecting on the outcomes of COP27 and what they means for #PowerTracker, renewable energy expert Dr Mary Stewart – one of the programme's trainers – remarked: "The work journalists are doing is very vital because it is about transparency and holding people accountable, and making sure the money is being spent right."
One of the outcomes of COP27 was the setting up of a global fund to compensate countries for  loss and damage from climate change, which will enable additional funding for developing countries. However, "it will never be enough," Stewart said.
In order to access these much-needed funds, African countries need to be able to demonstrate that they are using the money well. This will mean continued tracking and interrogation of how these funds are allocated and eventually spent, she added.
The #PowerTracker team will continue to track financial flows in power generation projects. Part of our ongoing interrogation will focus on Mpumalanga province in South Africa, the energy centre of the country and the heartland of the country's just transition.
You can find the Oxpeckers #PowerTracker investigations on our website here, and download the full dataset on our Get the Data resource.