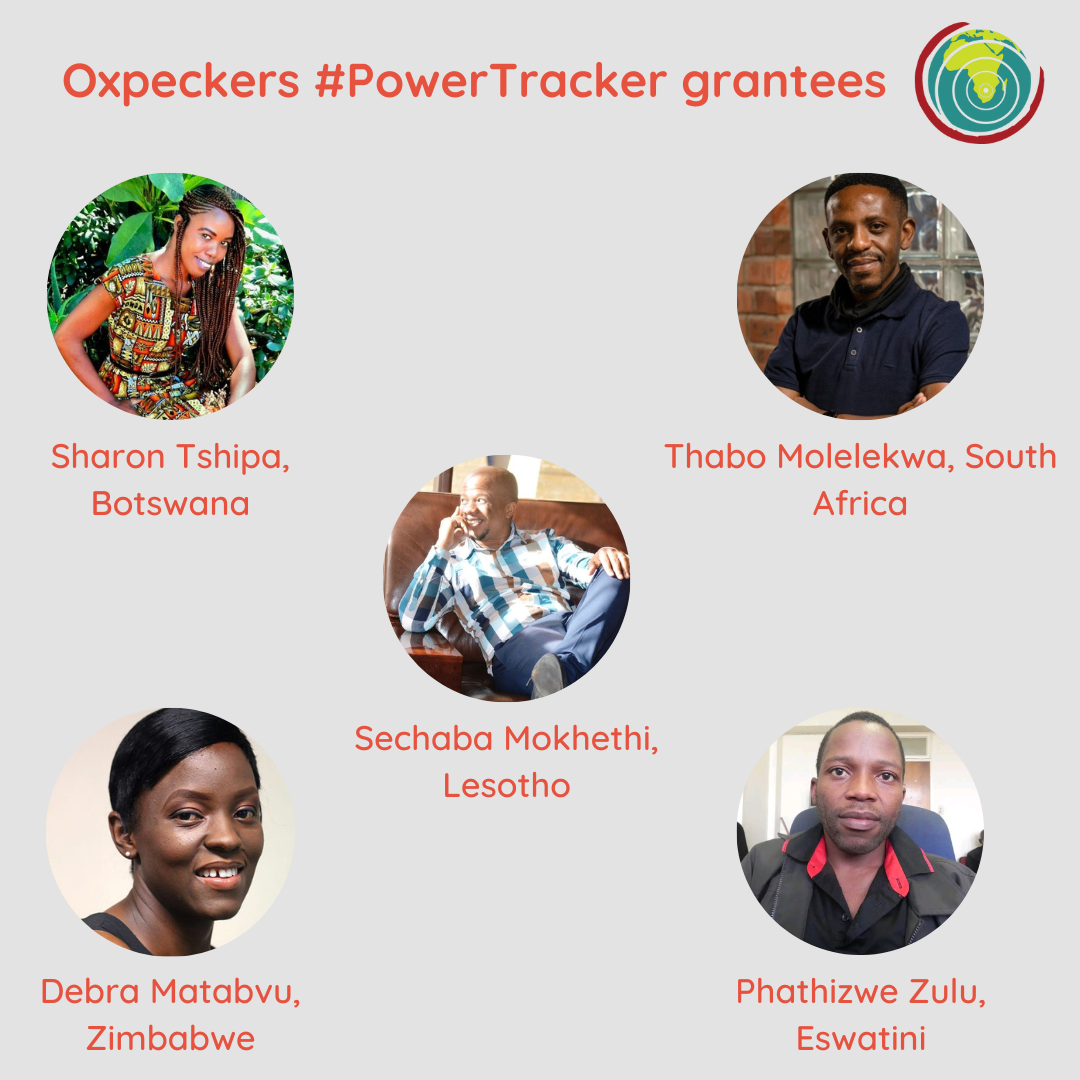 12 Aug

Meet the #PowerTracker journalists
Oxpeckers' latest project, #PowerTracker, brings together journalists from across Southern Africa to investigate financing of renewable energy projects
As governments and corporations across the globe invest billions into supporting the transition to a low-carbon economy in Africa, solutions to the energy crisis are on everyone's minds. It's our job as journalists to help make tracking these investments easier for the public.
This is why journalists from Botswana, Eswatini, Lesotho, South Africa and Zimbabwe have embarked on a journey to follow the money being invested in various green energy initiatives throughout the region.
Their work forms the backbone of #PowerTracker, Oxpeckers Investigative Environmental Journalism's collaboration with the Centre for Investigative Journalism's Open Climate Reporting Initiative.
Our overarching objective is to strengthen the capacity to investigate and report on green energy in the region, given the important role that journalists play in helping to expose wrongdoings and inform the public.
Our grantees were chosen out of more than 50 applications submitted, and are receiving training and support to produce data-driven investigations. Their investigations will deal with a range of green energy-related topics, and they are tasked with collecting and analysing data on the status of projects, the costs involved, who is funding them, their carbon footprint and whether they have had – or will have – any impact.
Renewable energy expert Dr Mary Stewart presented at our first in-depth training session for the project, highlighting the importance of tracking and monitoring public-private partnerships and deals in the transition to green power. She is chief executive of Australian-based climate-risk firm Energetics, and has played an important role over a number of years as a technical and financial adviser for business and industry at the United Nations Framework Convention on Climate Change.
"We're going to see hybrid models of private-sector financing driving the change we need to see through the global energy system," she said.
Her presentation, available on the Oxpeckers Learning Kit, unpacked the types of renewable energy projects that are being funded in Southern Africa, how they actually come to fruition and what makes a good project. "Do people like it and does it benefit them?" she asked.
The power team
Over the coming months, our grantees will be working hard to tell under-reported and impactful stories about green energy initiatives in their countries.
Meet the team:
Sharon Tshipa, Botswana: A multimedia journalist for Xinhua News Agency, based in Gaborone, Tshipa has produced environmental stories for BBC's Future Planet and Deutsche Welle's Living Planet, and was involved in reporting on COP24. With her investigation, she hopes to influence opinion, create awareness, and spark dialogue and engagement ahead of COP27, taking place in Egypt this November.
Phathizwe Zulu, Eswatini: A freelance journalist who works with the Anadolu Agency and AFP, a lot of his work has focused on wildlife conservation reporting and he has recently been shifting into other areas of environmental journalism. His investigation aims to hold the public and private sectors accountable, and to assess whether they are sticking to commitments of transparency and mitigation.
Sechaba Mokhethi, Lesotho: an investigative journalist, and the acting editor and managing director of the MNN Centre for Investigative Journalism. Mokhethi has published a wide range of stories about green crimes, and aims to take this a step further with his #PowerTracker investigation. He hopes to encourage continued advocacy for renewable energy in Lesotho, and to expose financial mismanagement in the sector.
Thabo Molelekwa, South Africa: a freelance journalist, Molelekwa coordinates the climate change citizen journalism project at the Heinrich Boell Foundation. His work has always been solutions-driven and his latest investigation aims to continue this by educating the public on South Africa's efforts to transition to renewable energy.
Debra Matabvu, Zimbabwe: a reporter at the Sunday Mail, Matabvu has been writing about environmental issues for some time. Her #PowerTracker investigation aims to reflect how Zimbabwe is charting a green future that could one day serve as an example for its peers. She also aims to nudge the government into moving faster on its plans and promises in transitioning to green power.
Their investigations and accompanying data sets will be published by Oxpeckers, CIJ and local media outlets later this year. We will also be hosting a public webinar sharing their findings and experiences as #PowerTracker grantees towards the end of November 2022.