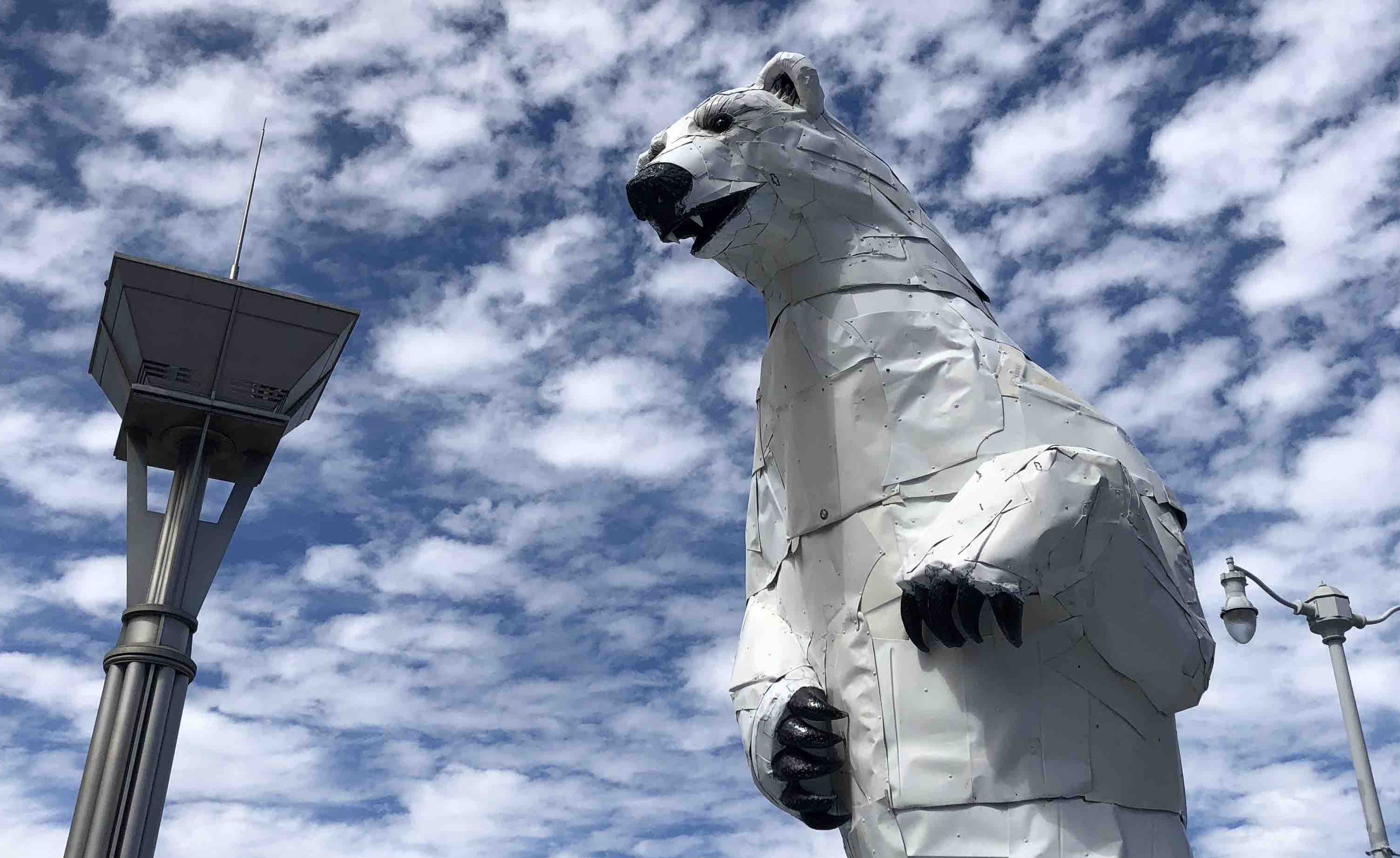 03 Oct

Cape Town shines at climate summit
Cape Town's 'Day Zero' sets an example for other cities faced with doomsday climate scenarios. Yolandi Groenewald reports
At the beginning of 2018 Cape Town was expected to become the first city in the world to run out of water, after three of the driest years in the city's recorded history saw dam levels drop to record lows.
The city was only able to avert a dire water crisis by scaring it citizens with apocalyptic scenarios into using less water.
"Day zero", the day when dam levels would drop to such a low level that taps would be turned off, loomed large. Citizens of the mother city would instead by sent to communal tap points and the army would be deployed to keep order. It was a horrific doomsday scenario.
But Day Zero did not arrive, and city officials credit that largely to scaring Capetonians with Day Zero, and the chaos that might have erupted. Instead worried citizens limited their toilet flushes, washed with buckets and recycled washing machine water. Hands were washed with hand sanitisers and the popularity of blogs about how to limit water use soared.
The fearmongering worked. Cape Town's water use dropped from 600-million litres a day in mid-2017 to 507-million litres day at the end of April 2018.
"Cape Town reduced our consumption by 55% from 2016 to 2018," outgoing mayor Patricia de Lille told Oxpeckers at the Global Climate Action Summit, convened by Californian governor Jerry Brown last month. The summit of government officials, climate activists and environmental policymakers aimed to ramp up climate change commitments, especially among local governments and big companies.
Cape Town was one of the star cities at the summit, winning praise for reducing water consumption and heading off Day Zero.
"Cape Town has taken centre stage in the world around this crisis. A lot of cities can learn from us," she said. "We have won awards for cutting our demand, and a lot of cities in California have been asking us to tell them how we did it."
De Lille said Cape Town and California looked to each other for inspiration. Both Cape Town and San Francisco are thriving cities, with lots of agricultural activities around them, including a rich wine culture. And both regions face devastating climate change scenarios.
"The Californian example is, after their severe drought of many years, came devastating floods," she said. "A California mayor told me of the massive fires they had to battle during the drought. A lot of vegetation and homes were destroyed."
De Lille said California had good advice on aquifers, groundwater and the treatment of waste water.
She said Cape Town's waste water is now cleaned to almost 98%, and construction businesses buy the treated water at a much cheaper price than normal potable water.
"This is something that they do here in California, and we did learn from that model," she said.
De Lille said the treated water is drinkable and she would have been prepared to drink it, to set an example for Capetonians. "A number of cities across the world are drinking treated water. But we never got to that stage where we had to train people to get used to drinking treated water," she said.
Stormwater
De Lille cited San Francisco's stormwater response system as an example for Cape Town to learn from. "When it rains all that water flows down in stormwater pipes to the sea and is lost," she explained. "So we are going to look to see how we can design our stormwater system so that we can catch some of the water and store it."
San Francisco is also building a second reticulation system, said De Lille. "And that is what we need to do. That system could transport treated wastewater to farmers and commercial operations.
"You don't have to use drinkable, potable water for all these industries," she said. "We will call this second system the purple line."
Groundwater
The Public Policy Institute of California presented a paper at the summit outlining how California could fix their water dilemma. The paper, titled "Managing Drought in a Changing Climate", cites groundwater as California's most important drought reserve.
"But longstanding unsustainable management practices have left many groundwater basins in overdraft," the paper states. "As the climate changes and drought intensity increases, California will need to rely more heavily on groundwater to meet water demands."
De Lille also cited groundwater as one of the most important interventions to help solve the water crisis. "During the drought here in San Francisco, they also tapped into their aquifers," she said. "But we need to replenish aquifers, and we can do that with treated wastewater."
Money for water mix
The California paper also warned that finding money for projects was critical to solve the crisis. But unlike California, which if it was a country would have had the fifth largest economy in the world, Cape Town does not have deep pockets, and often national government is tightfisted to provide funding to a province and city run by the opposition.
Less money means thinking out of the box and having a mix of water solutions.
Recent climate model predictions and simulations indicate the Western Cape will continue to warm and that droughts will become more frequent. This means that the city and the province will have to prepare for a water-scarce future, draw up adaptation plans and invest in the latest technology.
"We can't rely on rainwater alone. The science shows us this," said De Lille. "We have to a have a mixed supply of water."
Repairing water delivery infrastructure, drilling boreholes to access groundwater, desalination and water re-use are some of the options. The city negotiated extra water from local farmers' allocations and investigated desalination plants, but in averting the latest crisis it was Capetonians themselves who saved the day by cutting consumption.
De Lille said desalination was very expensive, and that because the cost was passed on to the consumer it could only be a small part of the mix.
Good rains and even snow have relieved some of the Western Cape's drought pressure, but climate change means ultimately warmer temperatures are on the way.
Cutting consumption
Like the Western Cape and Cape Town, a recent four-year stretch dried out California. The Californian woes were caused by an atmospheric phenomenon, a high pressure system many in the state referred to as the "Ridiculously Resilient Ridge". The ridge, returning every year from 2012 to 2016, prevented winter storms from reaching south and caused low winter rain and snow.
Mayor Brown issued an unprecedented order requiring nearly 40-million Californians to slash water use in their homes. The state's water delivery came under pressure but held. Between 2012 and 2016, drought-stricken California brought its home water use down by 25%.
Cape Town's restrictions, however, were much more severe, with water use restricted to 50 litres per person per day. In 2016, average daily per capita use for Californians was 321 litres.
Politics and droughts
The experts at the Public Policy Institute of California, who over the past three years have been assessing California's drought resiliency, warned that good leadership was critical to adapt.
"Successful adaptation will require strong leadership at the state and local levels, and cooperation on all fronts," states their paper.
Collaboration between state leaders and local water agencies is critical in preparing for an increasingly volatile climate.
The good news for California is that Brown has drawn up a progressive water plan for the state setting out how it will handle increasing droughts. Cape Town's approach, according to critics, is still not a unified, clear path.
In battling Cape Town's water woes, leadership and collaboration were not up to scratch. Local, provincial and national government were at each other's throats, and the crisis often became a political turf battle.
Like California, the Western Cape is governed by the opposition, and the national government had been criticised for using the drought to some measure to score political points against the Democratic Alliance.
DA leaders were aware of the party's plummeting popularity in the face of the crisis, and pointed fingers at De Lille. She refused to be the scapegoat for the crisis, and an epic political battle ensued.
In the end De Lille had to resign, but managed to reach a settlement on her terms, showing that the drought and climate change did indeed have political repercussions.
No silver bullet
Even the Public Policy Institute of California's paper highlighted that there are no easy fixes to the coming crisis.
Regulators have to ramp up their drought contingency plans, ensure that the water grid is functioning and updated, and find the money for critical water projects.
Californian water board chair Felicia Marcus said at the summit there is no "silver bullet" to the problem, but that interested parties need to figure out how to do more with less.
De Lille called on better coordination and support from national government. "The cities are where the rubber hits the road," she said. "There has to be better inclusion of cities in drawing up national policy."
• Use the ClimaTracker app to find out how climate change is affecting South Africa, and what it is costing you
Yolandi Groenewald is an Oxpeckers Associate based in Johannesburg. Her trip to the Global Climate Action Summit was sponsored by the International Center for Journalists' 2018 Global Climate Reporting Programme