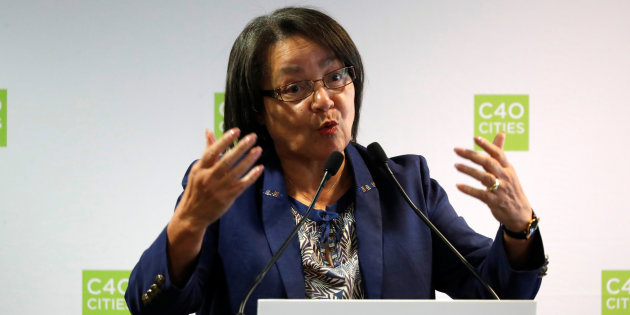 17 Sep

Where are Cape Town's climate funds, asks De Lille
Three years after drought-stricken Cape Town applied to the global Green Climate Fund, the city's application is still pending. Yolandi Groenewald reports
Despite Cape Town's need for help to combat a severe drought, mayor Patricia de Lille said the city could not access critical climate change funds, earmarked for the type of crisis her city faced.
Instead the Green Climate Fund, the United Nation's flagship mechanism set up to help vulnerable communities deal with climate change, was blocked by bureaucracy and politics in South Africa. The city's application is still pending, three years after Cape Town applied.
De Lille, who will be leaving office at the end of October, has been mayor of Cape Town since 2011 and has overseen the city's worst water crisis. She has also become one of South Africa's climate champions as a result.
She believes the fight against climate change is fought at local level and not by national governments, who "sign and then break agreements".
For cities, "where the rubber meets the road", accessing that funding is a nightmare, De Lille said in an interview last week on the sidelines of the Global Climate Action Summit, convened by Californian governor Jerry Brown in San Francisco.
Environment minister
The summit of government officials, climate activists and environmental policymakers aimed to ramp up climate change commitments made by local governments and big companies and to move the needle on global emissions.
As part of the Paris Agreement on mitigation, adaptation and finance, developed nations agreed to spend a total of $100-billion a year — including funds and development aid — on climate protection in poorer countries. More than $10-billion was pledged to the Green Climate Fund, of which $3,5-billion had been spent on projects.
De Lille lamented the bureaucracy that has prevented Cape Town from accessing those funds, and having to beg the national government for approval to get to the funds.
"Cape Town applied to the Green Climate Fund in 2015," she said. "There is such a lot of forms and bureaucracy, we needed to put a team of 30 people together to make our application."
South Africa appointed the Development Bank of South Africa (DBSA) as the agency to distribute aid from the Green Climate Fund. "But before your application can get to the DBSA to access the global fund, you have to get permission from the environment minister. Our application stayed with the minister for months before she finally sent it to DBSA, where it now has to be assessed."
De Lille said DBSA and the global fund were supposed to consider Cape Town's application at the beginning of February. "We have heard it might be considered only now," she said.
Bureaucratic processes
Governed by the opposition Democratic Alliance, the drought-stricken city has recently experienced the most severe drought in 100 years. Severe water shortages sparked fears that the city faced "Day Zero", when taps would run dry.
Welcome winter rains this year and initiatives that have helped the city to decrease water consumption by 55% have averted the crisis for now. But De Lille pointed out that scientific modelling indicates the city is likely to face more water shortages in the future as a result of climate change.
Accessing the Global Green Fund to build the necessary infrastructure to make the city climate resilient is crucial, she said. "It's no use if we have a global fund of $10-billion and in cities where the rubber hits the road, where we need to reduce carbon emissions and adapt to climate change, we can't get it to it directly.
"We need permission from our national minister to approve our application for funding. So we have not been able to access that fund," De Lille said.
Developed countries have voluntarily pledged $10,3-billion since 2013 to help poorer nations reduce greenhouse gas emissions and address the effects of climate change. The United States has pledged by far the most — $3 billion, twice that of the second-largest pledger, Japan.
The fund has not lived up to expectations and has faced a barrage of criticism, with a number of local government leaders airing the same concerns as those expressed by De Lille.
In August the fund was further undermined when a meeting of board was unable to consider funding new projects, while it could not agree on measures to strengthen investment policies. Executive director Howard Bamsey resigned.
De Lille is not the only local government leader appealing for the fund to sidestep national governments and their politics.
Alice Ekwu, commissioner for climate change and forestry in Cross River State in South Nigeria, also made a plea at the summit that national government bureaucracy should be sidestepped.
She said innovative financing mechanisms were needed to fight climate change on a more local level and that this required bypassing national governments to tap into the Green Climate Fund.
"Development funds come and they go to national government," she said. "By the time they trickle down to us, bureaucratic processes often compromise the timelines for the execution of the projects and at the end, nothing is done."
• Use the ClimaTracker app to find out how climate change is affecting South Africa, and what it is costing you
Yolandi Groenewald is an Oxpeckers Associate based in Johannesburg. Her trip to the Global Climate Action Summit was sponsored by the International Center for Journalists' 2018 Global Climate Reporting Programme