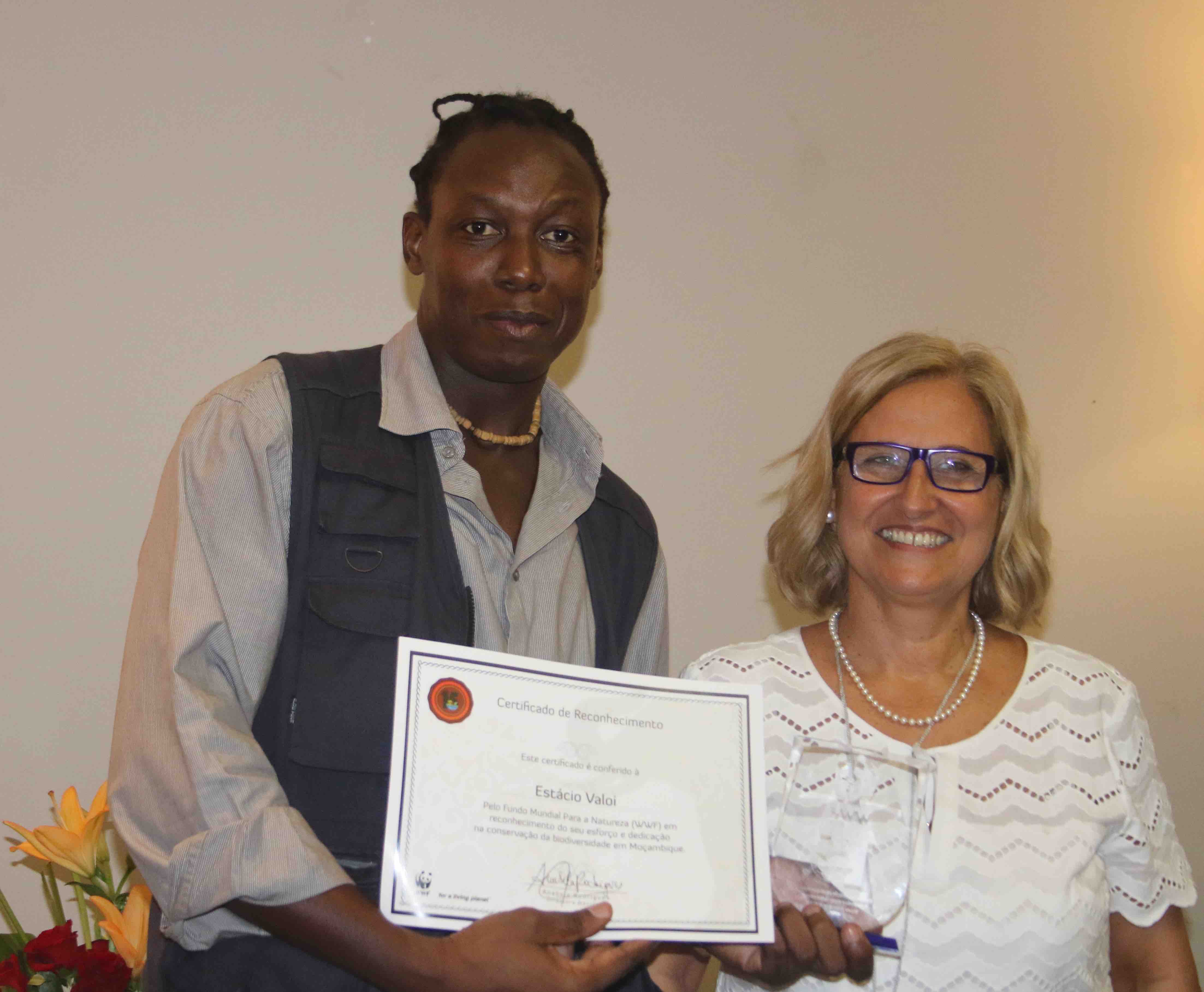 30 Jan

Mozambique associate wins environment award
Estacio Valoi, an Oxpeckers associate based in Mozambique, won the environmental journalism award at the 15th anniversary celebrations of the Worldwide Fund for Nature (WWF) in Mozambique on January 25 2017.
Valoi was praised for his probing investigative journalism that assists in the conservation of biodiversity in Mozambique. "He is not happy with the usual press releases coming from the government or civil society organisations, but is prepared to face difficulties and go to the field to search for the truth, even in some cases facing danger," the judges said.
Oxpeckers has a network of associates based in Southern Africa and elsewhere who specialise in environmental reporting. Valoi assists Oxpeckers with investigations into environmental problems in Mozambique, and has covered a wide range of other topics for Zambeze newspaper and as a freelancer for various media outlets.
His winning entry, "The deadly rubies of Montepuez", exposed horrific conditions on the ruby mines of northern Mozambique and was published widely.
The investigation fitted all the requirements stipulated for the award, said WWF Mozambique director Anabela Rodrigues: quality, relevance and credibility. There were two other finalists in the journalism category: Jonas Wazir from Notícias in Pemba and Raul Senda from the weekly Savana.
WWF has been present in Mozambique since 2001, supporting projects for the conservation of aquatic environments and land, wildlife, forests, as well as alternative forms of livelihood, mainly in conservation areas. The 15th anniversary celebrations, held in Maputo, coincided with the launch of a new report, "Revitalising the economy of the Indian Ocean: Action for a Sustainable Future", prepared by WWF in partnership with the Boston Consulting Group and Cordio East Africa.
"The celebration was a moment that WWF Mozambique thought would be ideal to recognise the effort that certain organisations, individuals or other entities do, often in difficult conditions, for the conservation of biodiversity in Mozambique," said Rodrigues.
During the award ceremony, Valoi said "it was good to have received this award in recognition of the work that I do in favour of biodiversity. Even though our justice system in Mozambique tends to favour the criminals, the poachers and wood smugglers, our struggle will continue."
His most recent investigation for Oxpeckers, "Timber looting continues in Mozambique", exposed how, while Mozambicans were celebrating the festive season, the controversial Mofid timber company and its associates were stockpiling containers loaded with illegal timber and other suspected illicit products such as ivory in Pemba harbour – despite a government ban imposed on the export of raw timber in Mozambique.
Find our dossier of investigations on 'Mozambique trafficking links' here