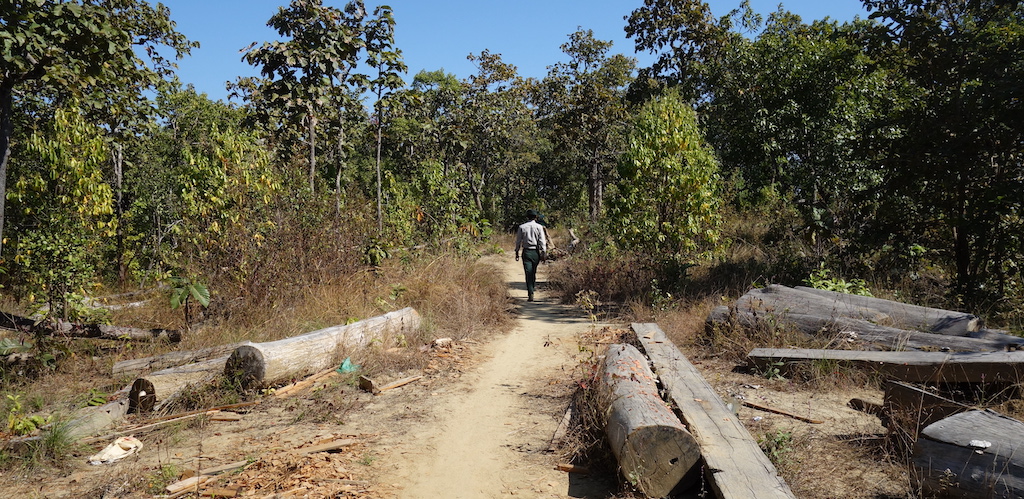 08 Apr

From Myanmar to the EU, the path of a 'bloodstained' resource
European Union member states imported more than €22-million worth of timber from Myanmar in 2021 – and nearly €8-million after sanctions were imposed on the military junta in June. Guillaume Pajot investigates
Myanmar's forests are dying. The Southeast Asian nation lost four million hectares of forest cover – an area the size of Switzerland – between 2001 and 2020, according to the Global Forest Watch.
These Myanmar forests are full of tree species sought after by loggers, mainly teak, a hardwood resistant to both water and pests that is highly prized in the shipping industry.
"A luxury yacht without Burmese teak is like a party without champagne," says a player in the logging industry, which every year generates about $100-million in taxes and more than $300-million in revenue in Myanmar, according to the most recent report from the Extractive Industries Transparency Initiative.
Since the military coup in Myanmar on February 1 2021, the "champagne" has been flowing for the  junta. In addition to lucrative natural resources such as gas and oil, the military has taken control of Myanma Timber Enterprise (MTE), the state-owned company that exploits Myanmar's forests on an exclusive basis *. Whether the timber is legal or not, no one really knows: its traceability has always been an issue.
"MTE is corrupt and opaque, it helps the junta receive hard currency. Auctions for Burmese teak are done with US dollars and have continued to do so since the coup," says Faith Doherty, head of the forests section at the non-governmental organisation Environmental Investigation Agency (EIA). Recently, MTE said it will also accept euros.
Timber auctions
Since the coup, the military junta has held at least 12 timber auctions, according to activist group Justice for Myanmar. "Myanmar teak is stained with blood, and continues to fund the junta's ongoing terror attacks against the people," says the group's spokesperson, Yadanar Maung, adding that the violent crackdown has left more than 1,700 people dead among pro-democracy supporters.
In reaction, the European Union (EU) placed MTE under sanctions in June 2021, resulting in a de facto embargo on Myanmar timber.
Actually, this "bloodstained" resource was supposed to be kicked out from the EU common market for several years: in 2017 a group of experts associated with the European Commission found that imports from Myanmar did not comply with the European Union Timber Regulation (EUTR) from 2013, which stipulates importing companies must prove their timber was legally harvested in compliance with due diligence requirements in the country of origin – an impossible task in Myanmar. The EU concluded that operators in this industry must refrain from placing such timber or any of its by-products on the European market.
Despite this decision and the recent sanctions, Myanmar timber has continued to be introduced into the common market. The EU imported more than €22-million worth of timber in 2021, and nearly €8-million after the imposition of sanctions on Myanmar, according to figures of the EU statistics office Eurostat, which are based on declarations released by member states.
By far the biggest importing country was Italy (€13,76-million), followed by France (€2,99-million) and Greece (€2,83-million). No imports were declared by Germany and Belgium last year.
Processed products
After the EU embargo, France imported mostly processed wood products, such as parquet flooring. The type of wood was not disclosed, although it is suspected to be teak.
These imports are problematic, according to Doherty: "The military regime wants to sell goods rather than raw material, in order to maximise profits. These goods don't comply with the European Union Timber Regulation, to say the least. Anybody buying this should be careful."
These products are easily found in France, where there are about 15 companies selling or advertising Myanmar teak in different forms: timber decks, patio planks, garden chairs… "The most beautiful teak wood inevitably requires a higher price," states one retailer on his website.
Few of the companies asked about the origin of their wood were prepared to provide an answer. "I have to finish selling off my stock," responded a parquet supplier. Some withdrew the reference to Burmese teak from their catalogue after being contacted.
Le Commerce du Bois, an association of French companies in the national and international timber trade, had warned its 125 members in 2018 that sourcing timber from Myanmar was not allowed. "The potential for illegality was already too great," says Alessandra Negri, the association's markets and environment manager.
The EU sanctions imposed in June 2021 appear to have proved a greater deterrent than the European Union Timber Regulation (EUTR), set up in 2013 to prohibit the placing in the market of illicit cut timber, or of products made from illegal wood.
"Shipyards have stopped placing orders," says Maud Dugourd, general secretary of the French Marine Industry Federation.
A former Myanmar timber importer even speaks of "a French market in decline, doomed to disappear". Alternatives are available, such as teak from managed plantations or synthetic teak made from PVC.
Common market
Direct imports are only part of the problem. Once placed on the common market, even if it has been introduced in a contentious manner, the wood circulates unhindered and can be sold anywhere in the EU.
"It is in the first European country where the product arrives that inspections must be carried out. Once it arrives in France, the product is no longer covered by the EU regulation and is therefore not subject to any checks," says the Ministry of Ecological Transition, which is responsible for carrying out the inspections.
Importers are aware of this loophole. "I don't want to get into the legal aspects," says a French retailer who used to buy Myanmar teak from the Netherlands, "but once the wood is in Europe, it is no longer considered illegal."
The legal framework is expected to evolve soon: the EUTR will be reformed into an ambitious "zero deforestation" project proposed by the European Commission. The new law takes into account agricultural products such as palm oil or soy, and contains a reinforced traceability, with the obligation to geolocate the parcels of origin.
"The new regulation on deforestation addresses a number of problems experienced in the implementation of the EUTR, with a more precise description of duties and obligations for competent authorities," explains an officer of the European Commission who asked not to be named.
"The legislative procedure in the European Parliament and the Council has just started and at this early stage of negotiation it's premature to provide an expected date for the adoption. However, the French Presidency of the Council has declared the file a priority and aims at speedy progress."
Tu Hkawng, the Minister of Natural Resources and Environmental Protection in Myanmar's National Unity Government, which opposes the military junta, does not expect much from European reforms: "The EU needs to realise that the EUTR is just voluntary and that taking sanctions is not effective enough. As long as there are buyers, the timber trade will continue, no matter what, because that's the nature of business," he says.
Tu Hkawng is a native of Myanmar's Kachin State, a northern region devastated by timber trafficking, and a graduate in botany. For him, the only long-term solution is in Myanmar: "Democracy must restored as quickly as possible," he says.
* Questions sent to Myanma Timber Enterprise received an unsigned email, from what was apparently MTE's marketing department, stating: "MTE is responsible only for distributing raw timber to local inventors [sic] and sawmill owners and promoting the private sector. MTE does not undertake to export abroad." No further answer was provided.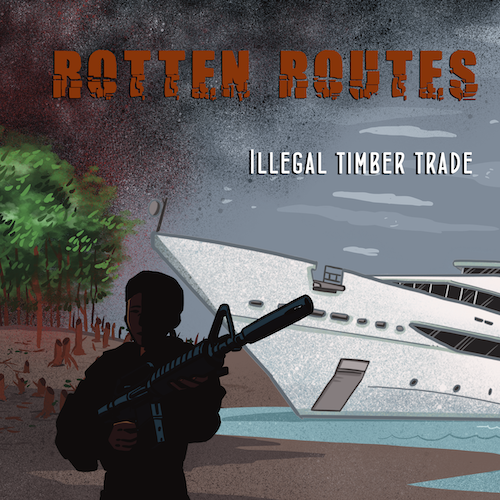 This investigation by French journalist Guillaume Pajot is part of a series of cross-border data-driven investigations into how the illegal teak trade from Myanmar to Europe is fuelling deforestation and propping up Myanmar's military regime. You can follow the Rotten Routes project here.
The investigation was produced with support by a grant from the Investigative Journalism for Europe (IJ4EU) fund, and was a collaboration with #WildEye, sponsored by Oxpeckers Investigative Environmental Journalism and the Earth Journalism Network. The investigation was published in France by Libération here and here.
 You can follow illegal timber and other environmental crime incidents in Europe and Asia on our #WildEye tracking tools