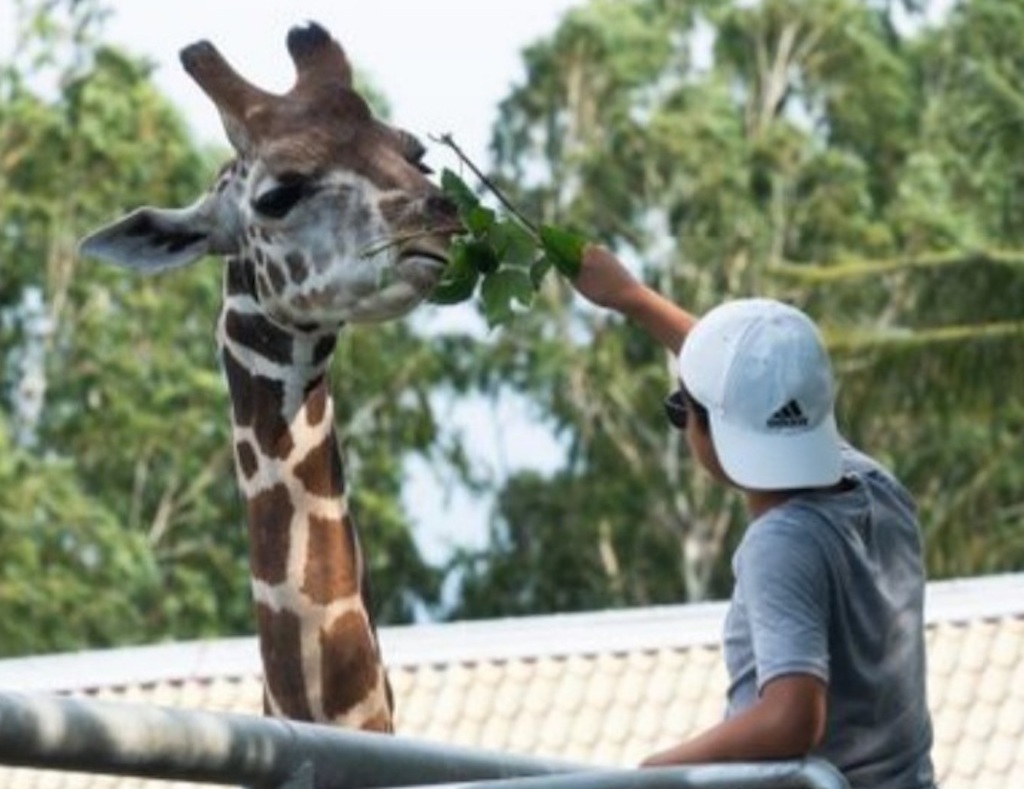 13 Dec

Plans to ship endangered African giraffes to Taiwanese zoo
Oscar Nkala tracks a controversial deal to export 18 reticulated giraffes from Southern Africa to a wildlife zoo and entertainment park in Taiwan
Soon after the take-over of Taiwan's Wanpi World Safari Zoo in 2020, plans were announced to import nearly 100 African plains game from Big Game Parks of Eswatini, formerly known as Swaziland.
Entertainment company Sanlih E-Television (SET) Group of Taiwan had acquired a controlling stake in the zoo, located in Tainan City, which boasts that it is the first wildlife zoo in Asia and hosts performances by trained animals. The controlling stake was secured through an SET Group zoo operating subsidiary trading as Studio Park.
The announcement triggered a backlash from Taiwanese animal welfare groups, which pointed to a history of ill-treatment of animals at the zoo and called on authorities to check whether the wildlife on order was indigenous to Eswatini and had been raised in captivity, making them familiar to zoo conditions.
According to the Forestry Bureau of Taiwan, the regulatory authority responsible for the management of wildlife and natural resources, an import licence given to Wanpi World Safari Zoo in April 2020 covered the importation of kudus, zebras, impalas, springbucks, zebras, giraffes and white rhinos worth NT$180-million (about US$6,5-million) from Eswatini.
The exporter was Big Game Parks, a private tourism and wildlife breeding company owned by conservation veteran Ted Reilly. On its websites, Big Game Parks describes itself as "the Kingdom of Eswatini's national wildlife authority, the custodian and operator of state-owned protected areas that include the country's giraffe rangelands of Hlane Royal Park, Mkhaya Game Reserve and Mlilwane Game Sanctuary".
Reticulated giraffes
Among the animals on the list were 18 reticulated giraffes, an endangered sub-species endemic to Kenya, Ethiopia and Somalia in the Horn of Africa but not indigenous in sub-Saharan Africa.
The Taiwan Society for the Prevention of Cruelty to Animals (TSPCA), the Environmental and Animal Society of Taiwan (EAST) and international giraffe conservation expert Dr Fred Bercovitch warned Taiwan that it would be violating international wildlife laws if the importation of the giraffes went ahead.
The organisations noted that giraffe populations had plummeted by 40% across Africa in the past three decades, and the export of 18 to Taiwan would accelerate the "silent extinction" facing the dwindling African giraffe population.
"Sanlih plans to import reticulated giraffes, a sub-species classified as endangered by the International Union for the Conservation of Nature (IUCN). Furthermore, giraffes were officially listed on the Convention on International Trade in Endangered Species (CITES) Appendix II in 2019," the organisations said.
The CITES listing means that trade in giraffes "must be controlled in order to avoid utilisation that is incompatible with their survival… [It] applies to all giraffes and does not exclude any giraffe populations in any country," they added.
The Taiwan Forestry Bureau and the Bureau of Foreign Trade rebuffed the organisations by pointing out that CITES had no jurisdiction over the sale since both Taiwan and Eswatini are not parties to the CITES convention.
TSPCA executive director Connie Chiang responded that although Taiwan is not a formal CITES delegate because it is not recognised as an independent state by the United Nations, it still has an obligation to abide by CITES rules and participate in global wildlife conservation.
"It is unacceptable for Taiwan to surrender its principles in dealing with Eswatini simply because Eswatini is the only African country with diplomatic relations with Taiwan. While it is correct to say Eswatini is not a party to CITES, this does not mean that giraffes in Eswatini are not CITES Appendix II species," Chiang said.
CITES resolutions stipulate that in any trade involving Appendix II species, the exporting country needs to provide proof that the animals have not been illegally captured and that the deal will not pose a threat to the survival of remaining wild populations, Chiang said: "Regrettably, despite claiming to abide by CITES principles, Taiwan chose to issue the import permit without obtaining any of these documents."
Wanpi Zoo
Another reason Taiwan should not permit Wanpi World Safari Zoo to import any more animals was because it had an appalling public record of ill-treating the captive animals in its care, the welfare organisations added.
In an editorial detailing the zoo's animal welfare record, the Taipei Times said instead of importing more animals, the zoo should focus on improving the welfare of the animals it already had.
The paper said most of the giraffes imported by the zoo over the past 10 years had died due to disease or accidents.
In 2018, for instance, a seven-year old male giraffe collapsed and died in front of visitors at the zoo, the paper said: "An autopsy found that it choked to death, a cause of death described by experts as 'rare'. The death sparked calls for a review of the role of zoos and assessment of their ability to care for giraffes."
Nonetheless, Wanpi had imported two more giraffes within a year. "One of them died in accident in March 2021 while the other has since lost its tail in an unexplained accident.
"Wanpi World Safari Zoo has a business to run, but their decision to import so many animals at once despite having had so much trouble caring for only a handful seems hasty and contradicts the zoo's self-proclaimed principles. Questions also need to be raised regarding the import permit application process," the paper's editorial said.
Eswatini's giraffes
The organisations questioned the origins of the 18 reticulated giraffes Eswatini was planning to export because there is no CITES record of trade in giraffes between Eswatini and the three native reticulated giraffe range states in the Horn of Africa.
"There have only ever been Angolan giraffe and South African giraffe in Eswatini and they were imported from neighbouring countries (South Africa and Namibia) and subsequently bred in captivity. Consultations… confirmed that Eswatini is not home to any native reticulated giraffes," the organisations said.
"If the Taiwan Forestry Bureau is unable to obtain legal documents to show the 18 reticulated giraffes were imported legally to Eswatini and successfully bred in captivity, there is a real and significant risk that the giraffes in question are a product of the illegal wildlife trade," they stated.
Investigations by Oxpeckers Investigative Environmental Journalism revealed two contesting narratives on the historical occurrence of giraffes in Eswatini. According to a report by the Giraffe Conservation Foundation in 2016, some scholars believe giraffes did not occur in Swaziland in recent history while others contend that giraffe populations historically occurred in areas north of the Nkomati River.
"Any indigenous giraffe populations that may have existed have, however, gone extinct," the report says. "The impacts of rinderpest on giraffe populations in Eswatini remains unknown, but many believe it played a significant role in causing their early extinction in the country. Anecdotal information suggests that giraffes may have gone extinct during the rinderpest outbreak of 1896 in Eswatini."
In 1965 a male and a female giraffe were imported from the Hoedspruit area of South Africa to Mlilwane Wildlife Sanctuary Some giraffes were later translocated from this founder population to Hlane Royal Park in Eswatini, the report stated.
The population at Hlane Royal Park increased in the 1970s when six Angolan giraffes were imported from Namibia. However, scientists are unsure about whether they ever bred.
"According to East (1999), the Angolan giraffe introduced to Swaziland never bred. However, Ted Reilly indicated that the giraffe from Namibia did in fact breed with the South African giraffe, but that minimal genetic diversity existed as tick-related disease caused the death of all giraffes originally introduced from Namibia, as well as their offspring," the report notes.
According to the Giraffe Conservation Foundation, since the 1980s Eswatini imported more giraffes from Limpopo, Mpumalanga and KwaZulu-Natal provinces in South Africa.
The 2016 report estimated the total number of giraffes in Eswatini at 209. Of these, 130 were on private properties and the rest were at Hlane Royal Park and Mkhaya Game Reserve managed by Ted Reilly and his family through Big Game Parks.
Big Game Parks
Efforts to speak to the Reilly family at the Big Game Parks head office in Mbabane failed. However, a company employee who spoke on condition of anonymity said there were between 35 and 40 reticulated giraffes at the Hlane and Mkhaya reserves.
"I joined the company in 2016 and as far as I remember, no giraffes have been imported from Kenya, Ethiopia or Somalia since I came here. I only heard that most of the giraffes here were imported from South Africa. I think Ted Reilly would be the best person to say how the reticulated giraffes got here," the source said.
She added that although Big Game Parks has not imported any giraffes in recent years, their population has increased due to breeding and translocation and trade between game farmers in Eswatini.
"All along we have been made to believe that the reticulated giraffes were also imported from South Africa," the source said. "That's the narrative everyone here knows. If that is not true, it is only the Reilly and Eswatini royal families who know the truth. They are very good at keeping things between themselves."
Investigations by Oxpeckers indicate that none of the animals ordered by Wanpi zoo from Big Game Parks has been sent to Taiwan. It appears the Taiwan Forestry Bureau revoked the import licence late in August 2021, though no one at the bureau would confirm this. Calls to the two numbers listed on the Wanpi World Safari Zoo website went unanswered.
According to the source at Big Game Parks, Reilly was angered when the Taiwanese welfare organisations started questioning the source and means of acquisition of the reticulated giraffes.
"We started preparing for the export of these animals to Taiwan soon after the zoo in Taiwan obtained an import licence. But the Taiwanese angered Big Game Parks. They aborted the deal on the basis that, as a 'non-party' to CITES, Eswatini cannot comply with its regulations," the source said.
This investigation by Oscar Nkala, an Associate at Oxpeckers Investigative Environmental Journalism, was supported by the Center for Advanced Defense Studies.