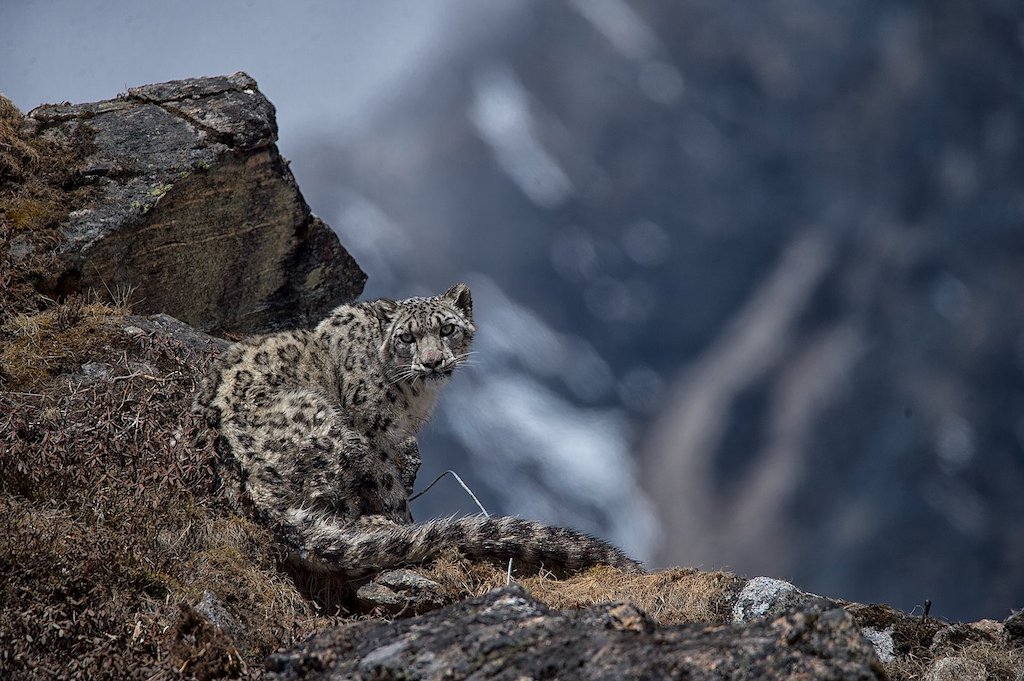 12 Nov

Nepal's cross-border snow leopard smuggling networks
Kathmandu has become a hub of international wildlife crime that poses an additional threat to the conservation of rare snow leopards. Tufan Neupane investigates
The first detailed study of the illegal trade of snow leopards in Nepal was done by Larry J. Barnes, an American researcher, in 1989. After surveying 31 shops selling textiles in Kathmandu, Barnes reported finding four coats made of snow leopard skin and fur and two hats that were openly on sale. The coats and hats were made in Srinagar, Kashmir, and were smuggled to Nepal.
Despite this trade being banned, Kashmiri traders were active in the open sale of such products in major cities. At the time, a coat made of snow leopard skin and fur cost about US$3,200. The customers of such expensive clothes were rich tourists from Western countries. According to Barnes, wildlife parts were also sold openly in five-star hotels in Kathmandu, the capital of Nepal.
The practice of openly selling protected wildlife parts and their products has stopped in the last 32 years for two reasons. First, active law enforcement agencies, and second countries in the West have taken strict measures against wildlife smuggling, preventing tourists from travelling with such products.
However, the capital city still remains a hub for the underground trade of wildlife parts, and Chinese smugglers have recently taken the place of Kashmiri traders. Wildlife parts are collected from all over the country and are transported to the Tibet Autonomous Region of China, from where they are smuggled to other parts of the world by organised smuggling gangs.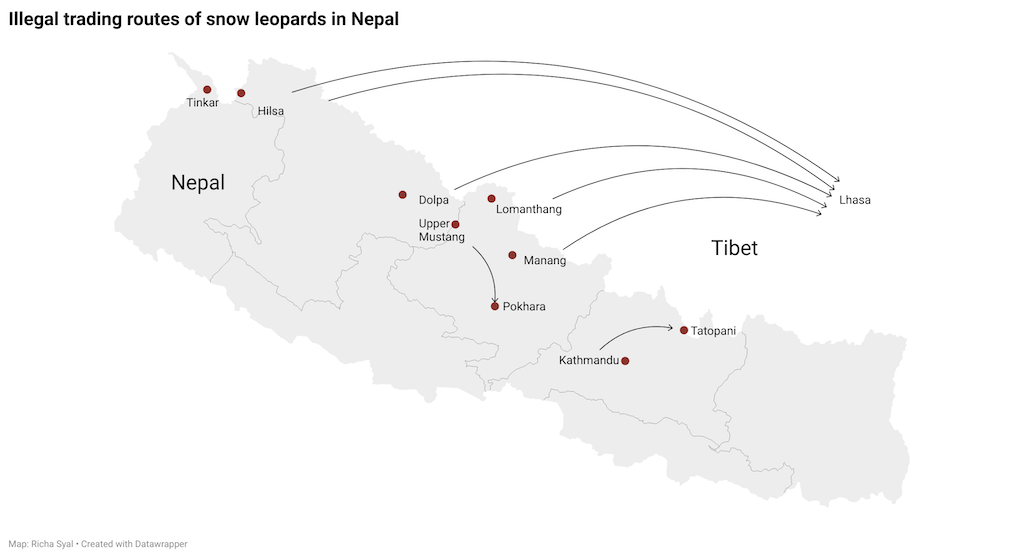 Border area
An official at the Central Investigation Bureau (CIB) of Nepal Police said most of the poaching and illegal trade of wild animals in Nepal is being carried out in order to transport them via the Tibet border area in the north.
"Wildlife parts are easily transported to Tibet through border checkpoints in the highlands. Due to the extremely cold weather and difficult geography, there is little security presence at the border, so smugglers can easily transport wildlife parts from Nepal to Tibet," said the official, who spoke on condition of anonymity as he frequently takes part in underground operations to control the illegal trade of wildlife parts.
In recent years the CIB has arrested and charged several Chinese nationals in connection with trafficking wildlife via Nepal. These cases include the smuggling of 162kg of pangolin scales via Kathmandu Airport and the seizure of 13 tiger bones from a hotel in Thamel.
In July 2021 police arrested four Chinese nationals with several tiger, snow leopard and other wildlife parts and illegal herbs at Jianghu Kezhan Hotel and Restaurant in Kathmandu. Hotel operators Chen Fengcai and Shi Wenlong are fugitives. The District Forest Office is investigating the case and further details have not been made public.
Chinese smugglers
"In the past mostly Nepalis did the job of crossing the border with smuggled parts. However, in recent years Chinese smugglers have been active in Kathmandu," said the CIB official.
According to him, the Chinese nationals arrested in the Jianghu Kezhan Hotel case had recently started companies producing bags, purses and jackets in Kathmandu. He said police had recovered such items and sent them for forensic examination. The police are waiting for forensic results indicating that the skins and furs of animals such as tigers, leopards, and snow leopards were used in the manufacture of the products.
Haribhadra Acharya, who has been working in the Department of National Parks and Wildlife Conservation for a long time and is currently the warden of Chitwan National Park in south-central Nepal, said with the increase of Chinese investment in hotels, tourism and other sectors, wildlife smuggling networks in Nepal had increased.
"Their connections seem to be becoming an arena for buying and selling wildlife parts," he said.
Cross-border smugglers are using the trans-Himalayan network to traffic snow leopard, tiger and one-horned rhino parts from Nepal to China, said Hem Sagar Baral, chief of the Nepal Chapter of the Zoological Society of London.
"Poaching and illegal trade in Nepal is the first challenge to snow leopard conservation. The final destination of snow leopard parts is northern Asia. At present, international smugglers are active in Nepal to smuggle wildlife parts," said Baral.
Snow leopard crimes
Snow leopards are found in the Dolpa, Humla, Mugu, Mustang, Manang, Myagdi, Rasuwa, Dolakha, Solukhumbu and Taplejung districts of Nepal. It is estimated there are between 300 and 400 snow leopards in the country, but the maximum number in any area is not more than 100.
Poaching and illegal trade pose the biggest threats to snow leopard conservation in the country, according to research by the Department of National Parks and Wildlife Conservation in collaboration with the WWF and the International Snow Leopard Fund.
The National Parks and Wildlife Conservation Act, 1973 provides for a sentence of five to 15 years in jail, or a fine ranging from Rs500,000 (about US$4,293) to Rs1-million ($8,586), or both, for anyone convicted of killing, injuring, selling, purchasing, or transporting snow leopards.
The transportation and trade of live and/or dead snow leopards is also prohibited by the Convention on International Trade in Endangered Species (CITES).
However, the government's zero presence in snow leopard habitats has made it easier for poachers and facilitated illegal trade in the cats and their body parts. Law enforcement agencies have not been able to reach the culprits of the snow leopard poaching.
Snow leopards are included in the list of the "most poached and illegally traded wildlife in Nepal" published by the Department of National Parks and Wildlife Conservation in 2018 – coming in second after tigers on the cat family list of the most illegally traded animals.
Retaliation killings
Research shows up to 75% of the snow leopards killed are in retaliation by local farmers and herders as a result of human-wildlife conflict, which occurs when the leopards prey on livestock such as sheep, goats, horses and yak calves.
Madhav Khadka, manager of Wildlife Trade Monitoring at WWF, said they have found that retaliatory killing is high in the Himalayan region of Nepal bordering Tibet and about 38% of these animals enter the illicit trade.
"We have evidence that after the retaliatory killing of snow leopards, their parts have reached the market for illegal trade. However, there is no conclusive data on the number of such cases across the country," he said. "Many cases have gone unreported."
Illegal wildlife trade is flourishing in the northern part of Nepal bordering Tibet due to the inability of security personnel to reach these remote areas, the global wildlife trade monitoring group Traffic noted as far back as 2003.
It is difficult to control smuggling on trade routes to Tibet due to the porous international borders, limited intelligence network and inadequate staff, the Snow Leopard Conservation Action Plan for Nepal 2017-2021 notes.
The plan estimates that poaching of snow leopards in Nepal will increase due to the growing number of gateways for illegal wildlife trade in the Nepal-China border area, including Lomanthang-Nechung, Manang-Surkhang-Gara, Sangta-Dolpa, Upper Mustang-Pokhara and Kathmandu-Tatopani-Khasa.
Judicial system
The only case of snow leopard poaching and illegal trade that reached the Supreme Court, the apex court in Nepal, involved three people caught trying to sell two snow leopard skins in Paradise Guesthouse in the Mustang border district border on May 28 2011.
The guesthouse operator, Shyam Prasad Lalchan, and his associate Kulman Ghale of Gorkha were initially sentenced to 15 years in prison and a fine of Rs100,000 ($1,000) each in a lower court. Their aide, Kanchhabir Gurung, was fined Rs80,000 ($800).
Lalchan and Ghale appealed their sentences in the Pokhara High Court, which in 2013 halved their jail terms and reduced their fines to $750 each.
Then they appealed to the Supreme Court. The Supreme Court ruled that they should not be imprisoned but would be fined Rs100,000 ($1,000) each. They were both released on September 24 2015.
Nepal follows a common legal system. This means that the decision of the Supreme Court and its grounds for the ruling should be followed by the lower courts as a precedent, requiring them to impose a minimum sentence in cases of poaching and illegal trade of snow leopards.
A few months after the Supreme Court's decision, the Dang District Court passed a similar sentence relating to snow leopards. This was a case in which police had arrested Prakash Pun in the Dang district bordering India on July 9 2014 in possession of one snow leopard skin and five leopard skins that were hidden in his house.
Pun admitted that he had bought the snow leopard skin from Prem Budha and the leopard skins from Jas Bahadur Gharti, Bijay Kumar Gharti and Lahari Budha.
District Judge Balbhadra Bastola on January 11 2016 sentenced Prem Budha to five years' imprisonment and a fine of $500 for selling the snow leopard skin. Police and forest officials were unable to determine the origin of the snow leopard and other skins seized.
The buyer, Prakash Pun, was sentenced to two years' imprisonment and a fine of Rs5,000 ($50).  The other three were each sentenced to a $50 fine and one year imprisonment. No one has appealed to the high court in this case.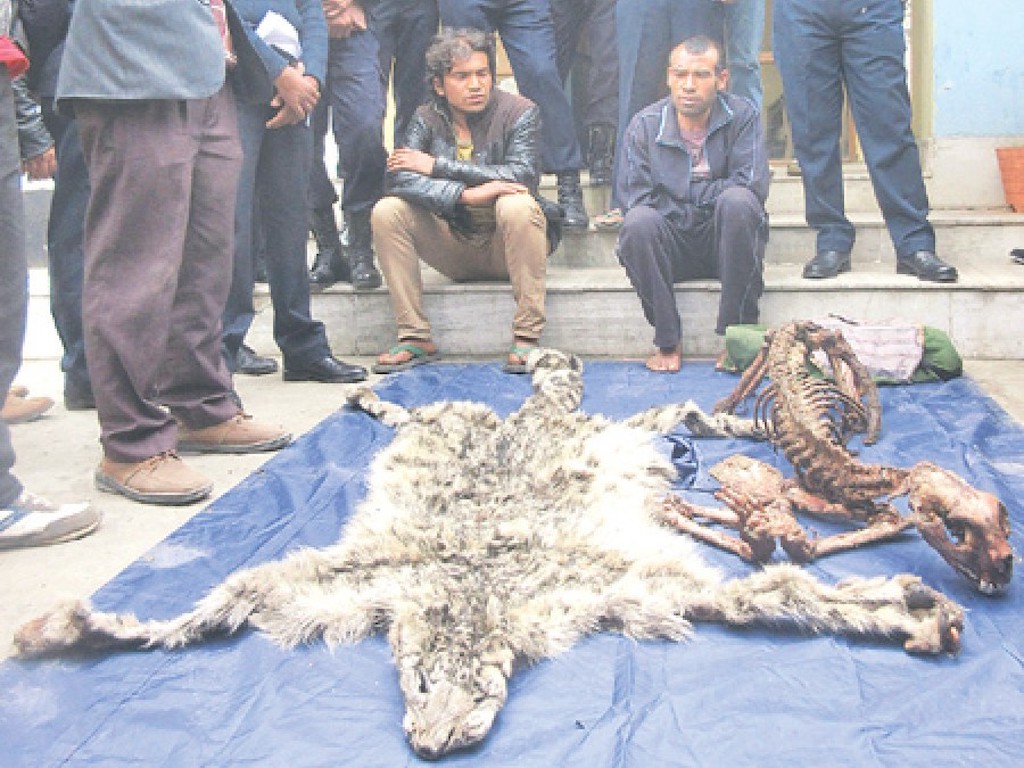 Janak Bahadur Shahi and Kalamram Parki were arrested in 2016 in possession of a snow leopard's hide and its skeleton. Shahi was jailed for five years, Parki was acquitted. Photo: Nepal Police
Low sentence
In another case, on March 12 2016 police arrested Janak Bahadur Shahi from Darchula district of western Nepal bordering both India and China, and seized a snow leopard skin and skeleton. The Api Nampa Conservation Area located in the district is home to snow leopards.
Shahi said he had killed a snow leopard by setting a trap and was transporting it to Tibet for sale. He said he was assisted by Kalamram Parki, who was also arrested but denied the allegations.
The district court sentenced Shahi to five years in prison and acquitted Parki. On April 19 2017, the Mahendranagar High Court upheld the decision of the district court.
The five-year imprisonment of Shahi was comparatively more than the previous two cases. However, a five-year jail term is only one-third of the maximum sentence – 15 years – as provisioned by Nepal's wildlife crime law.
Find the details of these and other snow leopard court cases on our #WildEye Asia crime tracking tool
Tufan Neupane is a senior sub editor with Kantipur National Daily in Kathmandu, Nepal, and writes on transitional justice, human rights, judiciary, wildlife crime, and the environment.
This investigation is part of a series on illegal trade of snow leopards, supported by Oxpeckers Investigative Environmental Journalism and the Global Initiative Against Transnational Organised Crime. It was also published in Nepal by ekantipur, the country's largest national daily, here.