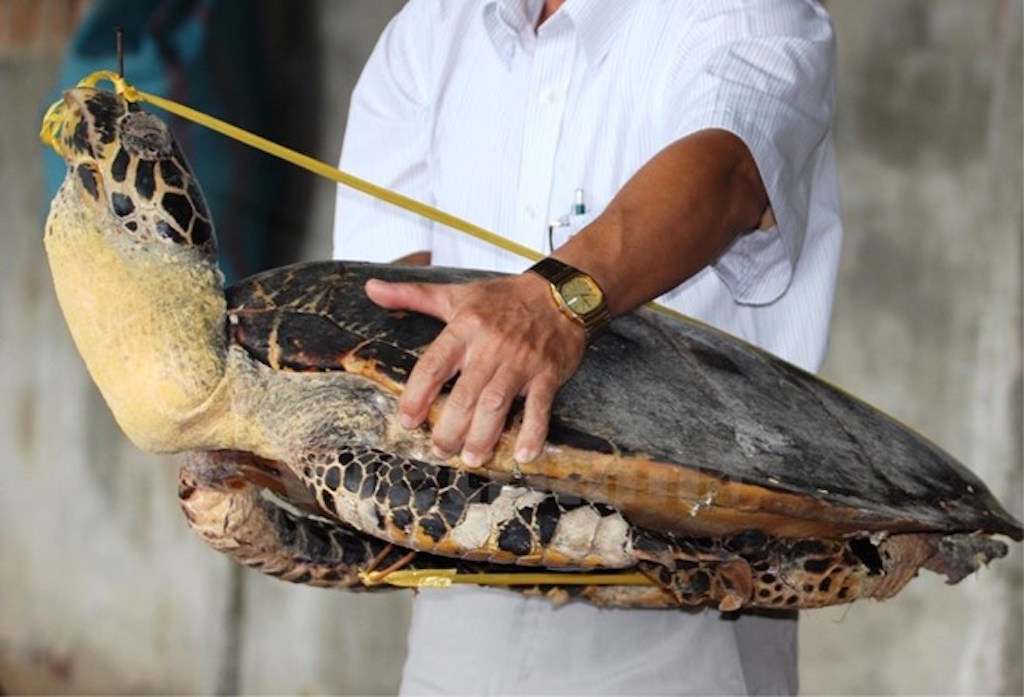 01 Mar

Vietnam's wildlife criminals getting off lightly
Vietnam's new criminal law sets high penalties for wildlife crime, and authorities are cracking down on offenders. Now the courts must toe the line, reports Vo Kieu Bao Uyen
Nguyen Huu Hue, 52-year-old director of a commercial company, was arrested by Hanoi police in July 2019 while he was transporting seven frozen tiger carcasses in his car. Investigation revealed that Hue had been the ringleader of a transnational trafficking network of endangered and rare species for many years.
He would go to Laos to buy tiger carcasses, freeze them and transport them to Vietnam, to be used in tiger wine and tiger bone glue. Each carcass could weigh up to 300kg, authorities said. The ring had been bust several times in the past in various places, but Hue's underlings would always take the fall for him.
In early 2020, after he was charged and tried in the Hanoi City Court, Hue was sentenced to serve six years in prison. Two collaborators arrested with him – Phan Van Vui (34) and Ho Anh Tu (28) – were each jailed for five years after being convicted of violating regulations on protection of endangered and rare species. (Find details of the case on the #WildEye Asia court tracking tool here.)
The six-year jail term for a "tiger-trafficking tycoon" like Hue is way below the maximum penalty for wildlife offences – 15 years – and will not serve as a deterrent in the context of wildlife crime in Vietnam, said Education for Nature Vietnam (ENV), a non-governmental organisation based in Hanoi.
Data collated by #WildEye Asia on court trials from 2018-2020 shows that it's not rare in Vietnam for wildlife criminals to receive light court sentences, despite the fact that in the past three years regulations have raised the severity of penalties for such crimes.
Criminal law
In 2018 Vietnam's new criminal law came into effect, and since then there has been an increase in actions by the authorities to tackle wildlife crime. According to the new law, named the 2015 Criminal Law, the maximum penalties for wildlife crime offences have been raised to a fine of VND1.5-billion (about US$65,400) and 15 years' imprisonment for individuals – the previous penal code provisions were VND500-million (about $21,800) and seven years' imprisonment.
Bui Thi Ha, vice-director and head of policy and legislation at ENV, said the severity of penalties for wildlife crimes provided in the Vietnamese law was now quite high, even among highest in the world. Nevertheless, severe rules do not mean these crimes would be efficiently tackled at their roots, she said.
The primary cause, in her opinion, was the lack of focus from government authorities on law enforcement and prosecution of wildlife crimes. While the former criminal law provided for a maximum seven-year imprisonment, ENV was informed that only one case resulted in such a sentence.
Since 2018 there has not been any case where the maximum sentence of 15 years has been applied, though there are a number of cases where sentences of 10 to 13 years in jail have been handed down. However, this severity seemed not to be applied to all cases as there remained many suspensions of sentences and mild punishments despite the serious nature of the crimes committed, she said.
Trafficking network
A case in Nha Trang (Khanh Hoa province) exemplified Ha's account. At the end of 2014 this beach city, popular among international tourists, became a hotspot in the international wildlife trafficking network when local police discovered the world's largest cemetery of turtle carapaces hidden in warehouses.
A local man named Hoang Tuan Hai had stored about 7,000 dead sea turtles and 3,855 clam shells, including 780 giant ones listed as at highest risk of extinction, in the warehouses. In 2018 he was sentenced to four years and six months in jail, though no extenuating circumstances were presented at the trial which happened three years after the discovery.
"The authorities usually focus their attention and prosecutions on human beings rather than wildlife," said Ha. "Somewhere in the prosecutions there remains a perception that regards the victims of wildlife crimes as just some wildlife species, and that light punishments are already deterrent enough for those committing the crime and sufficient enough for those prosecuting the crime.
"Many authorities still do not take wildlife crime seriously enough. They simply think this type of violation relates to only one individual crime, not organised crime that occurs along with other crimes such as money laundering and corruption, leaving long-term serious consequences for biodiversity and the environment that directly affects the life of each individual in our society," she said.
This view is shared by Hoang Quang Luc, Deputy Chief Judge of Quang Binh People's Court. Quang Binh is a province that possesses the largest and most diverse forest area in Vietnam, and where wildlife protection violations are common. In a report published in the People's Court Magazine, he argued that courts have a tendency to give light sentences for charges of wildlife crimes.
Between the beginning of 2018 and mid-2020, the number of offenders given suspended sentences accounted for one-thrid of prosecuted cases in Quang Binh. Luc said the authorities created or emphasised extenuating circumstances, such as sincere declaration, sincere repentance, guilty without damage or with insignificant damage, offenders of remote and poor area residency, and so on, in order to end the case with the lowest or suspended sentences.
Official reports have shown that between 2018 and 2020 district courts in Quang Binh conducted only 10 cases with 15 offenders implicated in wildlife code violations. "This number is way too little to reflect what has really been going on in the province," asserted Quang Binh Court's Deputy Chief Judge.
One of the reasons given by him was that the proceedings and criminal prosecution in these types of crime are often complicated, costly and demand immense time and effort. After any seizure, the authorities encounter difficulties in keeping the live wildlife and preserving the frozen body parts, in taking care of them, transporting them to vet clinics, rescue sites and shelters, and in releasing them back to nature. Thus, for quicker solution and more cost saving, they often opt for a fine instead of criminal prosecution, Luc said.
According to ENV, between 2015-2020 there were 552 wildlife crime cases being prosecuted. In the two years after the new criminal law came into effect in 2018, the number of wildlife crime cases increased by 44% and the percentage of seizures that resulted in arrests jumped to 97.2% in the first six months of 2020.
National goals
Legal experts rated the current Vietnam regulations as comprehensive enough to meet the national goals of wildlife crime prevention. However, what is now necessary is to facilitate their implementation, and specifically to use relevant laws and regulations to adjudicate the violations appropriately, the experts said.
Last September ENV sent recommendations to law enforcement authorities on "10 Critical actions for combating illegal wildlife trafficking".
One of the critical actions is "eradicate corruption". ENV believes corruption can easily happen at different stages in the process: it could be hand-slipping some cash to pass immigration checks at the airports; issuing construction permission for commercial wildlife breeding farms that mask illegal wildlife imports; or buying a reduced sentence or freedom in a court case.
Available data shows that wildlife trafficking is often operated by an organised crime ring, yet there have been few cases where the leaders were arrested. The majority of those arrested are the retailers, the drivers or members caught in the act during the transportation.
Nguyen Van Thai, director of Save Vietnam's Wildlife, said it was incredibly difficult to arrest "the tycoon" if the investigation by police was not sustained for a long period. With years of supporting investigations and attending the ensuing court trials, Thai said he has witnessed many of those arrested repeating their offences because they believed their bosses' relationship with local authorities helped reduce the risk of being caught, and even if they were caught the charges and consequences would be insignificant.
"Many of those who had successfully avoided severe sentences repeated their crimes after imprisonment," said Thai.
Another stumbling block that has emerged, he said, is that officers in positions of authority are now trying to achieve the highest seizure quantities and arrests in wildlife crimes.
"Only by achieving a high number of arrests are they high-rated by their superior, which is believed among the officers to help prevent them from being assigned higher targets by their superiors in the following year," he explained.
A core action Vietnam needs to take, he said, is to improve the understanding and awareness of wildlife protection among government officers as lots of them are currently using wildlife products, especially in localities covered with large forest areas.
"As long as the law enforcement authorities not only underestimate the costs of violating wildlife protection laws but even consume wildlife products themselves, it remains difficult to ensure the arrests and prosecution of wildlife crimes comply with the law," said Thai.
Vo Kieu Bao Uyen is a freelance journalist based in Vietnam, and one of the top five journalists from Vietnam to receive the certificate of Journalism for an Equitable Asia Award 2019-2020.
This investigation was sponsored by #WildEye Asia and Internews' Earth Journalism Network.
You can find these and other cases, and track them by subscribing to alerts, on the #WildEye Asia tool here.