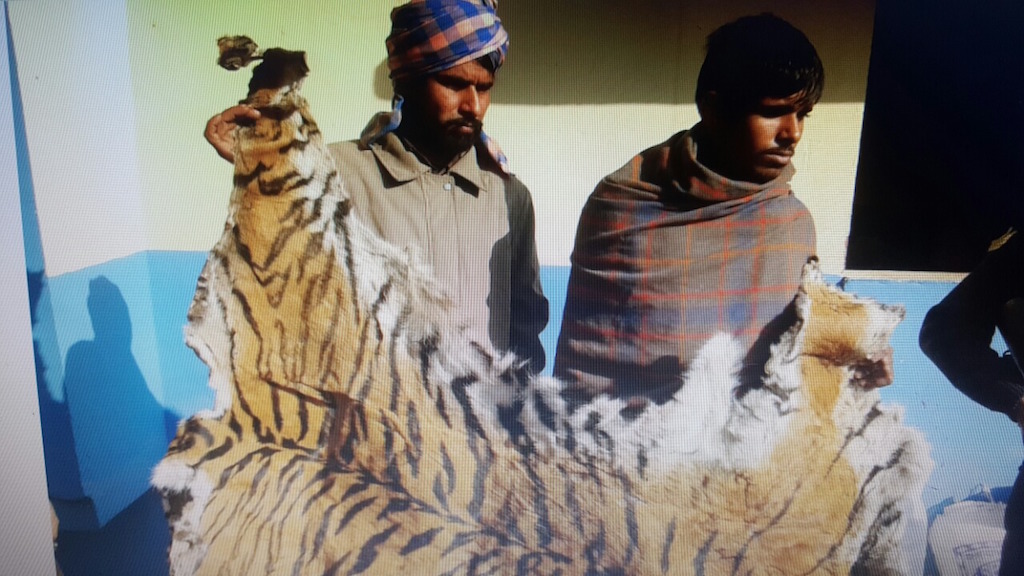 28 Jan

Nepal's courts in the dock over tiger crimes
Nepal's laws on wildlife crime are relatively strict, but offenders tend to get away with lenient court sentences. Tufan Neupane analyses verdicts to see if the problem lies in law, or litigation
Acting on a tip-off, police in Nepal arrested Ramjas Banjara with a tiger's hide and 47 tiger bones on May 4 2015.
Further investigation uncovered that Banjara, an Indian national, was involved in the trafficking of tiger body parts in Nepal and that he was wanted in India for wildlife crimes.
Prosecutors secured a conviction against him under the National Parks and Wildlife Conservation Act 1973, and argued in the Bardiya District Court for the maximum punishment and penalties provided in the law – five to 15 years in jail, or a fine ranging from Rs500,000 (about US$4,293) to Rs1-million ($8,586), or both.
Banjara confessed that he had bought the tiger's hide for Rs15,000 ($128) from an unidentified person. Forensic tests of the skin and bones proved that they were from a Bengal tiger, an endangered species found only on the Indian subcontinent.
The Bardiya District Court sentenced him to five years in prison in 2016 – the minimum punishment for the crime. Public prosecutors appealed the sentence, but the Nepalgunj High Court upheld the verdict in 2017. Nepal's law does not allow further appeal if both courts have issued the same verdicts in a case with imprisonment of less than 10 years.
By May 2020 Banjara had been released after serving his jail term, the High Court's information officer Munna Singh Chetri recently confirmed. Police have no information about him since.
"There was no point in arresting Banjara again after he completed his time in prison for we did not have other cases against him. However, we know that there are several cases against him in India," said Birendra Johari, an officer at the wildlife division of the Nepal Police Central Investigation Bureau (CIB). He feared that Banjara might resume wildlife trafficking in Nepal if he was not arrested in India.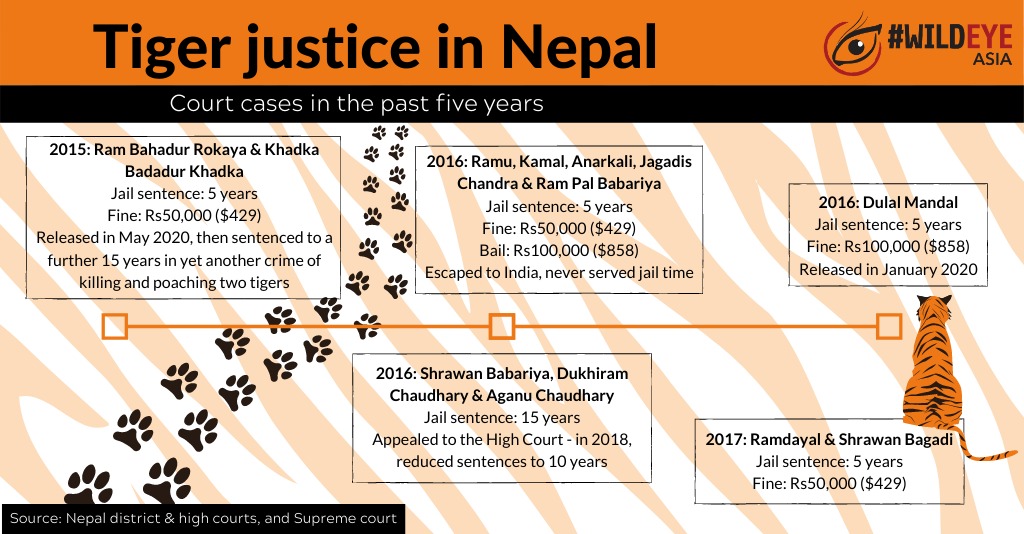 Lenient punishment
Banjara's case is just one example of how wildlife crime offenders tend to get away with lenient punishment, conservationists say, despite the fact that Nepal's laws are stringent in comparison to those of neighbouring countries.
The pattern has encouraged criminals to resume trafficking after they are released from jail, said the former chief conservation officer of the Chitwan National Park, Ramprit Yadav.
"The laws are tough but kingpins have managed to walk free through the courts, while the poor who have worked as carriers and cannot afford to defend themselves in the courts are at the receiving end. They remain in jail while kingpins tend to form new criminal groups and restart wildlife trafficking," Yadav said.
Yadav said assessment of current wildlife crimes indicates that the poachers' modus operandi and the weapons they use for killing wild animals remain unchanged, and that they have resumed their crimes.
After zero poaching of rhinos for three and half years, for example, at least 16 one-horned rhinos have died since October 2020, and government investigation has confirmed that four of them were killed by poachers.
Krishna Prasad Bhurtel, a member of Parliament in Bagmati province and a former chairperson of the Chitwan National Park buffer zone management committee, blamed judges for not being serious about conservation of wildlife when issuing verdicts on wildlife crime.
"The stringent legal provisions are meaningless if offenders are slapped with minimum punishments irrespective of the gravity of the crimes they have committed," said Bhurtel.
"Notorious poachers and sharp shooters were serving time in jail in the past few years, but they may have been used in wildlife trafficking again after they were released with minimum sentences," said Bhurtel.
Kumar Paudel, a scientific researcher on wildlife crimes, visited several jails across the country and interviewed inmates for a research project titled Conservation enforcement: Insights from people incarcerated for wildlife crimes in Nepal. He found that 75% of those convicted were from indigenous communities.
Big-time traffickers are able to influence politicians and the courts to lessen their punishment or walk free, he said. "There are loopholes in the laws. Kingpins are rarely arrested, and in cases where they are arrested they manage to walk free."
Lodu Dime
This was the case with Lodu Dime, a resident of Kathmandu and a high-profile trafficker convicted of illegal trade in tiger parts.
On January 12 2013 a vehicle heading from Kathmandu to the Rasuwa border with China was stopped with five whole tiger skins, 512 pieces of tiger bones and 122 tiger jaws. Police arrested the vehicle's owner, Suk Bahadur Tamang, and driver Nakul Tamang.
Police assessed that the haul included the jaws of 31 tigers, and it was widely reported that the case involved a kingpin of illegal wildlife crime.
Suk Bahadur Tamang admitted that he was the courier and the goods belonged to Lodu Dime, who had paid him Rs100,000 ($858) for transportation.
Police raided Dime's house in Kathmandu and confiscated wildlife parts, goods made of animal parts, eight passports and cash in several international currencies. By this time Dime had absconded.
Prosecutors filed a case against the three at the Nuwakot District Forest Office. On June 27 2013 the district forest officer gave Dime a fine of Rs100,000 ($858) in absentia after finding that he was not involved in the trafficking of the wildlife parts in the vehicle but was guilty of storing them at his home in Kathmandu.
The driver was ordered to pay a fine of Rs100,000 ($858) and the vehicle owner was sentenced to imprisonment of nine years and a fine of Rs60,000 ($515) – far higher than Dime's sentence.
The government attorneys office filed an appeal at the Patan High Court challenging the verdict. On February 24 2018 the high court sentenced Dime in absentia to five years in jail term, citing the gravity of the offence and the role Dime had played in the crime.
Dime remained at large for nearly four years, until in May 2018 he was brought back to Nepal after being arrested in India with the help of Indian police.
However, in July 2018 he got an order from the Supreme Court enabling him to appeal the sentence and to stay out of jail on bail pending its decision. The Supreme Court has not started hearing Dime's appeal in the past two and half years.
According to a police officer at the CIB wildlife division, Dime has fled to India as his bail conditions did not restrict his movement. In contrast, the vehicle owner, who admitted transporting the wildlife contraband, is still in jail and serving the jail term of nine years.
Gravity of offence
Nepal's law provides for a jail term of up to 15 years, depending on the gravity of the offence. In comparison, India's Wildlife Protection Act 1972 sets a maximum penalty of seven years, or a fine of Rs25,000 ($343), or both.
Bhutan's Forest and Nature Conservation Act 1995 prescribes a maximum of five years in jail, and Bangladesh allows for two to seven years in jail for first offenders, with fines ranging from 100,000 ($1,179) to 1-million ($1,1795) Bangladeshi Taka.
Deputy Superintendent of Police Raj Kumar Rai, chief at the CIB's wildlife division, said the release of wildlife traffickers after serving short jail sentences in Nepal in recent years has posed a challenge. "Many other criminals are found to continue the same criminal activities after serving a jail term," he said.
The chief conservation officer of the Chitwan National Park, Ananath Baral, said the judges do not seem to have understood the gravity of wildlife crime and the importance of protection of endangered species.
"Some judges seemingly think that killing a baby buffalo and a one-horned rhino involves similar offences. They are of the view that they should not send anyone to the jail for simply killing an animal," Baral said.
"National Parks itself used to hear trials involving wildlife offences and give offenders maximum penalties. But the courts are hearing wildlife offences nowadays and have issued penalties at the lower range. This has had an adverse effect in the conservation sector."
Quasi-judicial bodies such as National Parks, Hunting Reserves, Office of the Protected Areas and District Forest Offices used to investigate, prosecute and conduct trials relating to wildlife crimes before the new Constitution endorsed in September 2015 entrusted cases that involve offences punishable with more than one year in jail term to the district courts.
District courts applied minimum punishments and the high courts and supreme court later followed suit and this has become a new trend in court cases involving wildlife, said Baral.
The Chitwan District Court, where judges have heard the trials of the most wildlife crime cases, denied this argument. A judge of the court who asked not to be named said, "Almost all those charge-sheeted [accused] were convicted and jailed previously, but now we issue verdicts on those offences keeping in mind that accused people's human rights are not violated.
"We look into the matter of whether the offender has been involved in a planned way and also evaluate his/her roles behind the crime while deciding a sentence," the judge said.
Tufan Neupane is a special correspondent with Himalkhabar magazine and writes on transitional justice, human rights, judiciary, wildlife crime, and the environment. This investigation was sponsored by #WildEye Asia and Internews' Earth Journalism Network.
You can track these and other cases on the #WildEye Asia tool, and download a consolidated data set of court cases analysed for this investigation in our Get the Data section.