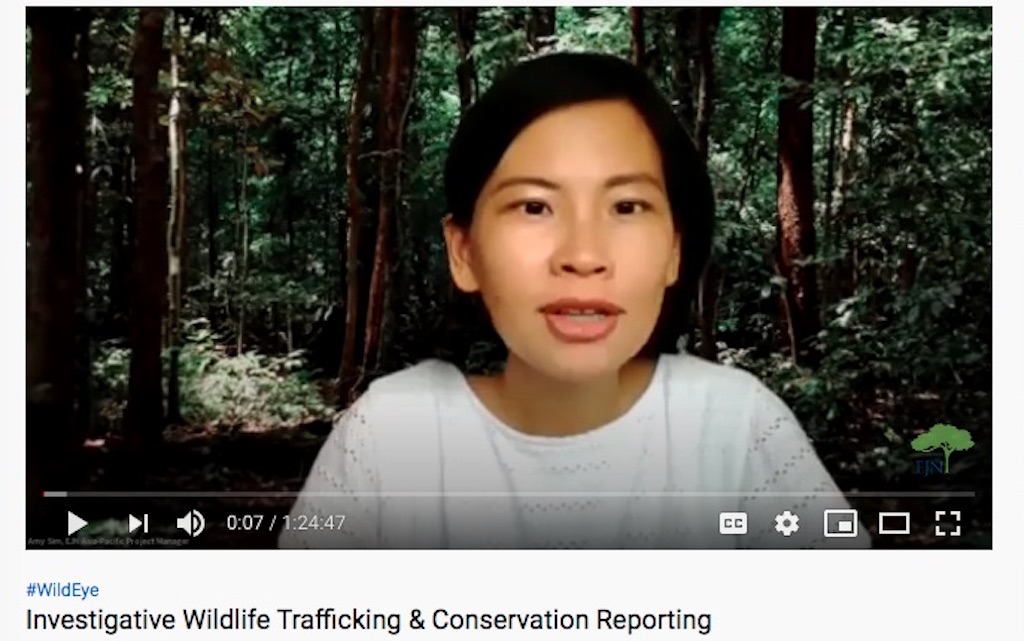 26 Aug

Talking about wildlife trafficking in Asia
A recent #WildEye webinar saw journalists from across Asia discussing how best to cover wildlife trafficking in the region
In May 2020 Oxpeckers Investigative Environmental Journalism launched #WildEye Asia, a digital geojournalism tool that maps and tracks data on Asia's role in global illegal wildlife trade. The tool offers easy, open and personalised access to information about wildlife crime on the continent, at no cost. 
Two months after launching the second iteration of our #WildEye tool, interest in South Asia was piqued. We worked with local journalists and NGOs to identify data sources and expand our network beyond the continent's illegal trade hotspots in places such as China, Thailand, Vietnam.
At the request of conservationists working in South Asia, #WildEye started digging into data on wildlife trafficking and interventions by law enforcement agencies in India.
A webinar on Investigative Wildlife Trafficking & Conservation Reporting: How to become a top wildlife journalist, co-hosted on August 20 2020 by Oxpeckers and our partners, Internews' Earth Journalism Network and the Wildlife Conservation Society-India (WCS), showcased this new collaboration. 
More than 440 journalists and other participants from environmental organisations around the world registered for the webinar, and more than 160 participated in the live event. More than 200 followed the Facebook Live feed.
Collaborative journalism
Aristo Mendis, the lead analyst of WCS-India's Counter Wildlife Trafficking Programme, talked about the importance of effective and collaborative journalism in countering wildlife crime in the region. 
Mendis encouraged locally based journalists to consider the evolving methods of how wildlife crime syndicates operate; identify those involved in facilitating wildlife trafficking; and to assist in turning investigations into enforcement action. 
Participants were also shown how to use #WildEye by our data manager, Roxanne Joseph, who discussed using data to tell compelling wildlife stories. This included sourcing, story angles specific to #WildEye data in Asia, publishing and ensuring impact. 
Local independent investigative journalist Sadiq Naqvi recounted his experiences of investigating rhino poaching and smuggling pipelines in and around Assam's famous Kaziranga National Park. 
"The problem is that law enforcement in Assam has been focused on securing national parks, and making seizures and arrests. But, little attempt has been made to uncover the larger syndicates," Naqvi explained. 
He also said there has been a lack of interest among investigating agencies in probing wildlife crime. This has encouraged insurgent groups looking for any window of opportunity to trade in illicit wildlife and their parts for profit, according to Naqvi's investigation. 
A lack of public records, poor record-keeping by officials and no centralised database to track court cases is partially what led Naqvi to #WildEye. He proceeded to source data for his investigation and shared it via the tool and our Get the Data section, thereby helping other reporters to produce more data-driven investigations on wildlife trafficking in the region. 
How can you use #WildEye?
The following are questions from participants during the webinar's Q&A segment: 
Can one use, publish and get data from #WildEye?
Yes, #WildEye is a community-driven tool, designed by journalists for journalists. Our data is open, easily accessible and free to use under a Creative Commons license. We encourage you to reach out if you would like to use our data, suggest a story or share new data that we don't yet have. You can also email us on wildeyeasia@gmail.com. 
How is #WildEye data verified?
We collect data from a variety of different sources, including law enforcement agencies, government-run databases, media sources and the Internet. If a dataset is discovered via an unverified source (eg social media or an individual), we check to make sure that it is reported on a minimum of three credible media outlets. In some cases, we reach out to law enforcement for verification. 
What types of incidents does #WildEye record?
#WildEye tracks and maps information about seizures, arrests, court cases and convictions related to wildlife crime. However, our focus lies on providing context to incidents through data-driven storytelling where we include more details and context about active court cases and their outcomes. 
Does #WildEye collaborate with local journalists and if so, what's in it for them?
Yes, #WildEye collaborates with local journalists to produce investigations. If you have data that you would like to explore, a tip-off, or a story you would like to suggest, please fill in this form. If we work with you, we offer support in the form of funding, access to resources and editorial support. We try to ensure that our investigations appear in local media outlets as well as on #WildEye, and can offer additional funding for translation. 
What is the best advice you can give to a first-time user of #WildEye?
We invite you to try and use #WildEye in your own work! You can personalise your experience by using either the filter function, where you pick a specific category (arrests, seizures, court cases or convictions), or the search function. If you are unsure about how to use the tool, have questions you would like answered, or would like to offer feedback, please get in touch with us at wildeyeasia@gmail.com. If you use #WildEye in your work, please let us know!