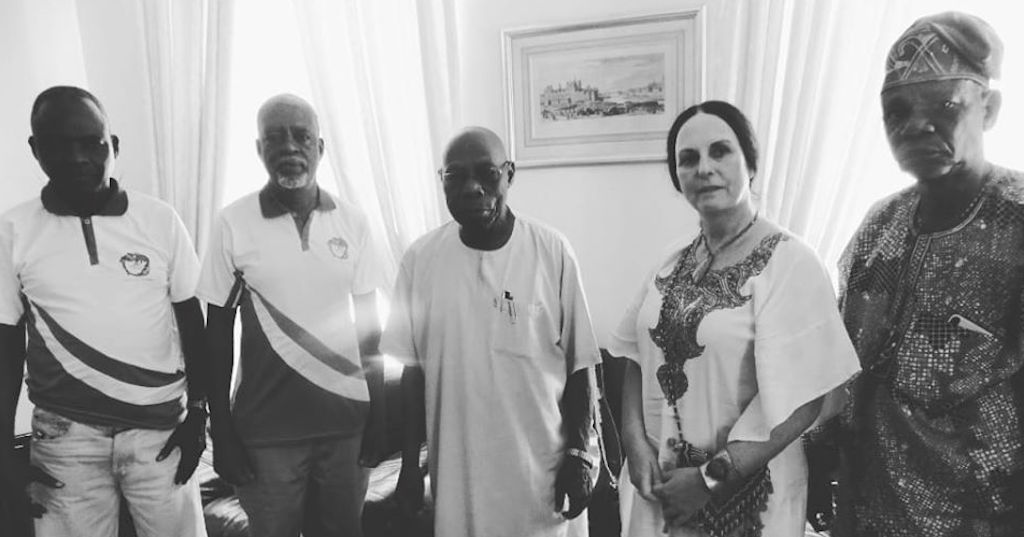 05 Mar

Nigeria steps up to help pangolins
Research, contacts and networks from our journalistic investigations in the hub of Africa's illegal pangolin trade contributed to Nigeria hosting World Pangolin Day, writes Alexis Kriel
I had no plans to visit Nigeria until it became the collection hub of pangolins and scales trafficked out of Africa, mainly to Asia.
In May 2019 Oxpeckers Investigative Environmental Journalism published "Africa's pangolins caught in the 'perfect storm'", an investigation exposing Nigeria as Africa's key illegal pangolin exporting country.
By the end of 2019, the African Pangolin Working Group reported that at least 97 tons of pangolin scales had been intercepted worldwide – equivalent to 170,000 pangolins. It was the highest volume of scales ever recorded, and Nigeria was responsible for 70% of the illicit trade.
The Oxpeckers investigation provided the first eye-witness account of the trade from Nigeria, by a Chinese undercover agent named "African Warrior". She gave a harrowing account of the treatment of these endangered animals at a market in Lagos, Nigeria's largest city.
The research, contacts and networks built during the course of this investigation assisted when the African Pangolin Working Group decided this year to co-host World Pangolin Day on February 15 in Abeokuta, just outside Lagos.
Three-day event
Together with production executives from the media in Nigeria and Uganda, we put together a three-day event of colloquiums, training modules and panel discussions with delegates from Nigeria's CITES office, the National Park Service, the Minister of Environment, the Ministry of Agriculture, the Forestry Research Institute, immigrations, customs, police, the media, academia and members of the US Consulate in Nigeria.
Finance was provided by the Pangolin Crisis Fund. There was animated dialogue at a side event at the University of Lagos, convened by Professor Olajumoke Morenikeji of the Pangolin Conservation Guild of Nigeria.
In Africa animals have long served as totems, or emblems of clans or families, with spiritual qualities and ancestral connections. In the Niger Delta, there is a tradition of environmental stewardship, by the Urhobos, based on religious beliefs and totemism.
The World Pangolin Day celebration built on this history by opening with pangolin-based poems and plays by 300 school children and a stage show by Nigerian actor, playwright and poet Jimi Solanke. The day culminated in a Yoruba masquerade, called Egungun, connected with ancestor reverence, that was held at the Olusegun Obasanjo amphitheater. I saw tribal revelry and felt a primal throb as we honoured Akika (pangolin), the animal that has been on this earth for 85-million years and is now the most poached mammal on the planet.
Former Nigerian president Olusegun Obasanjo offered to be one of the drivers of the anti-poaching campaign. After the World Pangolin Day celebration ended, he invited us to breakfast at his penthouse to find out how it all went. This is a man with a formidable brain and a leaning towards conservation. Things couldn't have turned out better.
A campaign is only as good as its drivers, and we have an enormous task ahead. This includes working with the Nigerian forest guards to create a specialised pangolin protection unit, setting up lines of communication with immigration and customs officials, creating an online platform for grassroots communities with financial lending capacity and a conservation identity, and establishing a rehabilitation facility for pangolins confiscated from the illegal trade.
By February 28 we were back in Johannesburg, and the first case of Covid-19 had been identified in Lagos. Pangolins have been associated with a mutated version of coronavirus, but the findings are not conclusive. However, we have a window of opportunity to oppose the use of this animal for bushmeat and to work with rural communities who harvest wild animals as a source of protein.
My colleague in Nigeria, Willy Thomas, messaged me shortly after I left: "Remember the cement factory we drove past that was spewing cement dust from its chimneys? The whole place is on lock down now. The Italian – Nigeria's first coronavirus case – visited the factory. It is closer to us than we think."
Alexis Kriel is a freelance journalist and projects director of the African Pangolin Working Group. Her work with the Oxpeckers Pangolin Project was supported by a special grant from Internews' Earth Journalism Network's Asia-Pacific Project.