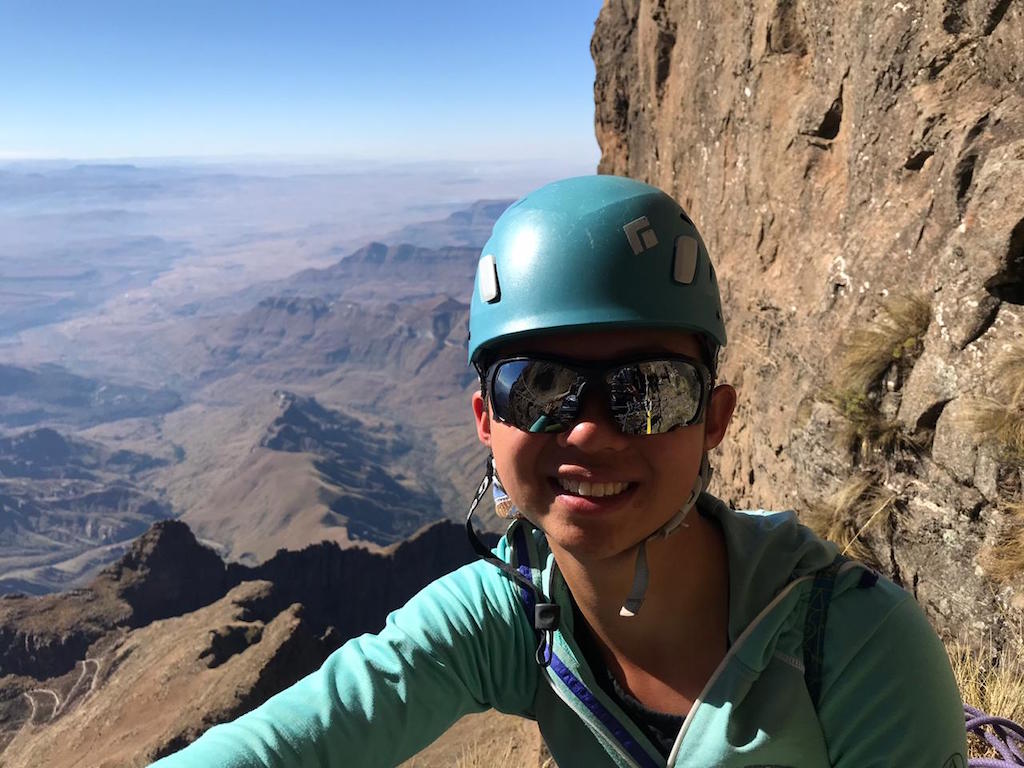 23 Aug

Steps up in my journalism career
From going cross-eyed cleaning datasets to freezing on the summit of the Drakensberg – Yuexuan Chen finds her groove in investigative environmental journalism
As a public policy and biology double major with an interest in journalism, and a love for the outdoors and interacting with diverse cultures, I had no idea how I would be able to combine the things I'm studying with the things I care about into a meaningful career. I found that balance during my internship with Oxpeckers Investigative Environmental Journalism.
At the beginning of my internship, everything felt like a foreign language. I was introduced to DMR, PAIA, PASA, IUCMA, SEA, SWSA – all acronyms that I couldn't pronounce, let alone know what they meant. Reading mining applications and notices felt like having to decipher hieroglyphics. By the end of my internship, I could confidently contact any of those alphabet-soup organisations for a story and decode court rulings and other government documents.
Before heading to South Africa, I wasn't sure how I would contribute to the different data journalism tools on the Oxpeckers site that geo-map water, mines, climate change, poaching statistics, rhino poaching court cases and environmental impact assessments. The work I did for the unit showed me how environmental awareness and transparency can be promoted with practical, interdisciplinary techniques that combine investigative journalism with geo-data analysis.
One of my first tasks was to clean and geo-locate a spreadsheet with data on mining licences for the #MineAlert Mining your Water project. I sifted through hundreds of entries so we could figure out which mines were situated in strategic water source areas.
This wasn't yelling into the void about how mining is polluting our water sources—which we all know is happening. This was creating a database to show exactly how and where that is happening, and measuring the impacts with evidence-based strategies.
Investigative journalism
For my long-term project, I had the opportunity to work on an investigative piece about fracking exploration in the KwaZulu-Natal Drakensberg (see Status of plans to frack SA's 'water tower').
Over the course of working on this story, I spoke to environmental journalists, novelists, environmentalists, hydrologists, geologists, ecologists and everyday people. I contacted non-profits, oil companies, government agencies and universities. I poured through stacks of reports on water, energy development, fracking, resource management and sustainable development, and dug through academic research papers, local newspapers, government files, mining maps, national databases, climate change data and Google Earth satellite images.
This internship empowered me to see the connections between research and practical application. One of the people I interviewed for the Drakensberg fracking story was Roland Schulze, a leading hydrologist in South Africa from the University of KwaZulu-Natal.
"There's no use writing papers in international journals which people somewhere else read," Schulze said. "We need to learn to serve the nation and not just to serve our minds."
As a student from an American university that has billions of dollars of endowment and research funding, it's important to me to think about how I can use the skills and resources I have to serve people around the world.
"We have to fight an intelligent war," said the director of Environmental and Rural Solutions, Nicky McLeod. "We're not just activists."
Because Oxpeckers is a network of journalists working remotely, instead of an office-tied organisation, I was able to venture out in person to discover what was happening to water resources and the extractives industry in KwaZulu-Natal.
I climbed the summit of Sentinel Peak in the Northern Drakensberg, from where I could see all the dams and rivers feeding from the mountains to supply villages and cities. This provided a bird's-eye view of the region where Rhino Oil & Gas has applied for fracking exploration rights.
From Sani Pass in the Southern Drakensberg, I interviewed a diplomat from China, the WWF water programme manager and my ice-climbing partners for their perspectives on mining across the border in Lesotho and how it affects the water supply in South Africa.
My time with Oxpeckers involved learning about how to take an overwhelming amount of information and use that context to focus on a problem that needs attention. Doing data journalism and investigative reporting not only provided me with valuable insights on the mining industry in South Africa and how society, the government and the environment interact, but also was critical in giving me an idea of the kind of career I would like to go into.
On top of all this, I got to spend my vacation in one of the most beautiful corners of the world with two strong, no-nonsense and brilliant women as my supervisors and role models. I hope to be back in this same type of work – blending all my passions into something purposeful – soon.
Yuexuan Chen is a student majoring in biology and public policy at Duke University in the US. She joined Oxpeckers Investigative Environmental Journalism as an intern for two months from June to August 2019