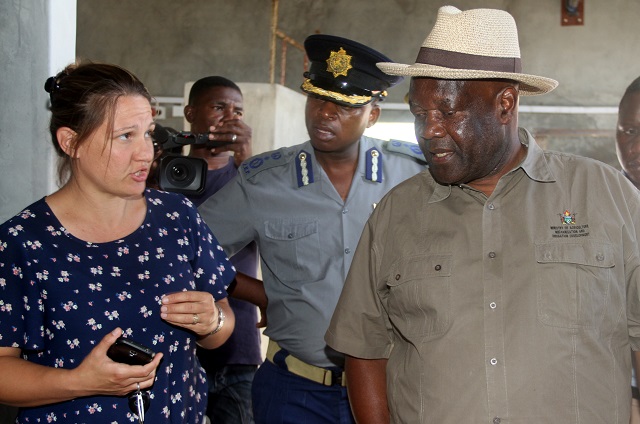 15 May

The Zimbabwean abattoir that never opened, but has killed at least 105 donkeys
Licensing of the country's first commercial donkey abattoir was ruled out last October, but at Battlefront Investments business carries on as usual. Oscar Nkala investigates
When Zimbabwean businessman Gareth Lumsden announced in October 2017 that he had set up a US$150,000 donkey abattoir in Bulawayo, local animal welfare organisations protested that his proposed slaughter rate of 70 donkeys a day would drive Zimbabwe's national donkey herd of 175,000 to extinction in less than five years.
Opening a donkey abattoir in Zimbabwe was out of sync with the trend in other African countries, they said. Botswana, Uganda, Ethiopia, Senegal, Mali and Burkina Faso had limited or outlawed the slaughter of donkeys for their hides, a key ingredient used in the brewing of ejiao, a Chinese traditional medicine used to treat various ailments associated with old age.
Lumsden weathered the public opposition, sometimes resorting to insults and labelling those opposed to the abattoir as members of the "cesspool that is social media" who were making "incredulous and illogical claims" that the abattoir would impact on indigenous farming activities.
His project also failed to get the endorsement of the Department of Veterinary Services, which said it had not licensed or received any application towards the licensing of a donkey abattoir business anywhere in Zimbabwe. The department is a branch of the Ministry of Agriculture and Land Reform, which administers abattoir inspections and certification under the Veterinary Public Health Act and issues livestock transit and slaughter permits.
After nearly a week of heated debate during which animal welfare organisations threatened collective court action to halt the abattoir, the department ruled out any prospects of licensing a donkey abattoir business in a circular to all provincial veterinary officers.
"I am sure you are all aware of the anxiety, acrimony, havoc and mayhem that has been generated among the Zimbabwean public by the construction of a donkey abattoir in Bulawayo. You are hereby advised that the said abattoir, or any for that matter, will not be registered to operate in Zimbabwe, and that no donkey will ever be slaughtered at any abattoir," stated the circular, written on October 9 2017 by departmental director Dr Josphat Nyika.
"Officers who have been involved, directly or indirectly, in the construction of the said abattoir are hereby ordered to stop their participation forthwith, and the said abattoir should be closed immediately. Provincial veterinary officers are hereby directed to advise all their field staff NOT to issue [donkey] movement permits to the abattoir."
Political 'fathers'
Lumsden shrugged off reports that because the department had ruled out licensing his facility, it would end up a white elephant. He said the licensing issue would be decided by "our fathers", a reference to ministers in the government of former president Robert Mugabe.
"I knew there would be resistance from particular sectors like the Society for the Prevention of Cruelty to Animals, Donkey Protection Trust, Veterinarians for Animal Welfare Zimbabwe and the like. However, our ministers and their respective departments are more than capable of monitoring and controlling the affairs of our country," Lumsden told The Standard newspaper in an interview published on October 29 2017.
"Before I started this project, certain ministers were consulted and guidelines were given, which we have adhered to so far. As to when we will start operating, I will leave that decision to our fathers."
Although the order from the Department of Veterinary Services was clear in directing that the abattoir should be closed, it was silent on the fate of the 170 donkeys awaiting slaughter by Lumsden's company, Battlefront Investments, and being held in crowded pens in Manningdale, an upmarket enclave of plots and smallholdings in Bulawayo East.
Animal welfare organisations that examined the donkeys reported most were thin, blind, sick or injured and were surviving on very little food and water.
Death toll
Despite the closure order, Lumsden kept his 170 donkeys and resisted efforts by welfare organisations to return them to their owners or re-home them.
When Oxpeckers visited the facility in Manningdale recently, the pens at Manningdale stood empty. Neighbours said Lumsden still had about 20 to 25 donkeys and they are herded out to feed during the day and are penned during the night.
A company employee who spoke on condition of anonymity said 140 donkeys had died since the first truckload arrived at the abattoir in July 2017. "One day in September last year we offloaded eight donkeys that had died in transit from Gwanda. All in all, I think 24 donkeys have died after being crushed by others while in transit in the over-crowded trucks. Some died post-delivery due to hunger, sickness, old age and injuries sustained before delivery," he said.
Information gathered by Oxpeckers indicated that although it never opened, the abattoir has claimed the lives of at least 105 donkeys since August last year.
On December 28 2017 the Bulawayo SPCA euthanised 10 critically injured and sick donkeys at the Battlefront Investments feedlot. Early in February this year, 68 more donkeys were euthanised on the recommendations of the Bulawayo SPCA and Veterinarians for Animal Welfare in Zimbabwe. The organisations said the health of the donkeys had deteriorated because they were not well looked after.
Although animal cruelty attracts a minimum fine of US$200, a prison term, or both in Zimbabwe, Battlefront Investments has not been charged in connection with the donkeys that have died in its custody.
The holding conditions of the remaining donkeys at the facility have improved, said Eric Mutizhe, a senior veterinarian working with the Society for the Protection of Animals Abroad and Animal and Wildlife Area Research and Rehabilitation Trust.
"There are 23 donkeys at the abattoir holding pens in Manningdale presently. We check on them regularly, and we are satisfied that all of them are in relatively good condition. To be frank, they seemed to be well looked after," Mutizhe said.
Lumsden had opted to keep the donkeys rather than hand them over to organisations that could re-home them, said Veterinarians for Animal Welfare in Zimbabwe senior officer Bernard Ndlovu.
"He insists on keeping them, and he can do that because while the Department of Veterinary Services order banned him from operating a donkey abattoir, it does not prevent him from rearing donkeys. We can only check on their condition from time to time. There is no law to force him to give up the donkeys," Ndlovu said.
Fate of the hides
The Donkey Sanctuary, a British charity, estimates that the demand for hides coming from China could reach up to 10-million donkeys a year, representing almost a quarter of the entire global donkey population.
According to current ejiao market estimates, a single donkey skin now fetches an average of US$400 in China. At this rate, the 105 donkeys that have died at the Battlefront Investments abattoir would have produced hides with a total value of US$42,000.
A feedlot worker at the abattoir said he had heard that the carcasses of the euthanised donkeys were donated to Chipangali Wildlife Orphanage, a carnivore-specialised wildlife sanctuary about 25km south-east of Bulawayo. He did not know if the carcasses had been skinned prior to delivery to the wildlife sanctuary.
"I was here when the first 10 donkeys were shot, but I was not present when the carcasses were removed. I only heard that they were donated to Chipangali for the purpose of feeding lions," he said.
Veterinarian Mutizhe said his organisations did not know what happened to the carcasses: "We were part of the processes leading to the identification of the animals that were put down, but we do not know how or where the carcasses were disposed."
Donkey rustling
Prominent among the concerns raised by animal welfare and community rights activists who opposed the abattoir was a fear that it would motivate donkey theft syndicates, which are already wreaking havoc in rural Zimbabwe, to steal more animals to match the rising demand.
The concern, shared by members of the Parliamentary Portfolio Committee on Agriculture and the National Stock Theft Unit of the Zimbabwe Republic Police, turned to reality in the Silobela agricultural district about 180km north of Bulawayo.
In a list of concerns submitted to then-deputy president Emmerson Mnangagwa during an agricultural field day held on October 22 2017, Chief Malisa of Silobela said his people had lost dozens of donkeys since the circulation of news about a donkey abattoir opening in Bulawayo.
"We are very angry because every day we wake up to find our donkeys missing. Ever since talk emerged about the opening of a donkey abattoir in Bulawayo, there has been an increase in the theft of donkeys in our area," the chief said.
"We are afraid that our donkeys are being taken to the abattoir in Bulawayo by the thieves. We have already lost a good number, and fear that if this trend continues we will be left with no draught power. We use our donkeys for farming. So how will we do that [without the donkeys]?"
Chinese partners
In a brief telephone interview, Oxpeckers asked Lumsden how he had disposed of the dead donkeys, why he is still keeping some of the animals after the government ruled out licensing his abattoir, and who his Chinese business partners are.
"First, you have to tell me what your interest in the disposal of my dead donkeys is. Secondly, I am keeping the so-called surviving donkeys because they are mine. The issue of my business partners is a private and confidential matter. I do not need to explain that to the media. Goodbye," he said as he terminated the call.
The identity of Lumsden's partners in Battlefront Investments has not been certified, although parliamentary discussions in October 2017 linked them to a donkey abattoir that had been closed down by the government of Botswana in July 2017 following reports of animal cruelty.
Addressing the Parliamentary Portfolio Committee on Agriculture, an economist in the Livestock and Meat Advisory Council of Zimbabwe, Reneth Mano, warned against licensing the Battlefront Investments abattoir: "The investor came from Botswana, where he was chased away, and our fear is that this might promote the rustling of donkeys for slaughter."
Nqobani Ndlovu, a senior journalist at Zimbabwean daily paper Newsday who has reported widely on the proposed abattoir, believes Lumsden's plan had been approved by powerful politicians who went down with the Mugabe government late last year.
"I think he is keeping the surviving donkeys well in order to prove a point and silence animal rights critics who have previously raised cruelty issues to buttress their campaign against the licensing of his abattoir.
"He seems to believe there is room to win a licence in the pro-business policies of the 'new dispensation'. He invested too much trust in Mugabe-era ministers, so now he is likely looking for new political allies in government to get him a licence," Ndlovu said.
This view was corroborated by the feedlot worker, who pointed to the recent installation of new cold-room equipment in two block refrigeration units as proof that it could be a matter of time before the donkey abattoir opens.
"With the installation of the equipment, the abattoir is now complete. We are only waiting for the government to give us a licence to start slaughtering. The boss keeps saying that it will happen very soon," he said. – oxpeckers.org
This investigation by Oxpeckers Investigative Environmental Journalism was supported by The Donkey Sanctuary and SPANA (Society for the Protection of Animals Abroad)