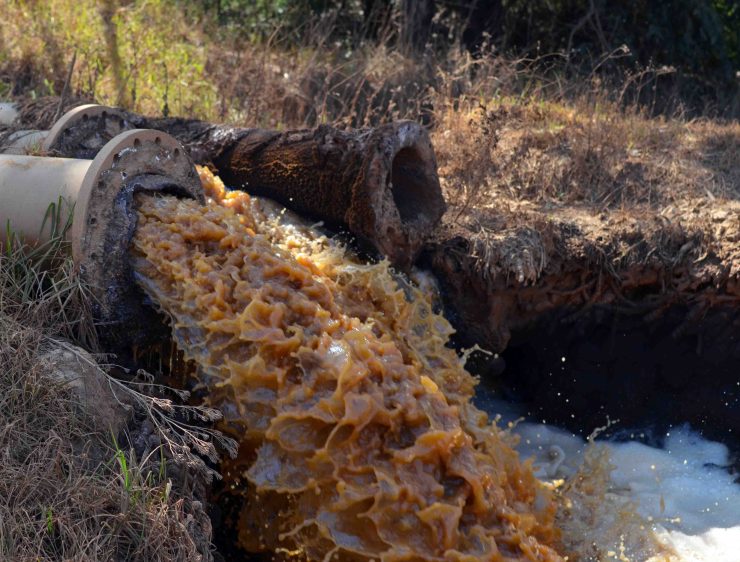 28 Mar

#MineAlert tackles threats to water resources
New Water Threats map layers provide a birds'-eye view of mining risks to SA's ground and surface water reserves
As the investigation SA's water bubble shows, long-term impacts of the extractives industry such as acid mine drainage are adding to the problems of drought and climate change. South Africa is running out of water, and scientists say it is getting harder and costlier to fix the situation.
Rural communities are usually the first to experience first-hand the negative impacts on freshwater resources. "Since the platinum mine began operating in our area there's been polluted water discharged into our rivers. Our livestock drink from there and are dying. Our community is angry," tweeted one community member, Mathapelo Thobejane, at the recent Alternative Mining Indaba 2018 after Oxpeckers presented #MineAlert's solutions.
Most communities affected by mining have no prior knowledge that a mine is planned in their area, what the conditions of related licences such as water use licences are, nor how to go about addressing negative impacts.
Although South Africa has laws and processes in place for public participation, people affected by mining and other forms of development struggle to access critical information about what is happening in their backyard. They often don't know how to seek redress when things go wrong, other than to become angry.
Mapping mining risks
#MineAlert, the app that empowers mining-affected communities to track and share mining licences and related information, has over the years documented the negative impacts of mining developments on natural resources.
Goals for rehabilitating derelict and ownerless mines are often not met. Water pumped out of abandoned mines leaches heavy metals, including aluminium, cadmium, iron and manganese, into nearby water reserves and pollutes the quality and quantity of potable water.
With these risks in mind, #MineAlert partnered with the Water Research Commission (WRC) to develop simplified, user-friendly maps pinpointing the freshwater areas most vulnerable to mining activities.
Dr Jo Burgess, WRC's research manager: mine water treatment and management, and her team collated data on water systems, geology, mining activity and ecosystem vulnerability around South Africa, and built models to estimate risks posed to freshwater resources.
The data is presented in the South African Mine Water Atlas, a comprehensive reference on the vulnerability of water resources to mining activity across South Africa. It shows the critical interplay between mining and water resources and is the most extensive set of documents of its kind.
The multi-layered atlas spans all mineral provinces, with a greater level of detail in areas where mining frequently takes place. The maps chart ground and surface water resources in the provinces. These are overlaid with maps of mining and mineral-refining activities, in order to understand the interactions between potential mining activities, surface, and groundwater.
The atlas is intended to help mining companies, investors, government departments, civil society, and students get a better understanding of the general impact of mining on water resources in different parts of the country.
#MineAlert translated this complex data into a series of heat-map layers that provide instant visualisations of the risks to freshwater sources and ecosystems across South Africa posed by mining activities.
The Water Threats map layers on #MineAlert provide a birds'-eye view of the risks to the quality of ground and surface water reserves. They are handy visualisations for communities, activists, researchers, journalists and public officials to use in managing water resources, especially in this era of climate change.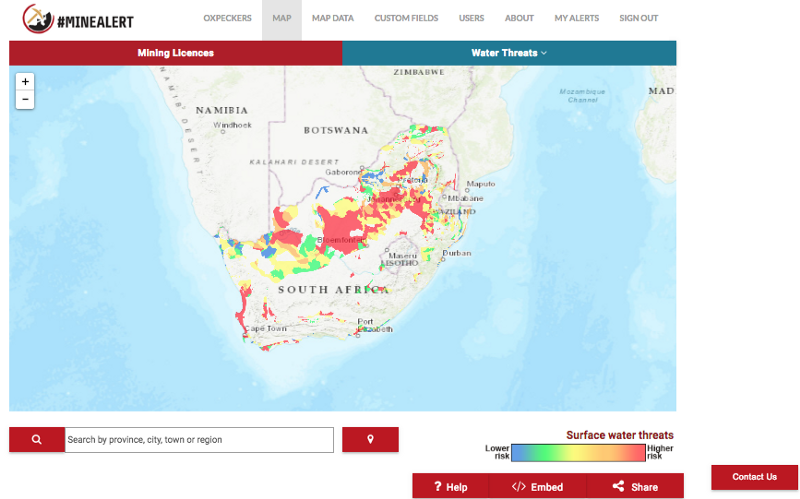 The map shows threats varying from low (blue) to high (red) risk using a colour-coded scale
A colour-coded scale shows the high-risk areas where mining is not advised (in red) and the low-risk areas (in blue). A "first time user" pop-up helps new visitors who have not visited the site to navigate the maps, and each map layer has a unique legend and information pop-ups.
The Water Threats map can be used together with the #MineAlert mining licences map to better understand the number of mining developments in certain areas, and the impact this has on freshwater availability.
Why don't you try it out here?
#MineAlert is pioneered by Oxpeckers Investigative Environmental Journalism and ScienceLink, with support from the Open Society Foundation for South Africa and Code for Africa