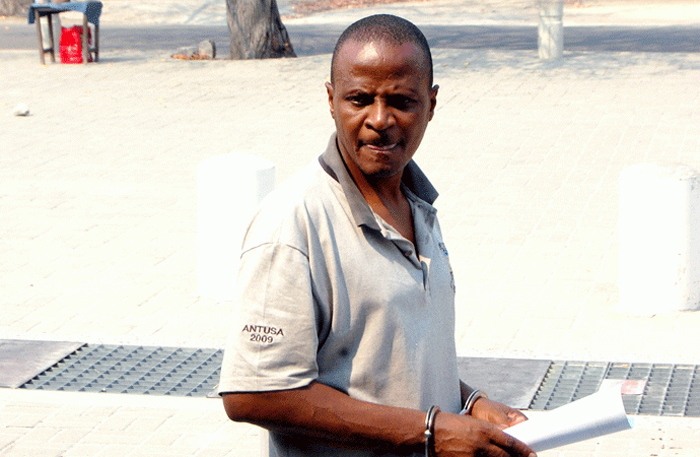 10 May

Spy arrests lift lid on Botswana's silent trafficking threat
Botswana has a global reputation for zero tolerance of poaching and wildlife crimes. In recent years, however, it has become vulnerable to insider wildlife crimes committed by rogue security forces. Oscar Nkala investigates
In April three agents of Botswana's Directorate of Intelligence and Security (DIS) were arrested at a roadblock with two elephant tusks that had been cut into small pieces and stashed in a sports bag.
Normally, all government-owned vehicles are not stopped or searched at police checkpoints. When using unmarked official vehicles, the occupants only need to show their identities to be waved through.
However, officers from the Botswana Wildlife Intelligence Unit stopped and searched the three DIS operatives, Martin Disang Marumo, Oaitse Mokgatitswane and Alex Lopang Mogojwa, at a checkpoint between the capital, Gaborone, and the northern city of Maun.
Unnamed sources from the Wildlife Intelligence Unit told the weekly Sunday Standard the DIS agents were arrested after a long surveillance operation. In their defence, the DIS agents claimed the security agency legally possessed the ivory, which was to be used in undercover operations against a suspected trafficking syndicate.
The agents – one a former police officer, another an ex-wildlife officer and the third who joined the DIS as a civilian – were released a few hours later, following alleged high-level intervention by unnamed agency bosses in Gaborone and Acting Botswana Police Services Commissioner Bruno Paledi.
The Sunday Standard reported that prior to the arrest, the DIS agents had been the subjects of a surveillance operation that indicated they could have been part of a syndicate that smuggled ivory and diamonds from Botswana to the Zambian capital, Lusaka.
Previous illicit cargoes had been transported aboard a DIS-owned Pilatus PC-12 aircraft to Lusaka in bags disguised as diplomatic cargo, the article reported. A Lusaka-based syndicate would then smuggle the contraband out of Zambia to the Tanzanian ports of Dar es Salaam and Zanzibar, from where they were be shipped to illicit markets in Asia.
In Botswana, the secretive ending of the case generated national debate about whether the DIS agents were really involved in poaching, or were caught up in a legitimate undercover operation that went wrong, as they claimed.
Tshekedi Khama, Minister of Wildlife and Tourism, said the arrest of the DIS agents demonstrated there would be no "sacred cows" in his campaign to protect Botswana's natural resources. The Wildlife Intelligence Unit, which apprehended the DIS agents, falls under his department.
Botswana has a global reputation for zero tolerance of poaching and wildlife crimes, and in May the country was fêted by Oxford University's Wildlife Conservation Research Unit as the world leader in conserving megafauna.
Insider crimes
In recent years, however, Botswana has become vulnerable to insider wildlife crimes committed by security forces, or by outsiders with help from inside. Recent reported incidents include:
• Theft of elephant tusks: In April 2012 thieves broke into the ivory strong-room of the Department of Wildlife and National Parks in Kasane and stole 26 elephant tusks.
Authorities in Botswana were only alerted to the crime a month later, after Zambian police arrested a man for the illegal possession of an elephant tusk marked "BW-K" – standing for "Botswana Wildlife-Kasane", the regional identity code for all ivory in the Kasane warehouse.
The parks authority did a quick audit and found 26 elephant tusks were missing, although there were no signs that the strong-room was ever broken into. Mable Boele, the then coordinator for communications, research and development in the Ministry of Wildlife Environment and Tourism, confirmed the theft.
"Some of our officers are under police investigation following the disappearance of the ivory… Security is very tight where the ivory is kept, so we do not understand how the tusks were stolen," she said.
Apart from the Zambian suspect, there were no further arrests, although 21 wildlife officers were questioned in Botswana. The remaining 25 tusks were not recovered.
• Rhino horn theft: On October 24 2015, police arrested game ranger Gilbert Monnawalesole after the theft of three rhino horns from the government warehouse in Maun, where he worked as a registry clerk.
Monnawalesole was charged with breaking into the strong-room and theft, together with alleged accomplices Dipolelo Moditswe, who was a member of the Botswana Police Service, and Boniface Masole, a businessman based in Gaborone.
There is no record of how the case ended after the last court appearance of the suspects on November 10 2015. None of rhino horns was recovered.
• Botswana Defence Force ivory arrests: Responding to media allegations that a syndicate of army anti-poaching unit members was allegedly selling elephant tusks confiscated from poachers to locally based Chinese businessmen and trafficking some out to South Africa, the Botswana Defence Force's director of protocol and public affairs, Colonel Tebo Dikole, confirmed some arrests were made during an internal investigation in February 2017.
Dikole said two soldiers from an anti-poaching unit were charged in court for the illegal possession of "prohibited animal troph[ies]". The officers also faced internal disciplinary measures in terms of Botswana Defence Force Act.
"Pending the outcome of the investigations, it would be prejudicial on the part of the BDF to comment on the matter because it is sub judice," Dikole told The Patriot newspaper.
Khama confirmed that some law enforcement officers had been arrested and prosecuted for poaching, although he said most of them were not serving in the anti-poaching units.
Vigorous prosecutions
Ira Larivers, a regional anti-poaching specialist, said because of its huge and ever-expanding elephant population, Botswana should prepare for an inevitable increase in poaching and wildlife crimes involving insiders. Vigorous prosecutions of offenders would assist in curtailing insider wildlife crimes and maintaining the country's zero-tolerance reputation.
He said the DIS agents who were apprehended with ivory in April were probably dealers or traffickers. "There is no way anyone from the intelligence services would set up a baiting or undercover trap without tipping off the other agencies if it were genuine.
"It is also highly unlikely that genuine ivory would be used in baiting operations. One conservancy in Zimbabwe runs baiting operations, but they only use fake ivory prepared for the purpose by a taxidermist. Besides, they do not try to entice so they can trap people, they only fish covertly for poaching suspects," he said.
The global Environmental Investigation Agency (EIA) said the theft of 26 elephant tusks and three rhino horns from government warehouses had soiled Botswana's image in the fight against wildlife crimes.
"Botswana has no centralised database recording prosecutions and court cases relating to wildlife crimes," the organisation said in a report released last October, entitled Botswana: Investing in Enforcement.
The Department of Wildlife and National Parks does not have powers of prosecution and issues have been raised regarding cooperation between it and prosecutors. "There are no official protocols in place," the EIA report said.
The report also noted that although Botswana has effective legislation in the Proceeds of Serious Crime Act that criminalises money-laundering, the Act does not cover environmental crimes, such as wildlife products trafficking.
"There appears to be little concrete evidence regarding the implementation and effectiveness of Botswana's court handling practices in wildlife crimes and the use of ancillary legislation for such crimes," the report said.
The EIA concluded that due to an upsurge in wildlife crimes, Botswana should capacitate and equip the judiciary to secure prosecutions and sentences for wildlife crimes. The watchdog said wildlife crimes should be prosecuted using the same laws that provide for the recovery of the proceeds of serious crimes like money-laundering.
Uprooting syndicates
South African-based wildlife intelligence analyst Kevin Bewick said catching some members of the security forces for working with crime syndicates was not an indicator of unit-wide corruption or complicity in wildlife crimes in Botswana.
"We need to focus on the ball, which is uprooting the syndicates involved in ivory smuggling and trafficking. We know that organised crime syndicates recruit and corrupt officers, including those who may never have been corrupt before, by buying them with large sums of money," he said.
"The modus operandi of crime syndicates is to target and recruit government officials who can help facilitate their illegal activities. These include the military, the police, customs and wildlife department officers."
Bewick said while organised crime syndicates were intent on reaping ivory from Botswana's huge elephant population, poaching syndicates were scared to venture into the country because of its zero-tolerance reputation.
"Every country that has elephants, and ivory, has been and will always be targeted by organised crime syndicates. Southern African law enforcement agents have continued to make arrests, forcing the wildlife crime syndicates to seek new opportunities to recruit industry insiders," he said.
Bewick said the theft of ivory from the Kasane and Maun strong-rooms were clear insider-jobs which succeeded because the crime syndicates bribed wildlife staff or people who had access and influence over them.
However, he did not believe the crimes were indicative of a culture of corruption taking root among Botswana's wildlife crime-busting agencies.
Attempts to get hold of Khama to discuss the arrests and to get his opinion on insider crimes were unsuccessful at the time of publication. – oxpeckers.org