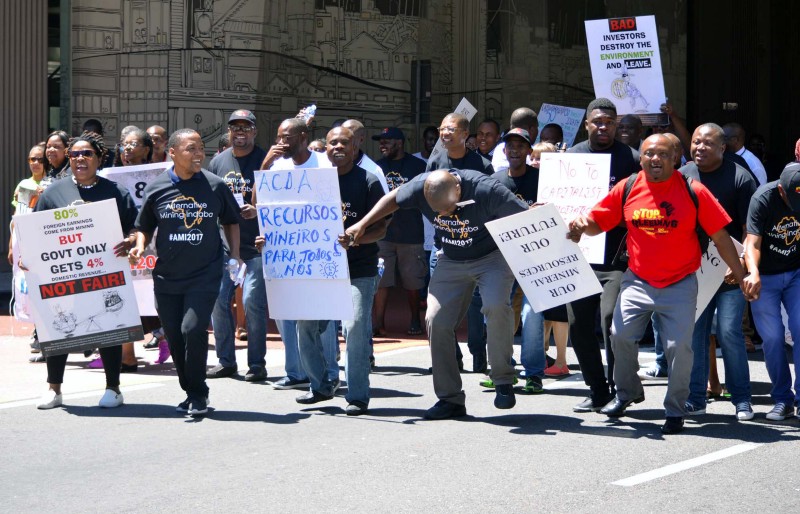 04 Apr

#MineAlert: A year of digging dirt
Want to find out how many uranium mines there are in South Africa, given the controversial focus on nuclear build? This kind of information is immediately available on our #MineAlert map: the answer is 130, and counting.
Oxpeckers has been working hard since the launch of #MineAlert a year ago to spread the word about how this data-driven app helps users to geolocate mining information and documents easily.
#MineAlert users can register for alerts on data points that interest them, and they receive an alert email every time there is a change, new development, or new document relating to that point of interest. We will be tracking the growth of uranium mining applications and licences as South Africa's nuclear build proceeds.
As part of our campaign to get users to make the most of the platform, #MineAlert project manager Tholakele Nene joined the Alternative Mining Indaba earlier this year, where more than 400 international delegates gathered to discuss ways to make natural resources work for mining-affected communities, and to ensure that the environment and the poor are taken care of during mining operations.
The indaba provided an opportunity for civil society organisations to exchange knowledge and share ideas about access to information. Nene gave a presentation on the crucial role #MineAlert plays in assisting communities to advocate for transparent, equitable and just extractive practices in the management, governance and distribution of natural resources.
She emphasised that better equipped and knowledgeable communities have the power to hold environmental, human rights and minerals policy violators to account. Transparency in extractives helps to encourage beneficial practices in the sector.
There was regional interest in duplicating #MineAlert in countries like Zimbabwe and Zambia. These regional relationships, we believe, will strengthen solidarity among regional mining-affected communities and organisations fighting for transparency.
Suggestions from the floor included the need to scrutinise financial disclosure by mining companies. Regional representatives said they suspected foul play in the dividing of wealth between mining companies and mining-affected communities.
We pointed out that the #MineAlert platform includes a series of journalistic investigations that look into issues such as mine closures, secret mining deals, environmental degradation, empty promises and gender-based violence in mines. Financial disclosure is one of the topics our journalists are planning to focus on this year.
Users can follow these articles in our #MineAlert Investigations dossier, and the home page of #MineAlert features our latest investigations.
At the Alternative Mining Indaba there was also an interesting suggestion to make #MineAlert operate offline, to help address issues of limited access to the platform by poor communities due to high data costs.
It's an issue we are intent on tackling, as discussed in Nene's article published in Huffington Post SA. After all, #MineAlert relies on cheap data to allow mining-affected communities to access, track and share information and documents on mining applications and licences.
#MineAlert is an Oxpeckers project supported by grants from the Open Society Foundation for South Africa (OSF-SA) and Code for Africa. Find out more here.