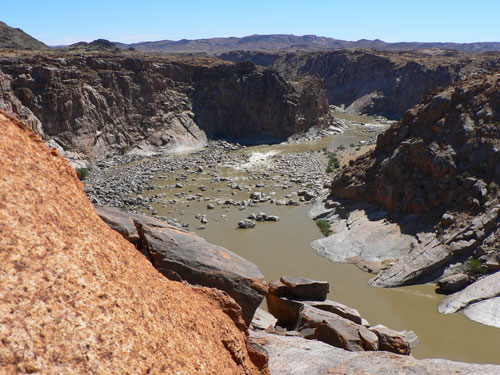 29 Mar

Northern Cape gears up to tackle malaria
The Northern Cape is mostly a dry province, but preventing malaria is one of the measures it is taking to adapt to climate change, reports Rehana Dada
Malaria is not considered to be endemic to the Northern Cape, but the province is identified as a region that could become suitable for malaria vectors as a result of climate change and other environmental factors. The Molopo and Orange River regions and the far northern parts of the province are considered to be especially important in this respect.
A small number of malaria cases are reported in the province each year, and most cases seem to be linked to travel, said Danie Stander, the Northern Cape Department of Health's deputy director for environmental health.
Where Anopheles mosquitoes that cause malaria were found, they were thought to have travelled in vehicles or luggage rather than having bred in the area. Floods also seem to influence malaria prevalence, said Stander: "I heard rumours from 'old people' that during the big floods of 1988 there were at least seven cases of malaria near Askham."
Stander explained that the impacts of climate change on health in the province include:
• Water shortages – drinking, bathing, hand washing, food preparation, etc;
• heat stroke and heat-related morbidity and mortality;
• skin cancer;
• spread of disease vectors, such as flies, ticks (Congo fever), mosquitoes (malaria, Rift Valley fever);
• disease vectors becoming more active throughout the year – winter temperatures are higher, and insects may survive longer or hibernate less in future;
• indirectly – uncertainty about what health impacts solar energy farms may have on nearby communities.
Malaria plan
Although there is no scientific indication yet that malaria distribution has increased in the province as a result of climate change, Stander said it is important to be proactive: "This is exactly why we have a malaria plan and why we have at least two vector surveillance campaigns every year – to be on top of things."
Malaria control and surveillance began in Northern Cape in the early 20th century in the lower Orange river area. Anopheles gambiae was then commonly seen, but with control later progressing to intensive DDT spraying programmes, there was a marked reduction in its population. As part of control, technicians conducted knockdowns, checked for larvae, collected mosquito samples, and took blood samples and smears.
Spraying was reduced as Anopheles numbers declined and later was done only if the species was found. DDT was replaced with other pesticides. Anopheles gambiae was eradicated in what was then the Lower Orange River region, and the spraying programme was stopped in 1996.
Currently, surveillance is done on an ad hoc basis during the wet summer months when there is higher risk of malaria. Malaria campaigns are linked to World Malaria Day on April 25, and SADC Malaria Day on November 9.
In terms of the South African malaria elimination strategy, the province should be looking at preventing re-introduction. Surveillance should be conducted at least twice a year along the Molopo and Orange rivers, and in the northern parts of the John Taolo Gaetsewe and ZF Mgcawu districts. This includes larvae surveillance and the erection of night nets and/or knockdowns.
In addition, communities in these areas are provided with information on elimination of mosquito breeding places and conditions, as well as on the symptoms of malaria. The larger hospitals in the province keep a minimum supply of malaria prophylactics and medication for the treatment of malaria, and the smaller hospitals order as needed.
With regards to advocacy, the malaria plan is distributed to health district offices, government departments, district and local municipalities and other organisations. This plan serves as a source of information and as a guide to environmental health practitioners. It is also a planning tool for the ZF Mgcawu and John Taolo Gaetsewe health districts.
The plan will also be the reference framework for the development and distribution of malaria-related information material to other stakeholders. Land border posts will be provided with information, including Nakop and Vioolsdrift, and information will be made available at Upington and Kimberley airports, Upington railway station, national parks and private game farms, local and district municipalities, pharmacies, travel clinics, the department of tourism, and the hospitality sector.
With regards to ongoing surveillance and monitoring, the Northern Cape Department of Health is exploring a partnership with nature reserves, where game rangers can assist with the work. The idea is that game rangers will receive training in monitoring and surveillance, and collect vector samples for analysis by the Department of Health.
Stander said the malaria prevention programme faces a number of challenges. Firstly, because there is a low risk of malaria in the province, it is not regarded as a priority and, he said, "funding will obviously, and understandably, go to more pressing needs".
Secondly, malaria control is preventative and the focus of the health system is traditionally still on curative health care. Thirdly, it is difficult to convince authorities that prevention of re-introduction is visionary and relevant.
However, he said with reference to climate change: "Change is inevitable. I would rather have 20 campaigns spread over 10 years, without finding a single malaria vector, than sitting arms folded and not knowing what is happening out there. It is better to be prepared than to lose a single person because we were complacent." – courtesy of Adaptation Network
Use the ClimaTracker app to find out how climate change is affecting South Africa, and what it is costing you