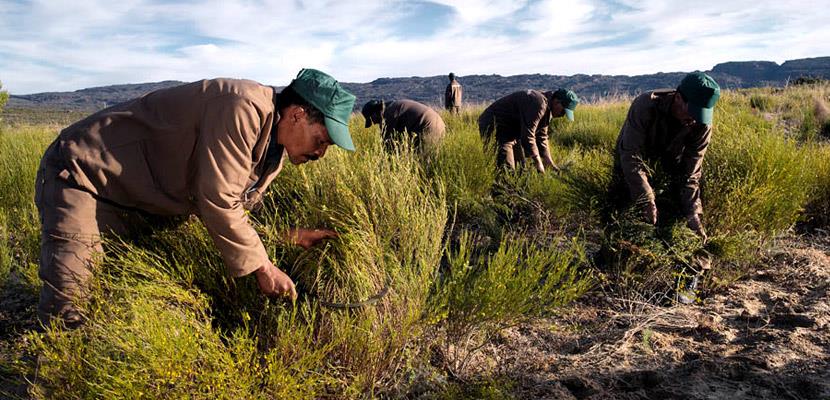 28 Feb

Rooibos farmers go wild to survive
Some farmers believe it is the wild rooibos plant that holds the secret to keeping climate change at bay, rather than its domesticated cousin. Yolandi Groenewald reports
Rooibos tea, cultivated in the most arid agricultural conditions in South Africa, is booming internationally. It is produced only in a small area in the Western and Northern Cape where little else flourishes.
"This product is grown only in one specific area of the whole world," said Barend Salomo, chairperson of the Wupperthal Rooibos Tea co-operative.
Indigenous rooibos still grows wild all over the Cederberg region, about 300km north of Cape Town, and some farmers believe it is the wild rooibos plant that holds the secret to keeping climate change at bay, rather than its domesticated cousin.
While cultivated rooibos depends on good rainfall, wild rooibos needs less water and is more resilient in extreme weather conditions.
South Africa produces 6,000 to 7,000 tonnes of rooibos annually, and exports have expanded four times in the past 14 years.
Estimated to be worth R600-million, South Africa's rooibos industry exports rooibos tea to more than 30 countries, including Germany, Japan and the United States. The Rooibos Council says about half of rooibos output is exported annually, while South Africans consume the rest.
As the ClimaTracker temperature map shows, the tiny region where rooibos is grown is getting hotter and drier due to the impacts of climate change. Unless the rooibos industry adapts, it will suffer losses.
Small-scale farmers
Close to 5,000 people are employed in the industry, and it is attracting increasing numbers of small-scale farmers.
For many farmers the plant is much more than a cash crop in a landscape where little else grows. At the Wupperthal co-operative, comprised of about 40 members, Salomo said the tea growers live and breathe rooibos, and are proud of the gains the plant has brought to their community.
He said the farmers' forefathers used rooibos tea as a remedy for stomach and skin problems. His mother substituted mother's milk with rooibos, when her own supply dried up.
"This product runs in my veins," he said.
There are an estimated 350 to 550 rooibos tea farmers in South Africa, and it is the small-scale farmers who believe that wild rooibos will save them in the face of climate change.
Said Ernie Kotze, one of the small-scale farmers in the Wupperthal area who works with wild rooibos: "Rooibos has helped us a lot, but we have to make a plan for the future. People say the climate is changing, and we can see that."
Living hell
Kotze said over the past 10 years the region has become drier and drier, with more extreme temperatures – freezing in winter and close to 50 degrees Celsius in summer.
"During the last two years it has sometimes felt like we are living in hell," he said.
Large-scale farms are also watching the changing climate with dread. Farmer Danie Marais, who cultivates rooibos near Clanwilliam, said most of the farms have had to think long and hard about survival.
"Whether you are a small-scale farmer, or are producing large scale, it is adapt or die. We all know that. Rooibos is part of South Africa's heritage, so we all carry a huge responsibility to ensure that it survives this threat," Marais said.
Most farmers are limiting their ploughing to keep moisture in the ground and mulching has become mandatory, said Marais.
"It is not rocket science, but doing the simple things right has become so much more important," he said.
Indigenous strategies
Marais is investigating different technologies to measure soil moisture, and the possibility of deploying drones to keep a check on the health of the plants.
At the same time he believes that adapting good old-fashioned farming practices will save rooibos. Investigating wild rooibos could definitely be part of the solution, he said.
"Sometimes it is as simple as deciding when to harvest and changing your growing seasons."
The Environmental Monitoring Group, a local NGO, is working with small-scale farmers to design and implement measures to control soil erosion, promote the conservation of water and enhance biodiversity.
Part of the strategy is to work with the farmers to recapture the indigenous strategies of natural resource management used by their ancestors. Cultivating wild rooibos has been instrumental.
"Farmers have to learn to build up resilience. Change is coming. Being prepared is half the battle won," said Kotze.
To see how climate change is affecting Southern Africa and food security, use the Oxpeckers ClimaTracker app. See how much this is costing you – try the Food Basket Calculator
Read 'How to make wine without water': the delicate tightrope wine farmers have to negotiate in adapting to a drier environment caused by climate change
Yolandi Groenewald is an Oxpeckers Associate. This feature was funded by an adaptation grant provided by the Earth Journalism Network. An edited version first appeared in City Press newspaper.