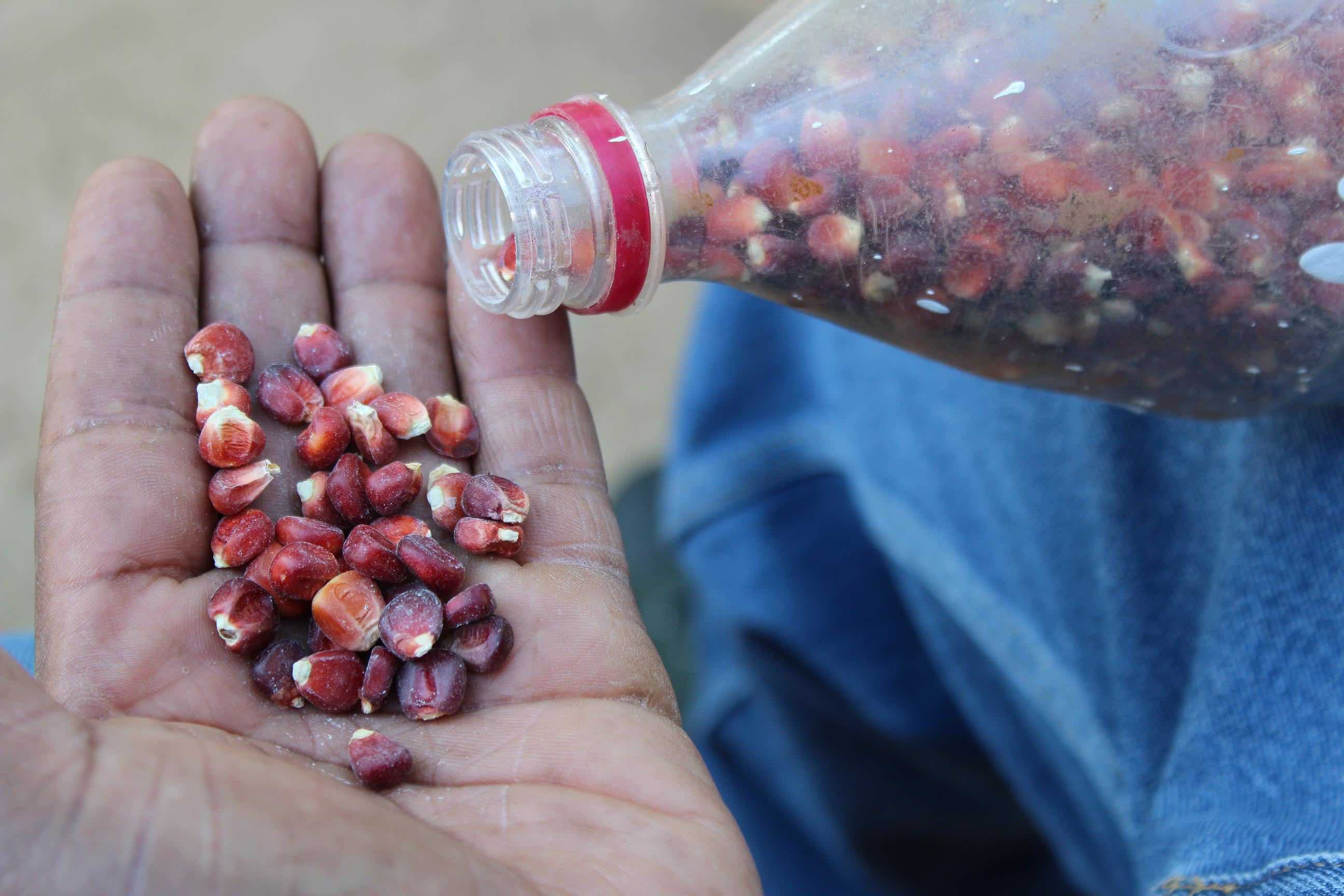 12 Dec

SEEDcontrol: SA is losing its real gold
Traditional food crops that have adapted to climate change and poor soils hold the key to food security, but is enough being done to conserve them? Michelle Nel joined agriculturalist John Nzira and a team of Italian seed researchers in search of South Africa's true wealth
A visit to the homestead of the Netshidzivhe people in Limpopo province produces a treasure trove of heritage seeds and ancient plant varieties that are being conserved.
In the hills near Thohoyandou, women farmers belonging to a group called the Mupo collective save maize varieties – red cobs, yellow, black, white and cobs that had all four colours on them – from year to year.
About 140kg of maize seeds, both Tshitonga and Tshitavhatsindi maize strains, have been pledged by project members to the Mupo shop in good years, and they are re-planted and propagated. The women also have food gardens and indigenous tree nurseries that are grown from ancient Venda seeds.
The special skills needed to grow maize for seed collection were introduced to the women by agricultural trainer John Nzira. He taught them how to assess the moisture content in the kernels to prevent the seeds rotting, how to prevent insects biting the kernels, and how to weigh freshly shelled seeds in their hands.
"Most Limpopo farmers have witnessed climate change," Nzira says. "My focus is on small-scale farmers because they are the ones who are actually producing more than 70% of food in sub-Saharan Africa.
"Research funding usually goes into the big commercial farms which grow only a few crops, yet it is the smallholders who exploit diversity."
New technologies
Despite its status as Southern Africa's largest maize producer, South Africa might need to import four million metric tons of maize this year due to drought, and food prices are on the rise across the region.
In August the United Nations Food and Agriculture Organisation said at least US$100-million would be required to help farmers in 10 Southern African countries produce sufficient food for at least 20-million people annually. The organisation urged regional governments to invest in new technologies to produce drought-tolerant seed varieties.
According to the director of the African Centre for Biodiversity (AcBio), Mariam Mayet, the South African government has granted approval for development of a "climate smart" solution to drought – in the form of genetically modified (GM) drought-tolerant maize, also known as MON87460.
However, smallholder farmers will be forced to buy new seed each year. By contrast, some of the ancient varieties have evolved drought resistance and can be saved from year to year.
"We have a farmer-managed seed system serving some 2,5-million farmers," says Mayet. "It is under-researched and under-supported. It is written off as backward but is not.
"The farmer-managed seed system provides for more than 80% of the seed for food eaten by Africans. Small-scale farmers in Southern Africa obtain only a fraction of seed from commercial seed companies."
The government runs a farmer input subsidy programme that promotes hi-tech methods, says Mayet. It subsidises fertiliser, pesticides and hybrid or GM seed. The big companies get a secure market, but little is left over for sustainable farming and some of the subsidy has to be paid back by the farmers. This results in farmers slowly sliding into debt.
International law
European plant breeders developed the International Union for the Protection of New Varieties of Plants 1991, a convention for highly industrialised agricultural systems. Mayet argues that it is inappropriate for developing countries: it is too centralised, undermines sovereign rights of member states, destroys biodiversity and weakens farmers' rights.
In spite of this, the African Regional Intellectual Property Organisation used the European convention as the base for the development of the Arusha Protocol for the Protection of New Varieties of Plants. This law is designed to protect intellectual property against other breeders and farmers, who are not allowed to save the seed.
African civil society's resistance to the Arusha Protocol includes concerns about access, benefit sharing, food security and issues around human rights.
The International Agreement on Plant Genetic Resources recognises small farmers, yet present regimes are restrictive and do not allow farmers to develop varieties in their fields, Mayet argues.
Farmers lose the skill of breeding seeds in their fields, and those who do breed are doing so illegally. "They currently fly under the radar but we want the protection of small farmers explicitly in law," she says.
AcBio has embarked on a study of farmer-managed seed systems and earlier this year produced a scoping report on the integration of small-scale farmers into formal seed production in South Africa.
"Farmer-managed systems are better studied elsewhere in Africa," Mayet says. "There are lots of information gaps in our local seed market. We are told that farmers get their seed from rural local markets. Is there a vibrant market? Is there seed diversity?"
Diversified food systems
In a village near Makhado in Limpopo, Florence Mashau uses permaculture methods to grow vegetables, grains and fruit at her homestead. She has dug swales along contour ridges and created spirals around deep pits filled with rocks to retain water.
Mashau's garden feeds her extended family in Mashau Bodwe village. She was trained in permaculture by John Nzira, and she in turn has shared her knowledge with other women in the village.
"I choose a leader in each village who sets up a demonstration garden and shares her skills, some seed and seedlings with her fellows," says Nzira. "The leader has a diversified food system at her homestead, and the passion and willingness to help others. Each leader produces food and generates income."
Mashau shows off her collection of seed saved from her garden each year, including moringa tree seeds, maize, varieties of beans and other grains.
At Mankweng village, near the Springbok flats which are mostly devoted to huge commercial maize farms, another group of female smallholders are grouped under the leadership of Anna Molala.
Molala's permaculture fields grow seedlings to support about 147 permaculture gardens in her village. More than 1,000 people benefit from the healthy food and income-generating opportunities.
Molala has a garden shed set aside for seed storage, where she has more than 31 varieties saved and carefully labelled. Saved seed is treated with ash and paraffin to repel insects and mould.
Lack of water is the main challenge, says Molala. "We plant drought-tolerant food such as beans, watermelon and mealies. Before using the water-saving and nutrient-adding techniques of permaculture, I was not getting enough food. But now my friend, Maria [Sebopa] and I get enough food from our gardens."
Sebopa lives nearby and has also established a food garden. Both women grow some popular varieties such as chilies for sale. They could earn more money if they had transport to the bigger towns.
Nzira founded the Ukuvuna Urban Farming project, based in Midrand in Gauteng, in 2005 to demonstrate permaculture and sustainable living. Ukuvuna facilitates projects for smallholder farmers across Southern Africa.
"If you go in Mozambique, people grow food for themselves. There are no social benefits or support from the government. In Zimbabwe we grew up producing food for ourselves. We never thought that food comes from the government. It's only in South Africa that people have urbanised and forgotten how to grow food," Nzira says.
Heirloom seeds
Perhaps the biggest irony in our quest to find ancient African seeds such as cowpea and bambara nut is that we find them almost in Johannesburg's backyard, and in that most modern of shopping emporia, online.
The grower is Sean Freeman, who runs an online heirloom seed business called Livingseeds from a middle-class smallholding in Henley-on-Klip in Midvaal, south of Johannesburg. Seeds are grown, collected, cleaned, dried and then packed for sale on site.
"We are South Africa's largest supplier of heirloom vegetable seed," Freeman says. "We specialise in growing vegetable seeds for the South African home gardener market and sell 600 varieties of vegetables."
Freeman estimates he grows more than 800 varieties every year and his customer base exceeds 15,000 customers.
"We specialise in growing what we call high-value crops and crops that are difficult to import into South Africa, like tomato seed, beans, cucumbers and melons. There are some unrealistic sanitary regulations that our government imposes on importers."
Why are there not more small seed businesses?
According to Freeman, there are two main reasons. One has to do with the capacity of farmers to work on value creation and the other one is related to the South African seed regulations.
At present, regulations favour large producers. Freeman is creating value through exploiting the "heirloom" niche. A small grower of hybrid maize could never compete with the multinational companies and their lobbying power and economies of scale. Large commercial farmers on 300 hectares of land can afford bulk seed, chemicals, irrigation, transportation costs and storage.
The small grower would have to find a special niche for maize to make it profitable. Mayet says small farmers need another system and another market linked to nutritious and affordable food.
In Cuba, according to the Worldwatch Institute, small farmers produce 60% of food. Cuba has 530,000 small farm plots and backyard gardens. Cities like Havana are able to meet up to 70% of food needs from these.
Seed banks
What is the government doing to conserve traditional African crops? Oxpeckers made calls to universities teaching agriculture, to special university-linked research institutes such as Farmer Support Group, and to the Department of Agriculture's research units to ask who is researching traditional crops.
We discovered there are precious few people working in this area, and websites featuring initiatives are years out of date.
AcBio's Mariam Mayet says there is an urgent need for research institutes to partner with small farmers to boost farmer-managed seed systems.
"Currently laws criminalise small farmers, the government gives them no support, and they're in danger of becoming obsolete. Farmers will tell you about many varieties that have been lost. They want to reclaim them."
There's a lot of goodwill in public research institutions and in academia for farmer-managed seed systems.
"The national gene banks empathise with farmers," says Mayet. "They would love to give farmers access to seed. But for anything concrete to happen, NGOs like ourselves and small farmers will have to lobby strongly to create a clear agenda."
Some seed varieties may have lost their vigour because they haven't been replenished, but they have other characteristics like drought tolerance. Medicinal plants are vital in rural areas because people have very little access to healthcare.
We asked industry insider Wynand van der Walt, who has a PhD in genetics and worked for the South African National Seed Organisation, an industry group of major seed companies, if there are seed banks of old varieties.
"Old seeds of major food crops are found in seed banks or germplasm collections at institutes of the Agricultural Research Council," he said. "These include winter cereals at Bethlehem, agronomic crops at Potchefstroom, vegetables at Roodeplaat, some subtropicals at Nelspruit, ornamentals and fynbos at Kirstenbosch and the Botanical Research Institute at Pretoria."
Mayet says she has heard of two community seed banks, in Limpopo and the Eastern Cape. They are in their infancy and fragmented, she comments.
Extensive work was done in 2003 to establish a community seed bank in Limpopo's Vhembe district. Big-industry players participated and seed was successfully produced.
The AcBio scoping report notes that community-based seed production schemes are important for ensuring that small farmers have access to enough good seed. However, most schemes do not survive after external support is removed.
In addition, "unprofitable" seeds, which may be important in achieving drought resilience, such as mung bean, cowpea and millet, are not always easy to sell.
Small farmers are often isolated in deep rural areas and the institutes are not easy to contact. The only truly accessible information is the free downloadable DIY guides on how to grow indigenous foods, produced by the Department of Agriculture. – Oxpeckers.org
To see how climate change is affecting Southern Africa, use the Oxpeckers ClimaTracker app
How the giant seed companies control global food security, and how this affects South Africa: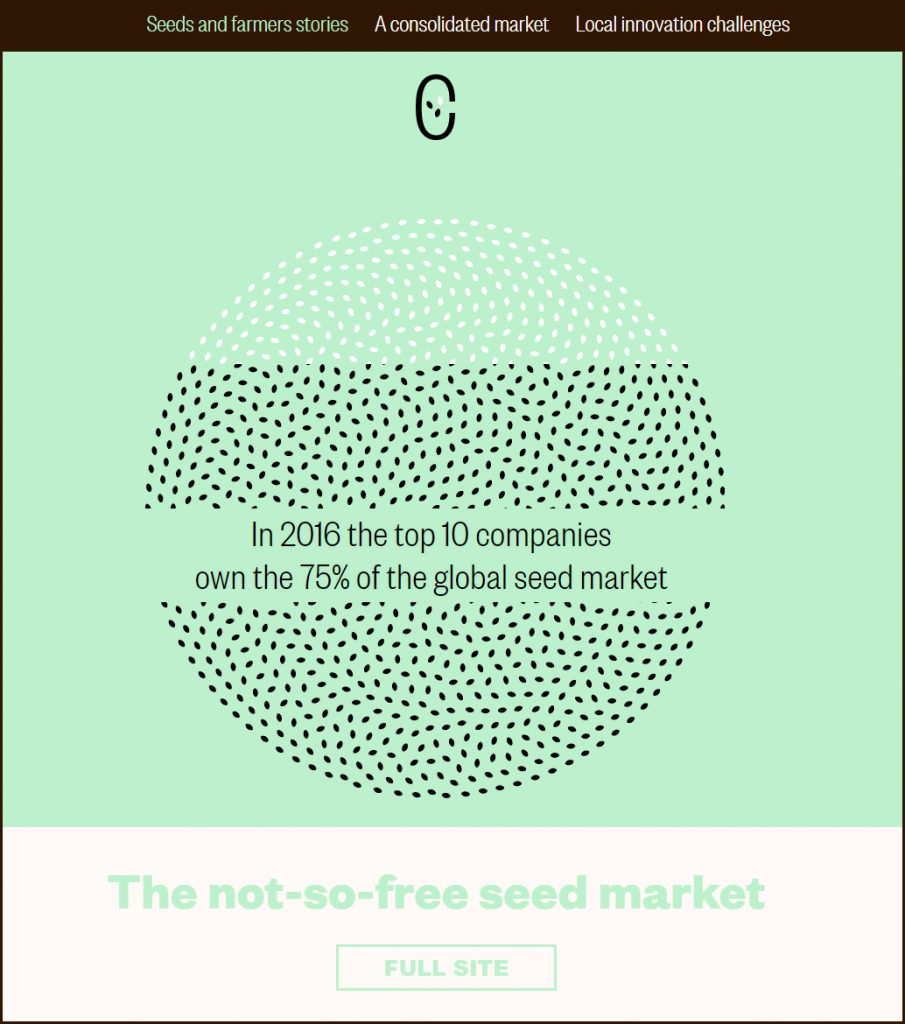 SEEDcontrol is a transnational project crossing two continents, and many countries. It is a collaboration between Oxpeckers and Formicablu, an Italian science communication agency, funded by the Innovation in Development Reporting Grant Programme of the European Journalism Center with the support of the Bill and Melinda Gates Foundation.