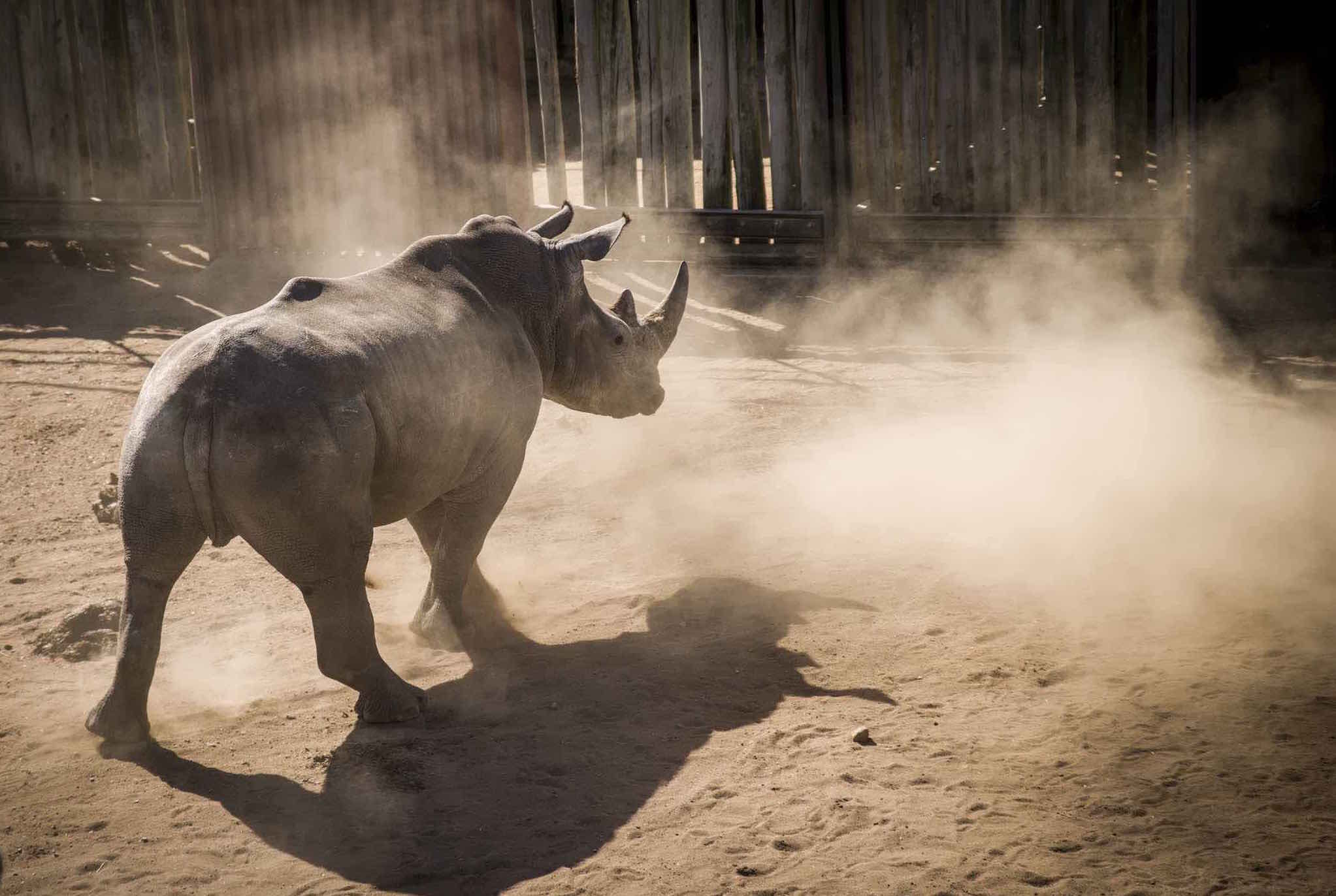 05 Oct

Business as usual for rhinos
The hunting of a rhino by a Vietnamese client with the 'Musina Mafia' set the tone for the treatment of the endangered species at CITES CoP17, writes Yolandi Groenewald
On the weekend of the opening of CITES CoP17, while delegates deliberated the fate of rhinos, a Vietnamese hunter was given official sanction to shoot a white rhino in Limpopo with a group of professional hunters facing thousands of charges of illegal hunting.
Oxpeckers understands that the Vietnamese client is a regular hunter in South Africa and may have hunted with the notorious Dawie Groenewald's outfit, Wild Africa Hunting Safaris (previously called Out of Africa Adventurous Safaris), in the past.
Groenewald is the alleged kingpin of a rhino poaching and trafficking syndicate known as the "Musina Mafia", a group of hunters and veterinarians in the northern province of Limpopo that allegedly colluded to offer illegal hunts to mostly Vietnamese hunters.
He was arrested in 2010 along with 10 others, including his wife, vets and other professional hunters, and faces thousands of counts of illegal hunting, dealing in rhino horns, racketeering, money laundering and fraud. He was arrested after a 15-month special operation called Project Cruiser.
He and his co-accused are now on trial for running pseudo-hunts, translocating and dehorning rhinos, making false applications for permits, and selling horns illegally from 2006 to September 2010.
While it is legal for white rhinos to be hunted in South Africa under strict permit conditions, the hunt on the eve of CITES deliberations and its links to an ethically challenged outfit angered wildlife groups at the talks.
Allison Thomson, director of Outraged SA Citizens against Poaching (Oscap), said she was astounded that a rhino-hunting permit could be issued to anyone with links to the Musina Mafia.
"It is also shocking that the environment department are once again issuing permits to a Vietnamese, considering the enormous number of pseudo-hunts that they have participated in previously," she said.
Groenewald's trial has been postponed to June next year, because the judge is awaiting the outcome of a Constitutional Court's ruling on the moratorium on the domestic trade in rhino horn, which has bearing on the case.
Environment Minister Edna Molewa put the moratorium on trade in place in 2009 after "pseudo-hunting" – where rhinos are hunted with a permit and their horns are laundered into the illegal trade – had spiralled out control.
By 2011 pseudo-hunting accounted for the majority of white rhino hunts in South Africa, with Vietnamese, Thai and Czech Republic nationals dominating the industry. While legal hunting offtake had not been detrimental to rhino populations, pseudo-hunting accounted for nearly one-fifth of all illicit horn leaving Africa, according to a report prepared by the IUCN Species Survival Commission, African and Asian Rhino Specialist Groups and Traffic for CITES CoP17.
Musina Mafia
Oxpeckers sources this week indicated that hunters standing trial with Groenewald trial may have been involved in the hunt on the weekend of CITES opening.
However, Groenewald denied any knowledge of the hunt and said he had cut ties with many of his co-accused. "I haven't hunted in six years," he replied to Oxpeckers inquiries.
Limpopo's department of economic development, environment and tourism (Ledet) was initially reluctant to issue the permit but was persuaded to do so by the national department, sources said.
Albi Modise, spokesperson for the national department, confirmed that the hunt had taken place, but referred Oxpeckers to Ledet for the particulars.
Ledet officials did not respond to queries about the circumstances of the hunt, and would not say whether members of the Musina Mafia might had been involved.
Modise said the national department had recommended to Ledet that a permit be issued for the hunt. "The department does not prescribe to provinces, it merely recommends – it is the prerogative of the province to issue a permit or not.
"The National Scientific Authority drafted a non-detriment finding for white rhinoceros which has been published by the department on its website. The hunting of this rhino was thus not detrimental to the survival of the species in the wild," Modise said.
Attempts by Oxpeckers to have sight of the permit and to obtain the name of the Vietnamese client were unsuccessful.
Groenewald said he was keeping a close eye on CITES, and he believed the ban on trade in rhino horn was driving the species towards extinction.
"If we don't legalise the trade in rhino horn, we'll be signing the death certificate of rhinos. It is the only way to save the species. The ban is not working," he said.
A proposal by Swaziland to legalise regulated trade in rhino horn was rejected at CITES this week: 100 delegates voted no, while only 26 votes were in favour of the proposal. Seventeen nations abstained.
In its bid, Swaziland asked for permission to sell nearly 330kg of rhino horn from its existing stockpiles to an un-named number of "licensed retailers" in "the Far East" for $9,9-million. After this initial sale, the country then wanted to sell 20kg a year.
During the debate at CITES, Swaziland moaned that 170 nations without rhinos would have a say on the fate of 11 nations with rhinos, and claimed that 90% of rhino range states supported its proposal. Swaziland requested that the proposal go to a secret ballot vote, where the motion was defeated.
South Africa threw its weight behind the Swazi proposal, saying limited trade in rhino horn by Swaziland would not impact on rhinos in South Africa. Sustainable, non-detrimental trade in rhino horn was possible under the right circumstances, and would generate much-needed revenue for conservation.
The South African government failed to to submit its own rhino horn trade proposal, after appointing a committee to investigate the issue earlier this year. The country, which has lost nearly 6,000 rhinos to poachers since 2007 and at least 718 this year, holds greater influence than Swaziland, which only has 73 rhinos in its parks.
The committee advised that more work had to be done in various areas, including community involvement, before the South African government should favour legal trade.
Keith Anthony Lockwood, economic consultant for the government task group, told a CITES side meeting that it was not advisable to even think about establishing a legal trade mechanism without first fixing crucial issues such as security, demand management and putting the necessary regulations in place.
Oscap's Thomson said South Africa had gone to great lengths to evaluate and consider a trade proposal.
"The committee's findings suggested that, unless safeguards were in place that would protect our rhino population and those of range states, it would not be in the best interests of rhinos and the conservation of the species to open trade in rhino horn," she said.
Thomson said the proposal submitted by Swaziland was poorly considered and, by its own admission, was put together at the 11th hour with little consideration or consultation with other rhino range states.
"Swaziland is in the grip of a very severe drought and has lost 17 rhinos in just one year, pushing their small rhino population into negative growth," she said. "In light of this, we would have preferred Swaziland to have focused on how they might use this CITES meeting to improve protection and conservation of their rhinos, rather than trying to open up trade."
Ted Reilly, the 78-year-old head of Swaziland's Big Game Parks and the main author of the Swazi proposal, made an impassioned plea at the CITES plenary on Monday afternoon. He said protecting rhinos cost big money, and conservation needed money desperately.
"Rhinos and rangers continue to die under this ban. Under this ban dead rhinos are more valuable than live rhinos," he said.
The issue was not about illegal trade, but about establishing a legal trade mechanism that could make a huge difference to rhinos. "The CITES ban promoting illegal trade contradicts core concept of conservation," he said. "Criminals take 100% of the profits from rhino horn sales, while custodians pay a 100% fee to protect rhinos. Rhinos can easily finance conservation in range states, all without killing a single rhino."
Besides South Africa, the Democratic Republic of Congo, Japan, Zimbabwe and Namibia supported the Swazi proposal. Japan said the proposal was worth considering because the current 40-year-old ban on trade had not been successful.
Kenya provided one of the strongest voices against opening trade. It said legal trade would stimulate demand, and Swaziland's small population of rhinos would bear the brunt.
The European Union, Israel, the United States and India also opposed the Swazi proposal. "Time is not right for commercialisation of rhino horn," the US said.
Pelham Jones, chairperson of the Private Rhino Owners Association, one of the main lobbyists for the opening of trade, said he was disappointed with the CITES decision.
The World Wide Fund for Nature (WWF) said it was happy with the outcome as the current climate was not right for legalised trade in horns. A decision taken to send CITES Secretariat missions to Vietnam and Mozambique to assess the situation on the ground in key countries implicated in rhino horn trafficking was a positive move.
"CITES sent a strong signal to Vietnam and Mozambique that it can no longer tolerate their role in the illegal rhino horn trade," said Leigh Henry, wildlife policy expert at WWF. – oxpeckers.org
Related links:
• Interactive geojournalism map showing updated rhino poaching data from 2010 to 2016
• The details of Swaziland's proposal