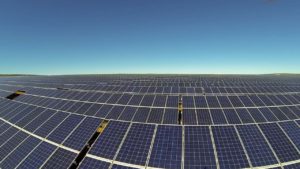 19 Jul

Bring on the sun
Terence Govender, vice-president of development at the giant SolarReserve project in the Northern Cape, talks to Tholakele Nene about the benefits of investing in renewable energy
Renewable energy sources such as wind and solar are helping to stabilise the national grid by working alongside coal-generated electricity to meet the growing demand for power in South Africa.
A study by the Council for Scientific and Industrial Research (CSIR) showed that since the rollout of alternative energy technologies in 2014/15 there had been few incidents of load shedding. Renewables produced 4, 7 terawatt hours, equalling 2% of the total electricity demand (237 terawatts), in the two-year period.
Head of the Energy Centre at CSIR, Tobias Bischof-Niemz, says though this might sound like a small percentage, it is a great accomplishment for renewables, considering that they are "a slow-moving type of infrastructure". If South Africa works towards meeting an extra 1% of demand each year, the figure will grow to 10% in the next decade.
According to the CSIR study, renewables have not only stabilised the national grid but have also saved national power utility Eskom billions of rands it would have spent on coal and diesel. In the first six months of 2015, the saving was R77-million on coal and R1,5-billion on diesel.
The Northern Cape is ramping up the contribution of renewables with large-scale new technology projects using concentrating solar power (CSP). This uses a unique dry cooling technology to allow continuous power generation even when the sun sets.
In this short video Terence Govender, vice-president of development at the SolarReserve project, speaks about the benefits of investing in renewable energy. He explains the reduced costs, and the drastic reduction in the amount of water needed for solar plants compared to conventional coal-powered plants, using the Jasper power plant as an example.  
SolarReserve has three giant solar plants in the Northern Cape. These projects are making a significant difference in the lives of local residents and have minimal negative environmental impacts.
Tholakele Nene's tour of solar energy projects was sponsored by the United States Embassy in South Africa.
To see how climate change is affecting Southern Africa, use the Oxpeckers ClimaTracker app