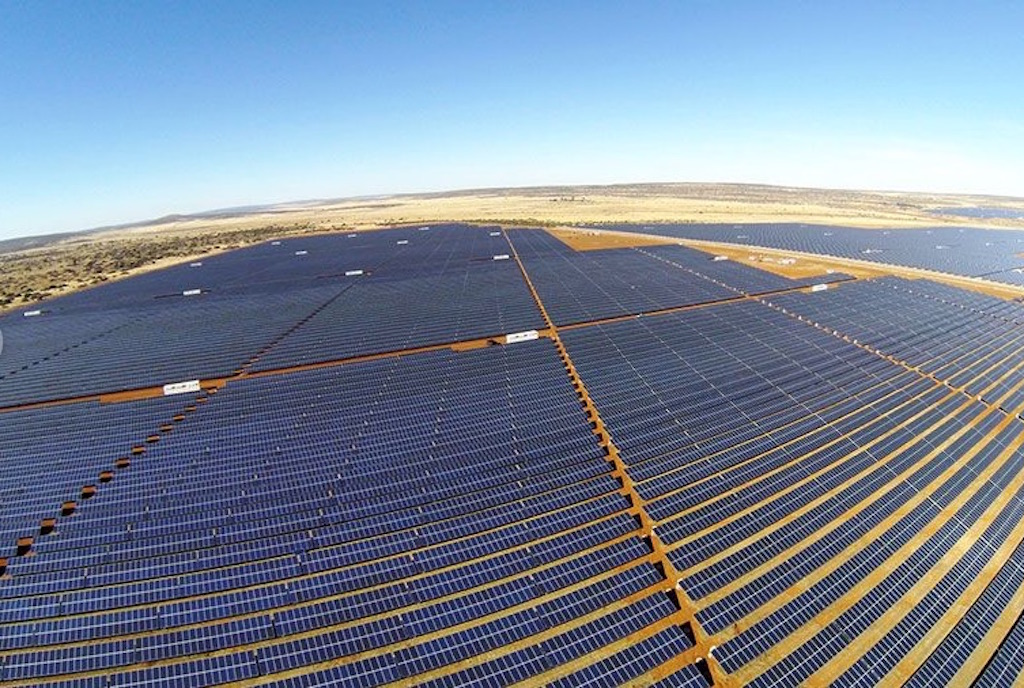 04 Jul

Northern Cape thrives on sunshine
Tholakele Nene finds out how giant solar power projects are making a difference to rural lives affected by climate change in semi-desert areas of the Northern Cape
Households in dusty Groenwater, a dirt-poor rural neighbourhood in the Northern Cape, no longer need candles to light up the night, or to burn wood for heating water during the bitterly cold winter weather.
Amid the impacts of global climate change, which in this semi-desert area means colder winters and hotter summers, Groenwater residents joined the energy grid with the help of cutting-edge green technology.
Groenwater and neighbouring settlements are part of a solar energy project implemented by renewable energy giant SolarReserve, aimed at providing electricity to homes without access to the national electricity grid.
The installation of solar panels has not only improved the lives of residents, but has made a significant difference in the local environment as households moved away from burning wood to meet their everyday energy needs.
Solar photovoltaic units are provided free of charge to residents, and can power a 300W television for three hours, a 10W cellphone charger for seven hours and one 600W AC appliance such as a kettle.
One of the beneficiaries of the project in Groenwater, Ben Diradiisiwe, expressed delight at being energised: "Now I can light up my house and charge my cellphone," he said.
SolarReserve has also set up solar LED street lighting in the area and has erected solar panels at Refentse Primary School as part of going off-grid. The hot water generated will be shared among students, staff and community members.
Refentse Primary School, the only school in the area with a total of 196 students, is also benefiting from a solar borehole irrigation system.
Solar giant
The household programme inspired SolarReserve to bid to produce solar energy through the Jasper, Lesedi and Redstone project in the Northern Cape. The project is the biggest US investment in South Africa, comprising a $400-million commitment of debt financing to support the development of concentrating solar power in the Northern Cape.
Redstone is a 100MW clean energy facility in the process of being connected to the national grid. At 75MW-DC installed capacity, Lesedi is among the largest renewable energy projects in Africa.
The Jasper plant comprises 900 hectares of solar panels spread over fields near Postmasburg that currently power 75,000 homes across South Africa during peak demand, with zero emissions. Energy produced by Jasper is sold to national utility Eskom at an invoiced price determined by the meter reading at the Jasper substation in Postmasburg.
Concentrating Solar Power
The project provides an uninterrupted energy flow using new technology called concentrating solar power (CSP) and molten salt storage. This means it generates electricity and meets demand even when the sun goes down.
Sunlight is concentrated and directed from a large field of heliostats – 10, 347 solar mirrors – to a receiver on a 195m-high tower. Liquid salt from cold salt tanks is pumped through the receiver, where it is heated to 566 degrees Celsius and stored in a hot salt tank. The hot salt is then pumped through a steam turbine, generating electricity.
According to SolarReserve's vice-president of development, Terence Govender, CSP is cheaper than conventional energy. Solar power is a free, renewable energy resource and South Africa has one of the best climates in the world to provide it, which is why the company decided to set up in the country, he said.
"Coal is not going to last us forever. Coal is expensive. The price of coal increases every year," Govender said.
"However, the sun came up this morning and I guarantee that it will rise again tomorrow, and it is free. It's not getting more and more expensive."
He said the price of solar energy has decreased from R2,80 per kilowatt hour in 2011 to below 60 cents in 2016. "This is way cheaper than what Eskom is generating power for," Govender said.
SolarReserve has created 8,000 direct, indirect and induced jobs since setting up and will continue to develop the areas around the project. The larger Redstone project is expected to come online in 2018 and will power 200,000 homes during peak demand.
Tholakele Nene's tour of solar energy projects was sponsored by the United States Embassy in South Africa
To see how climate change is affecting Southern Africa, use the Oxpeckers ClimaTracker app