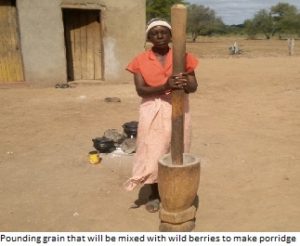 24 Jun

Smart innovations boost resilience to drought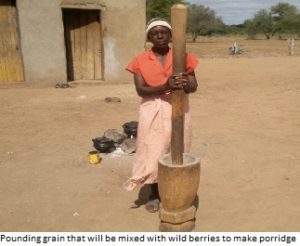 By Locadia Mavhudzi
Approximately 4.5-million people, more than 30% of Zimbabwe's population, will be in need of food aid by next March, according to recent estimates by the United Nations Development Programme.
The government's own numbers indicate four million people already require food aid as the country struggles to recover from a severe drought that has devastated its staple maize crop.
The drought is the worst to hit Zimbabwe in two decades. President Robert Mugabe declared a state of disaster following widespread crop failure, the death of thousands of livestock and near destruction of many rural people's way of life.
In the hard-hit rural districts of Masvingo province in the south-east of the country, the drought has severely affected women, many of whom bear economic responsibility for their families.
Neliet Mupinga of Tsvovani village in Chiredzi District said she had to sell her six cattle at a giveaway price of US$60 after her other three cattle perished.
"The water situation here is pathetic as most water sources have already dried up. We did not manage to receive enough rains even for the pastures. Our cattle started dying, so we had to sell them to buyers who were dictating the price to us," said Mupinga, who has four school-aged children.
Under increasingly desperate conditions, families are hoping that indigenous knowledge about their environment may be the key.
Each morning, Mupinga and her family of two boys and two girls travel to the nearest forest, where they pick up wild berries commonly known as nhunguru, nyii, tsubvu and matamba, which they soak and combine with pounded grains to make porridge.
But they're not the only ones there. "My children get into the forest as early as possible to pick berries because we are competing as a community. The monkeys and baboons also feed on these berries, so it is survival of the fittest," said Mupinga.
While the process may be foreign to her children, Mupinga said this method of preparing food is not new. The wild berry porridge was formerly a delicacy in the region, a form of indigenous knowledge passed from generation to generation that all but disappeared with the modernisation of some African dishes.
The berries are drought resistant as they survive under minimal rainfall and high temperatures. In fact, according to a traditional leader in Sengwe, the berries are typically an indicator of an upcoming prolonged dry season.
Farmers in Masvingo are turning to less water-reliant crops to sustain them through the drought. According to community leader Muripi Bhaloyi, this practice of climate smart agriculture has cushioned him from the prevailing poverty.
"For this part of the country we are encouraged to grow drought-resistant traditional crops such as sorghum, millet roundnuts and groundnuts," he said.
A visit to his field showed the difference. Though his crop yields have greatly diminished, there was enough for his family to eat.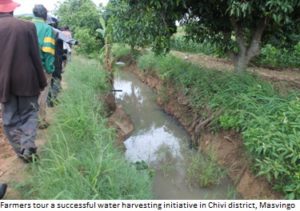 Water harvesting
A farmer in nearby Chivi District has boosted his livelihood through water harvesting. Amon Maseko said this is the only way to capture rain water and preserve it for use.
"I have dug infiltration pits in my field area. I have made channels across my farm to direct all rainwater to the various infiltration pits and to the small dams that I constructed.
"I have worked hard to make sure all rainwater is harvested as we normally receive it in the form of flash floods," he said.
A visit to his communal farm revealed an oasis of green in the middle of the desert. His family is making a living from the sale of vegetables, fruits and vattiva grass. – Earthjournalism.net
To see how climate change is affecting Southern Africa, use the Oxpeckers ClimaTracker app