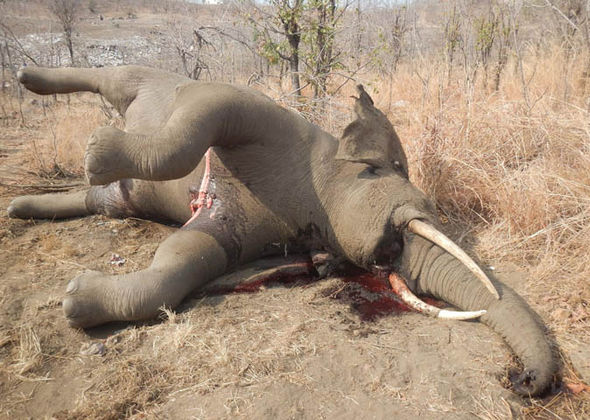 20 May

Zimbabwe's elephant poaching citadel
Why is a dusty town near Hwange National Park making international headlines for the poisoning of elephants? Oscar Nkala unravels the networks and modus operandi behind Dete's infamy
It takes almost four hours to drive the 288km from Bulawayo in Zimbabwe to Cross Dete, a busy crossroads located to the north-east of Zimbabwe's world-famous Hwange National Park.
However, it takes only 15 minutes to cover the 14km stretch from Cross Dete to the small compound town of Dete, a settlement of mud-and-pole huts that during 35 years of post-independence development seems to have been either forgotten, or simply neglected.
Apart from Gwayi Ceramics, a brick and tile manufacturing company that has largely ceased operations, there is no other source of employment in this settlement with a mixed age-group population of at least 3,000.
Dete is made up of two sections of derelict one-, two- and four-roomed mud and pole dagga huts and equally ageing, large-windowed compound-style houses set in yards where imposing mango trees take up the bulk of the space.
The compound location is made up of dusty streets and one rural business centre where each shop tries to lure more customers with music blaring at full blast from tall disco speakers. It is divided into two main sections, named Mtuya and Soweto.
Until one starts digging deeper, Dete is a small town of unemployed people who are suffering the misfortune of being located on the northern boundary fence of Hwange National Park. It also lies directly on the migration routes of elephants, lions, leopards, hyenas, warthogs and other dangerous wildlife which make regular forays into the town and nearby villages.
Like the small town, the surrounding villages under the respective jurisdictions of Chief Dingane Nelukoba and Chief Nekatambe are at the forefront of the bitter but largely ignored human-animal conflict that has been simmering for decades on the northern edge of Hwange. Locals speak of predators raiding their kraals to eat livestock and sometimes killing people who attempt to scare them off.
They also speak bitterly about receiving no compensation from the government after elephants destroy their crops and kill residents. This happens several times a year, and a woman was trampled to death by a stray elephant in the Kamalala communal area near Kamativi in mid-May.
Poachers' citadel
Examination of recent anti-poaching operations around Hwange indicates that Dete has assumed the status of a citadel of elephant poachers.
The small town was firmly placed under the international spotlight when police detectives arrested seven poachers from the compounds of Mtuya and Soweto on November 22 2015, on allegations of involvement in the cyanide poisoning that has been responsible for the recent deaths of more than 100 elephants in Hwange.
The operation recovered two elephant tusks, a .375 hunting rifle, some ammunition of undefined make and 4.5kg of cyanide powder-form cyanide concentrate. On November 25, four of the suspects – Forget Shoko, Stephen Moyo, Makwikwi Mujeje and James Nkomo – were each sentenced in the Hwange Magistrate's Court to 10 years and 9 months in prison for illegal possession of ivory, a firearm, ammunition and cyanide concentrate weighing 4.5kg.
Parks ranger
Another operation last November saw police arrest former parks ranger Bakasa Khumalo, along with Givemore Shoko, Sipho Mafu and Mduduzi Ndlovu, on charges of the illegal possession of ivory weighing 37kg and a .458 rifle.
When the four appeared in the Kwekwe Magistrate's Court on November 13, prosecutors discovered that they had been released on bail pending their second appearance in the Hwange Magistrate's Court on charges relating to poaching elephants in the national park.
The police also discovered that Givemore Shoko was Forget Shoko's brother and had used his home in Dete as a base from which to mount illegal hunting expeditions.
Detectives found that Mafu had been arrested in connection with the October 2013 poisoning of more than 300 elephants in Hwange but avoided conviction on a technicality, and the former parks ranger Khumalo was discharged from service in mid-2013 for attempted armed robbery of the parks ivory warehouse in Bulawayo.
The Dete network also arose in the case against another game ranger, Lucky Mbeuri, who was arrested on November 29 2015 at the Parks and Wildlife Authority's Main Camp on allegations of using his service rifle to poach elephants. During his appearance in court on December 12 2015, Mbeuri testified that he had started poaching elephants using cyanide poisoning and shooting as far back as March 2015.
He said that after shooting or poisoning the elephants, he would take the tusks to one Gilbert Mathe of Soweto in Dete, who had links to Harare-based ivory dealers through a Dete-based middleman identified in court papers as Simon Chimbo. Mbeuri said he, Mathe and Chimbo had shot dozens of elephants around the Main Camp area of the Hwange park throughout 2015.
Mbeuri said he was paid an average of US$1,400 per pair of elephant tusks supplied, and in October 2015 Chimbo had bought him a luxury vehicle and a residential stand in his hometown of Gokwe to reward him for his consistent ivory supplies. He implicated five other game rangers, including one Martin Matava, in the poaching of elephants to supply Chimbo's syndicate.
In an unrelated case, on May 9 2016 a magistrate in Hwange sentenced Moses Masuku, also from Dete, to nine years in prison for the illegal capture, possession and attempting to sell a live pangolin, a critically endangered species in
Zimbabwe, for US$2,500.
Sign of the times
In the Mtuya section of Dete, Oxpeckers asked 92-year-old resident Moses Mwale why the small town, which once hosted the offices of parastals such as the National Railways of Zimbabwe (NRZ), Hwange Colliery Company and Gwayi Ceramics, has been transformed into a citadel of poachers.
"For the decades immediately before and after independence in 1980, Dete was a peaceful, crime-free place of gainfully employed people who interacted daily with animals but never thought of poaching them to earn a living," Mwale said.
"Things started changing with worker lay-offs at NRZ, Gwayi Ceramics and the colliery. But the final straw came with the farm invasions in 2003, which knocked out the tourism industry that had kept the town alive.
"So people started turning to poaching to survive. Over the years, ivory trafficking syndicates from Harare have taken advantage of deep-rooted poverty and diminished employment opportunities to hire locals to do poaching jobs.
"It's a fact that most of the poachers arrested in Hwange are based, or have links here. But the guns, ammunition and cyanide are supplied by big people from Harare. The locals are nothing but runners and errand boys," Mwale said.
Jealous Sansole, a former opposition Movement for Democratic Change member of parliament for the Hwange West constituency, said most of the people arrested in Dete for poaching crimes are runners who are taken advantage of and abused by the owners of the syndicates.
"Most of the poachers do not even know where the ivory goes once they deliver it to local middlemen. The traffickers are fully aware of the deep poverty around here and pay them as little as $100 for taking risks they never fully understand," Sansole said.
"Dete can be called a citadel of poachers, but that description would be stigmatic if it does not unveil the role of external syndicates in funding the crime and corruption that has taken root among our people."
Trafficking syndicates
According to statistics from the Zimbabwe Republic Police provincial headquarters in Hwange, at least 40 people from Dete were arrested in connection with the cyanide poaching of elephants in the national park between October and December last year.
A senior Hwange-based police officer who spoke to Oxpeckers on condition of anonymity said most of the people arrested in Dete were found to be employees of ivory-trafficking syndicates from Harare and Bulawayo.
"Most of the guys arrested in Dete did not even know where the ivory goes to. They only delivered to local middlemen who then passed it on to fixers who are usually based in Hwange or Bulawayo," he said.
"I do not know of a single poacher from Dete who earned more than $100 for their role in poaching. The syndicates pay these guys small sums of money and buy them drugs and alcohol to embark on dangerous poaching assignments."
Asked why the police were unable to dismantle the trafficking syndicates even after getting information from runners, he said it was impossible because the runners never get to know the real identities of the end-users. The ivory-trafficking syndicates have created highly deceptive, elaborate networks behind which they hide their identities and cover the trafficking trails, he said.
"In most cases the poacher knows only one person, who is usually a secondary runner for the syndicates. That person may in turn know another remote fixer who buys on behalf of the syndicates. So the ivory is passed from one person to the other until the trail disappears completely. That's why it is so hard to get to the real syndicates," he said.
Matabeleland North Provincial Affairs Minister Cain Mathema said the government is aware of high poverty levels around Dete, but said that should not be used as an excuse for committing wildlife crimes.
"Poverty is a reality all around Zimbabwe. It is not limited to Dete, so the people there cannot use poverty as an excuse for poaching.
"I think we need to separate the law-abiding people of Dete from poachers who have settled in the town to take advantage of its proximity to the animals inside Hwange National Park. Anyone who gets involved in crime, whether for reasons of poverty or the mere love of it, should be arrested and jailed," Mathema said.

• How to steal an ivory stockpile: Zimbabwean parks employees allegedly managed to steal ivory from the Hwange stockpile since 2012 and export it to international trafficking syndicates