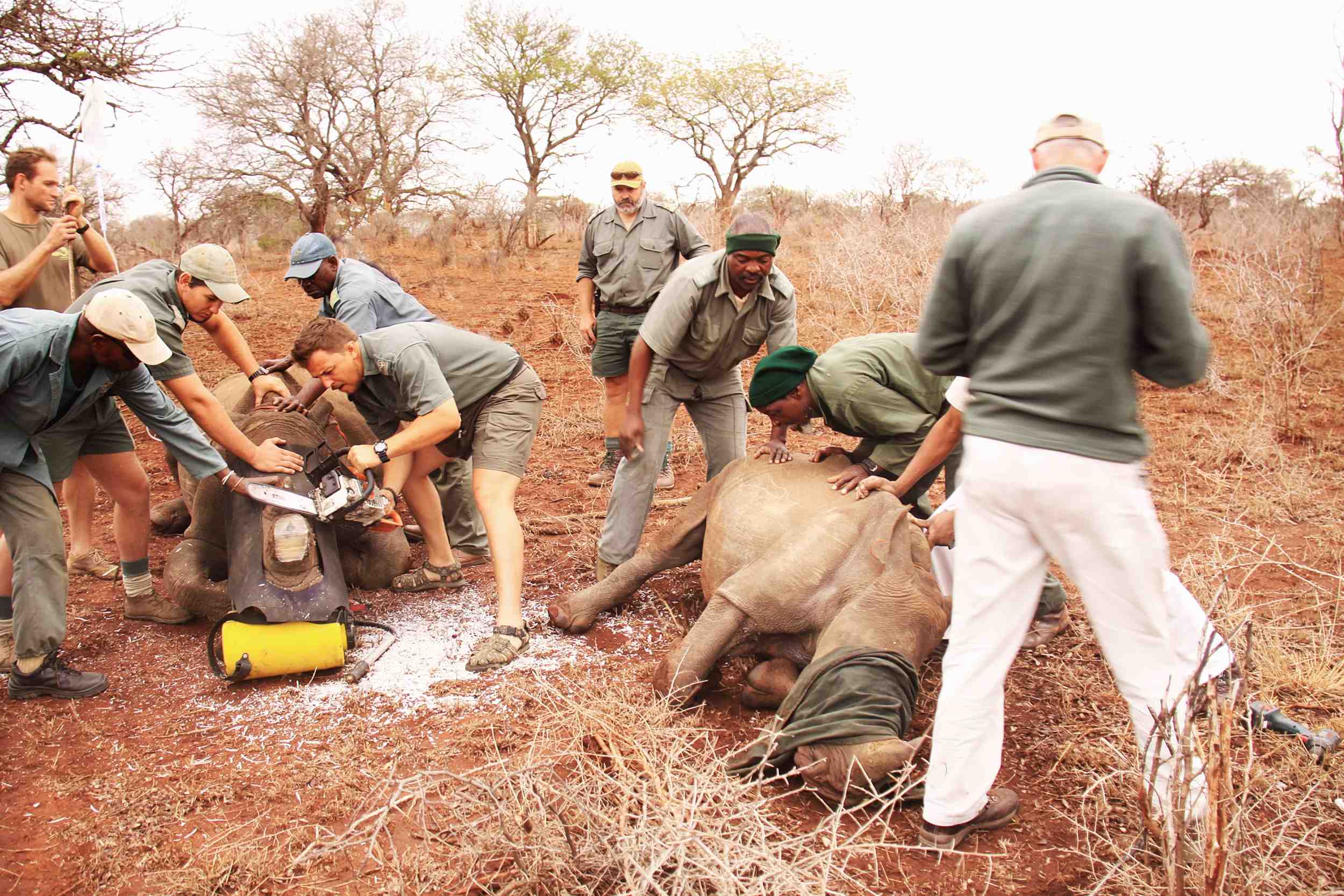 18 Jan

'Drought could kill more rhinos than poaching'
A new threat to SA's rhinos has emerged in the past six months that might eclipse the menace of poaching, writes Yolandi Groenewald
Conservationists are warning that drought might represent a bigger threat to rhinos, and South Africa's wildlife in general, than poaching.
A retired conservator based in Zululand, John Forrest, told Oxpeckers the drought could have a much more devastating effect on rhino populations in the long term than poaching. And several of South Africa's leading rangers agree with him.
"There is a great concern about especially the rhinos in this terrible drought," said an Mpumalanga-based conservationist who did not want to be named. "While many wildlife managers are making proactive decisions, there is a great worry that not enough is being done to salvage the situation."
Forrest said drought creates habitat change, which affects conditions inside game reserves and could mean "some species might disappear altogether".
Andrew Zaloumis, chief executive of iSimangaliso Wetland Park, said the drought is a bigger danger than poaching to the rhinos in his park in northern KwaZulu-Natal.
"A huge threat is the reduction of suitable habitat due to persistent severe drought, often worsened by poor land management practices upstream of protected areas," he said.
A ranger in a private reserve in Mpumalanga said that if both public and private reserves did not start acting soon, many animals would be lost.
The ranger, who wished to stay anonymous due to the delicate politics of rhino ranching, said a few private game ranches were investing in keeping their rhinos safe during the drought by moving them to better feeding grounds or bringing in supplementary feeding.
"But all of this costs money," he said, "and I'm afraid there are a few people [who are] asleep at the wheel."
Forrest said black rhinos, which are browsers, are the first to suffer due to trees losing their leaves and dying off. White rhinos, which are grazers, are not far behind. Older rhinos lose condition much faster than younger rhinos, and might even die. Calves are also in peril, he said.
KwaZulu-Natal
Northern KwaZulu-Natal has been one of the worst-hit areas. Five adult white rhinos had died due to the drought in uMkhuze provincial game reserve by the middle of December 2015. Some of them perished after getting stuck in mud at iNsumo Pan, after they were too weak to get out or to be pulled out.
"This is one of the greatest risks during a drought," said iSimangaliso spokesperson Bronwyn Coppola. "If pans fill up, this risk decreases."
In December provincial conservation body Ezemvelo KZN Wildlife began hauling water to its game reserves for both tourists and animals. It has spent around R3-million on drilling additional boreholes, and is currently drilling wells with an estimated spend of R3-million.
While the current white rhino population in iSimangaliso is below the park's ecological carrying capacity, and artificially supplied water points are flowing well, the severity of the drought, coupled with extremely high temperatures, has resulted in food shortages and severe nutritional stress for some of the animals, including rhinos.
Since December iSimangaliso has translocated 17 rhinos from the uMkhuze section of the park to the Western Shores, after dehorning them.
The relocations took place after an aerial survey showed the animals were in poor condition and needed to be moved before their condition deteriorated to a point where they would have been too weak to survive being darted.
Some rain fell in late December but the conditions, especially in uMkhuze, remain critical.
Forest said it was essential to act fast when the drought gets to a certain point: "You have to start catching and removing animals to other areas before they become too weak."
Yet moving rhinos, especially in hot conditions, can be risky. In iSimangaliso in December one of the calves collapsed during translocation and had to be physically carried into a moving crate. Park authorities said it was a miracle the calf survived.
No panic buttons in Kruger
Reynold Thakhuli, spokesperson for South African National Parks (SANParks), said most of the country's national parks had received less than half the rain of last summer and were "very dry".
"We are continuously monitoring grazing patterns in our parks, and so far it is still okay," he said. While water levels at the parks' water points had decreased significantly, SANParks was "not pressing panic buttons yet".
Animals had been lost due to the drought in arid parks such as Mokala National Park in the Northern Cape. "Our concern is for valuable species like sable and roan that we have started feeding as insurance," he said.
SANParks had not lost a single rhino to the drought, Thakuli said, and the organisation believed poaching still remained the biggest threat to rhinos.
"Wild animals adapt to the challenges they face from time to time, and that helps in lowering the mortality rate. They change their feeding behaviour to adapt to circumstances of the time."
While rains in some parts of the country brought relief in January, the threat of a bone-dry winter looms. Obtaining supplementary feed for drought-stricken areas could prove difficult, Thakuli said.
Forrest said waterbuck would be lucky if they survived this drought. Predators, however, have flourished as vegetation opens up and their prey becomes weakened.
Buffalo numbers have not decreased, putting pressure on other grazing species such as white rhinos.
Forrest said at some point hard choices would have to be made for the sake of the survival of high-value species. Most often game can be darted and moved or sold, but if there are no grazing areas available, or no market for the game, a decision has to be made about what to do with the excess game. And shooting the species always remains a controversial decision.
"But if you do nothing, you can destroy a park. It is a tough decision to make, but your interest must be to save the park and protect species," he said. – oxpeckers.org