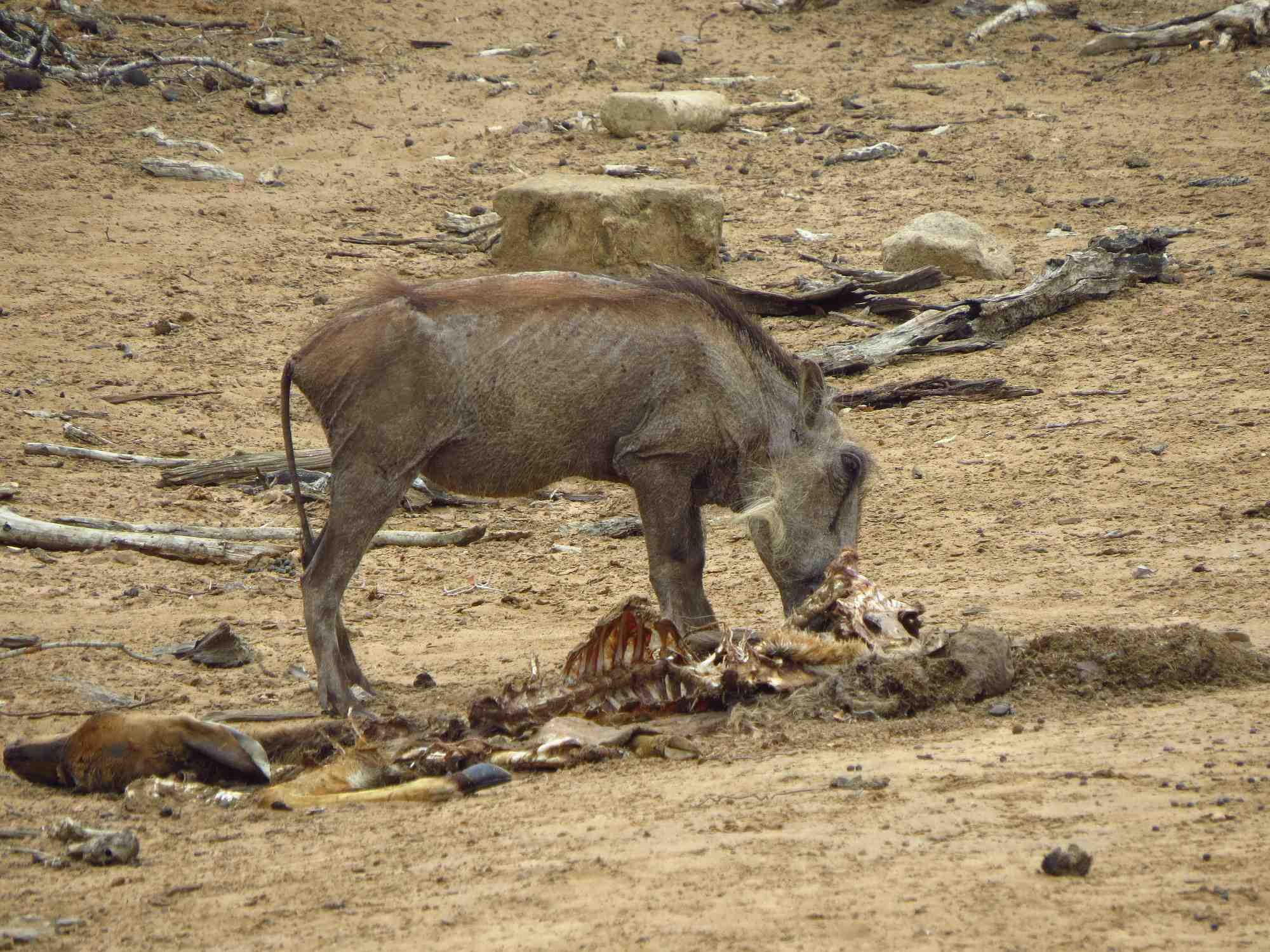 27 Jan

'Death is part of the circle of life'
Should game reserves intervene to save wildlife during climate change? Yolandi Groenewald took the debate to a drought-stricken protected area that has been forced to take preventative measures
Severe drought in northern KwaZulu-Natal has forced iSimangaliso Wetland Park to move 23 rhinos in recent months to greener pastures.
The park, South Africa's first World Heritage Site, is experiencing the lowest rainfall in 65 years and the uMkhuze Game Reserve inside the park is particularly hard hit.
January rains brought some relief, but the impacts of the ongoing drought are dramatic. The park is filled with carcasses and wildlife flocks to artificially maintained waterholes.
As reported by Oxpeckers last week, conservationists fear that the drought could pose a bigger threat to rhino populations than poaching if not managed correctly.
iSimangaliso's director, Andrew Zaloumis, said in 2015 the uMkhuze section of the park received the lowest rainfall since records began in 1951.
He made the decision to relocate 23 rhinos from uMkhuze to the park's eastern and western shores sections during December 2015 and early January 2016.
"If the drought persists, we will need to consider more removals," he said.
Bulk grazers such as white rhinos are badly affected in a drought situation because they require large quantities of food, preferably close to water. Most deaths are the result of a lack of a suitable supply of quality food.
"With very low rainfall between August and September last year, there was little vegetation growth and this resulted in mortalities of weaker individuals in the herbivore populations," Zaloumis said. "The bulk grazers such white rhinos, hippos and buffalos seem to be most affected by the drought."
Drought lowers the ability of herbivores to accumulate body fat reserves and is a common cause of deaths in semi-arid systems such as uMhkuze. Another threat to rhinos is getting stuck in the mud as rivers and pans dry up.
This is not the first time rhinos had to be moved at iSimangaliso. In 2004 management moved 22 rhinos from uMkhuze to the eastern shores.
Zaloumis said the last drought, stretching from 2002 to 2012, had taught the management team a lot. "We have vastly improved water holes, and our whole water system is better prepared," he said.
Throughout the current drought water has been provided to animals in uMkhuze by supplementing supply to some of the natural pans in the reserve, and through the sinking of boreholes.
Surviving change
Oxpeckers has been reporting on debates over how much humans should intervene in natural systems such as game reserves during a drought.
Zaloumis said rhinos are an "eco-valuable species" due their threatened status, but the primary objective of protected areas is to protect and conserve ecologically viable areas. Protected areas also have finite resources.
"These protected areas have to be managed to ensure ecological viability in which populations of all species in the system are sustained," he said. "A species' sustainability is based on its ability to survive change."
Change in systems, including added competition and the presence of disease, requires species to be genetically fit so that they can resist disease, compete to survive and adapt to change. Genetic fitness, he said, results from selection of the "strongest genes".
"Gene selection comes at a price – only the fittest survive. Weak gene promotion comes at a greater price – potential extinction of the species."
Zaloumis said the protection of genetic integrity was one of the most important considerations in conservation.
"This is the reason why conservationists place emphasis on the conservation of a species, and not on the survival of individuals in a population," he said. "This might sometimes appear harsh in the eyes of humans, but death is part of the circle of life."
As long as the natural system is managed for long-term resilience, the species will survive, he said.
"iSimangaliso's mandate is to safeguard biodiversity in its entirety, even if this means that weaker individuals in the population must die as a consequence."
The park has drawn up contingency plans to deal with the worst-case scenario of reduced rainfall until the end of March 2016. If there is no further grass production and little browse production, the park may have to increase the removal of impalas and nyalas.
The South African Weather Service has predicted the drought will continue through the late summer season, but park authorities are hopeful that next summer will deliver the rain needed. – oxpeckers.org
Yolandi Groenewald visited iSimangaliso as a guest of the park authority.
Read "Drought could kill more rhinos than poaching" here.
To see how else climate change will affect South Africa, use the Oxpeckers ClimaTracker app.