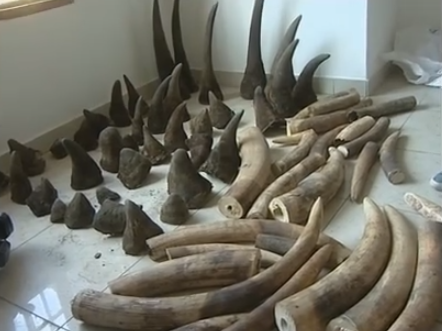 27 May

On the trail of Maputo's missing rhino horns
In a major breakthrough, Mozambican police seized 65 rhino horns and 340 elephants tusks. But then some of the horns went missing and Chinese nationals arrested were reportedly set free. Estacios Valoi reports from Maputo
A total of 12 rhino horns were stolen from a stash of 65 recently confiscated from wildlife traffickers in Mozambique, police spokesperson Emidio Mabunda said today.
The remaining 53 horns were still under guard. Police had not managed to recover the 12 that were stolen, he said.
Mabunda, spokesperson for the Maputo Provincial Command, said 340 ivory tusks seized during a raid on Chinese nationals living in Matola last week were also still under guard in Maputo.
After discovering the theft of the 12 rhino horns, police found two replicas that were being produced to replace the original horns, he said.
Six people were arrested yesterday in connection with the theft of the horns, and were due to be charged today. Four were security staff entrusted with looking after the confiscated goods and two were civilians producing replicas.
"We are still looking for two more individuals involved in making replicas," he said. "They were using bull horns to replace the rhino horns."
Mabunda would not comment on reports that Chinese citizens arrested as a result of the raid in Matola on 22 May had been released by the public prosecutor.
At least one Chinese national was arrested in a residential district in Tchumene after the seizure of the 65 rhino horns and 340 ivory tusks.