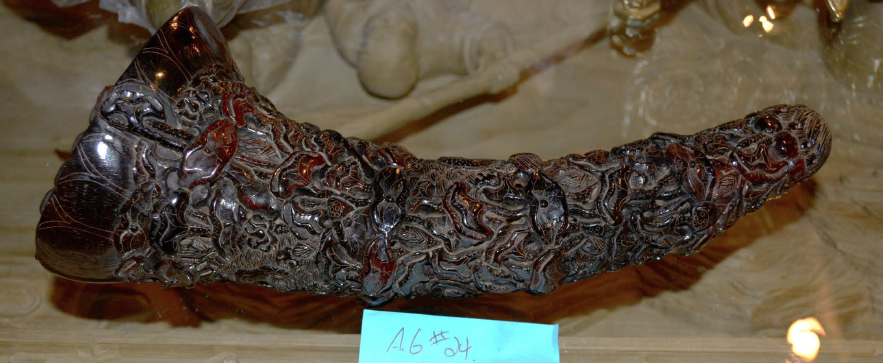 26 Mar

US-Canada antiques link in trafficking scam
In the latest abuse of antiques exemptions, a Canadian dealer has been jailed for smuggling rhino horns, ivory and coral across the border
Xiao Ju Guan, aka "Tony" Guan (39), was sentenced in a Washington federal court on March 25 to 30 months in prison for smuggling rhino horns, ivory and coral from the United States to Canada.
In addition to the prison term, US District Judge Laura Taylor Swain ordered Guan to forfeit wildlife items found during a search of his Canadian antiques business in Richmond, British Columbia.
Calling it "a very serious offence", Judge Swain said Guan "helped to feed a hot market for these goods" and his conduct "feeds demand for the slaughter of rare and already endangered species".
Guan was arrested in March 2014, as part of "Operation Crash," a nationwide crackdown in the US on illegal trafficking in rhino horns. Rhino horn smugglers in the US try to take advantage of an exception that allows for trade in antique wildlife artifacts that are over 100 years old.
According to court papers, Guan smuggled horns as well as items carved from ivory and coral from auction houses in the US to Canada.
Guan was the president and owner of Bao Antiques based in Richmond, British Columbia. He was arrested after flying from Vancouver, Canada, to New York City and buying two endangered black rhino horns from undercover special agents with the US Fish and Wildlife Service at a storage facility in the Bronx, New York.
After buying the horns, Guan had the undercover agents drive him and a female accomplice acting as his interpreter to a nearby express mail store, where he mailed the horns to an address in Point Roberts, Washington, less than 2km from the Canadian border and about 30km from his business.
Guan falsely labelled the box of horns as containing "handicrafts". He indicated that he had people who could drive the horns across the border and that he had done so many times before.
Canadian authorities who searched his antique business in Richmond seized various wildlife objects, nine of which had been bought in the US via a New York City-based internet auction business.
These items, made from ivory and coral, were smuggled out of the US and into Canada. Some were shipped directly to Canada and others were sent, at Guan's direction, to addresses near the US-Canadian border in Point Roberts.
Evidence showed Guan also recruited college-age family members and acquaintances to assist him with smuggling the wildlife items.
During the search of Guan's business, Canadian law enforcement also discovered illegal narcotics, including approximately 50 000 ecstasy pills.
"Wildlife smuggling is a transnational crime that knows no borders and requires an international response," said assistant attorney general John C Cruden, of the US Department of Justice's environment and natural resources division.
"Cooperation between the US and Canadian law enforcement was crucial to cracking this case. International law enforcement collaboration is essential if we are to prevent elephant and rhino species from being extinguished in our own lifetime."