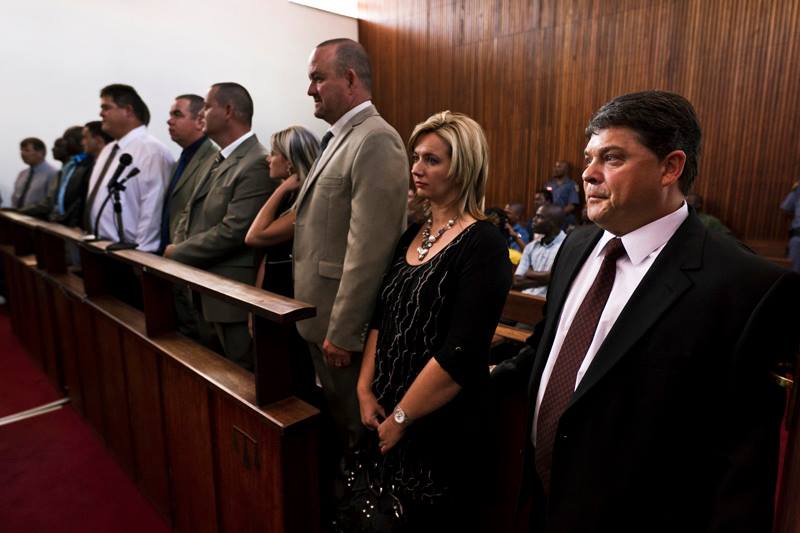 18 Jul

Cases on the court roll
On the eve of his departure from the Police Ministry, Nathi Mthethwa released to Oxpeckers consolidated data on court cases involving alleged rhino poachers
As the interactive map at oxpeckers.org shows, at least 1 164 arrests have been officially documented in South Africa in connection with rhino poaching since 2010.
How does this figure translate into prosecution and conviction rates?
South Africa's conviction rates for rhino crimes remain deplorably low across the board – consistently less than five percent and even as low as 2.6% in 2010.
Reporters for the Oxpeckers Centre for Investigative Environmental Journalism have recorded rising despondency among conservationists and informants about the seeming failure of the South African police and justice systems to crack down on rhino poachers. This is often due to the fragmented nature of feedback on isolated arrests.
Mapping justice
On the eve of his departure from the Police Ministry, then minister Nathi Mthethwa released to Oxpeckers consolidated data on court cases involving alleged rhino poachers in South Africa.
Oxpeckers had requested the data on poaching arrests and prosecutions since 2010, when the current rhino poaching crisis really took off in South Africa.
Oxpeckers believes that charting police action over the years and tracking it to its conclusion in the justice system, where possible, will provide the public with a clearer picture of police interventions.
The Centre has captured the data in an easy-to-access geo-narrative format. Just click on the icons on the map above to find out about the cases.
Information available includes case numbers, place and date of arrest, court station, charges, status of the case, prosecutor and defence representatives, and whether the Asset Forfeiture Unit has been called in.
Keeping track
When the data was released in May 2014, we were provided with the following summary:
LIST OF CASES REGARDING RHINO POACHING CURRENTLY ON THE COURT ROLL:
SUMMARY:
Total cases on the roll: 91
Number of accused involved in all cases on the roll: 237
Number of accused in custody: 109
Number of accused on bail: 87
Number of accused on warning: 1
Number of accused of which bail status is unknown: 33
Number of cases on appeal iro bail: 0
Number of accused on the roll which are foreign nationalities: 45 accused
• Mozambican: 31 accused
• Vietnamese: 3 accused
• Chinese: 2 accused
• Thai: 0 accused
• Zimbabwean: 8 accused
• Congolese: 0 accused
Oxpeckers plans to keep track of these court cases, and to share relevant documents where possible. We welcome input from concerned citizens keeping an eye on #rhino poaching prosecutions.