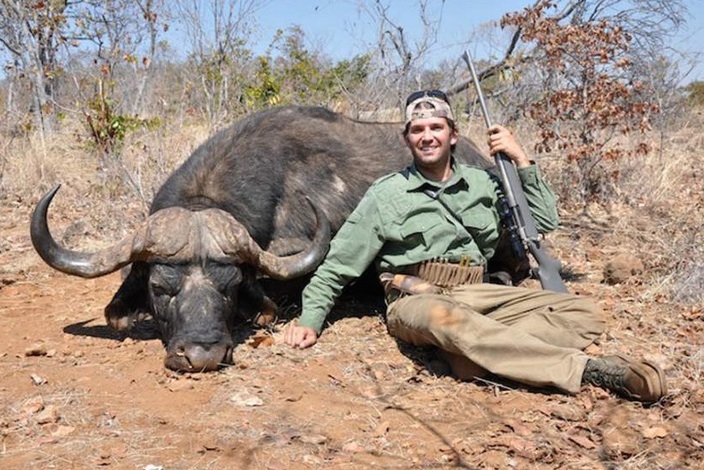 02 Oct

A profile of driven hunt(er)s
Following up on global outrage about the recent indiscriminate killing of wildlife by European hunters during the Alldays 'driven hunt', Gareth Patterson investigated past and present recreational hunting of African wildlife by 'notable' people
The "driven hunt" in early September involving well-heeled Dutch and Belgian tourist hunters shooting scores of wild animals, many of them pregnant females, on game farms in Alldays, Limpopo, added to South Africa's reputation as an unethical hunting destination.
"Driven hunting", which sees beaters chasing wildlife into a specially cleared area to be shot, was a comparatively new form of hunting to the majority of people worldwide who reacted to the killing of close to 100 wild animals at Alldays. But this kind of European hunting has deep roots in South Africa, dating back more than 150 years.
The largest one-day driven hunt in the history of Africa took place on April 24 1860 near the capital of the then Orange Free State, in the newly declared Boer Republic. The huge hunt had been arranged to celebrate a visit by Prince Alfred, the 16-year-old second son of Queen Victoria.
Some 1 000 beaters were used, several of whom were trampled to death by panicking animals, and by the time the last shot had been fired more than 5 000 wild animals had been killed.
Major General JJ Bisset, a member of the royal hunt party, recorded: "… the Prince fired as fast as guns could be handed to him… it became very exciting to see great beasts larger than horse, rolling over from right to left, shot not less than ten paces from you… His Royal Highness… was red up to shoulders…"
Fifty years later, ex-US president Theodore Roosevelt and his son, Kermit, arrived in Nairobi, Kenya, in 1909 and mounted one of the largest hunting safaris. Between the two of them, they killed 512 animals of more than 80 species, including 17 lions, 11 elephants, 20 rhinos and 10 buffalos.
Roosevelt wrote a book about his hunting exploits in Africa, titled African Game Trails, in which he described the shooting of a lioness with cubs: "She at once performed a series of extraordinary antics, tumbling about on her head, just as if she were throwing somersaults."
The Duke and Duchess of York, later King George VI and Queen Elizabeth, went on a hunting safari in Kenya in 1925. Photographs show the future king posing between the tusks of an elephant he shot, while another photograph shows the royal couple posing beside a dead black rhino.
One of the earliest Kenyan professional hunters taking clients on hunting safaris was JA Hunter. On his first safaris he witnessed the phenomenon of what became known as "American trigger itch" as his clients shot their rifles until eventually they were too hot to handle.
Today, aside from the foreign hunters coming to South Africa to engage in driven and canned hunts, the country is well known for its own home-bred recreational hunters.
The former apartheid government had a cabinet virtually full of hunters. Former state presidents PW Botha, FW de Klerk, defence minister General Magnus Malan, and foreign affairs Minister Pik Botha, to name a few, all hunted for sport.
The apartheid government would regularly hold bosberade (bush meetings) on favoured businessmen's private hunting farms along the Limpopo valley, the border with Botswana.
Investigative journalist and author De Wet Potgieter stumbled across one of these high-level meeting places, describing it as follows:
"I arrived barely an hour after a group of generals, including then chief of the army, Lieutenant-General Kat Liebenberg, had left the game farm early one Monday morning to report for duty in Pretoria. Blood stains showed clearly where hunted buck had been butchered and ashes from the camp fire were still smoldering.
"The hunting party had been housed in military tents where empty brandy bottles and glasses still lay on the tables. Sleeping bags on the beds had obviously been hastily kicked aside and the smell of cheap perfume hung heavily in the air."
Professor Chris Barnard
One of the most infamous hunts involving South Africans took place in Botswana on June 24 1984. George van Wyk, a wealthy Cape sheep farmer, conceived the idea of producing a documentary to promote the image of hunting. Joining Van Wyk, his group of friends, the film crew and the hunting outfitter, Vira Safaris, was world-renowned heart surgeon Professor Chris Barnard, who was to do the commentary and to supply celebrity status for the film.
As Barnard flew in with one of the hunters to join the rest of the party at the campsite, two lionesses and three cubs were spotted from the air. That morning the entire hunting party, the film crew and trackers drove out in search of the lions.
The hunters first came across a honey badger, an animal known for its courage and tenacity. Dogs were set upon the honey badger. It defended itself ferociously and managed to escape.
Later the hunters came across a brown hyena, which was hit several times by the vehicles as the hunters attempted to lasso it. When it was finally lassoed, it was run over by one of the drivers.
When the lionesses and the cubs were found, two of the hunters jumped out of a vehicle to provoke them to charge for the cameras. One lioness was run over and terribly injured, and was shot dead by Barnard. The second lioness was shot, wounded, further provoked, and finally was shot fatally.
The cubs were then chased, lassoed and dragged on to the bumper of one of the vehicles. Beer was poured over them, and then they were released. As the cubs were only about four or five months old, they would have died a lingering death, too young to fend for themselves.
That evening Barnard told Van Wyk that the film they were making should be made into an anti-hunting documentary, and he flew out several days later.
On his return to Cape Town he wrote scathingly in his regular Rand Daily Mail column about what he had witnessed, using terms such as "open warfare" and "mechanised slaughter". "… I was no longer interested in a film on hunting. Any such film would have to concentrate on conservation only, and any shooting to be done would be done by camera."
Later, the full horror of what had been going on broke in the media due to the courage of Carol Hancock, a sound operator who had been part of the film crew on the hunts. She backed up her media statements with her photographs of the atrocities that had taken place.

In recent years, trophy hunting in Africa by wealthy American and European hunters has come under fire by the global public, mainly due to greater public scrutiny via social networks. Storms of public reaction have followed:
• Photographs of Donald Trump Jr and Eric Trump, sons of US presidential hopeful Donald Trump, posing with a dead elephant, a dead leopard and other animals during a trophy hunting expedition in Zimbabwe.
• Spanish King Juan Carlos's trophy hunting safari in Botswana, at the time of Spain's most recession-hit depths. Soon after, the king publicly apologised, but he was still removed from his position of honorary president of WWF-Spain. His safari only became public because he had a fall and broke his hip during the trip, and had to be emergency airlifted back to Spain for urgent treatment.
• Photographs of international cricketer Glen McGrath posing with his trophy-hunted Zimbabwe animals, including two hyenas. McGrath, like King Juan, publicly apologised for his actions, saying the safari "… was licensed and legal, but in hindsight was highly inappropriate. I deeply regret being involved."
Director of the US Fish and Wildlife Services (USFWS), Dan Ashe, a self-professed hunter, recently earned public criticism when he wrote on his blog, Directors Corner, about the lion and trophy hunting industry:
"Lions are not in trouble because of responsible sport hunting. In fact, evidence shows that scientifically sound conservation programs that include limited, well-managed sport hunting can and do contribute to the long-term survival of the species.
"US hunters – the vast majority of whom strongly support sustainable game management – make up a disproportionately large share of foreign hunters who book trophy hunts in Africa."
Ian Giles, the US representative of Campaign Against Canned Hunting, commented on Ashe's blog:
"There is no legitimate conservation in America. If there was, it would be easy for the representatives of 300-million Americans to stop Americans killing lion every year. The only 'sustaining' is sustaining of hunter jobs in conservation departments. Please remove hunters from conservation departments like USFWS."
Renowned South African wildlife filmmaker and conservationist Dereck Joubert commented recently that the most destructive force against the dwindling African lion population is trophy hunting:
"Roughly 25% of the lions killed are from trophy hunters. I pick them (trophy hunters) first because this is something we can refrain ourselves from doing and, in a stroke, save 556 male lions of the possibly 2,500 males left."
Thousands of wealthy US and EU trophy hunters come to Africa each year to kill wildlife, but unlike the famous, the overwhelming majority of the trophy hunters remain publicly unmasked. And their victims are never known.
That is, unless you are Walter Palmer, and shoot a famous lion called Cecil.
Well known for his work on the African lion, Gareth Patterson is an environmentalist, independent wildlife researcher, public speaker and author. His latest book is titled My Lion's Heart. See www.garethpatterson.com