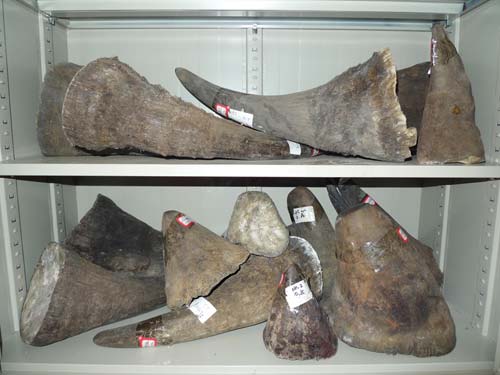 03 Oct

China's growing appetite for rhino horn

Experts warn that China is steadily becoming more prominent as a destination for illegal rhino horn shipments from Southern Africa. Hongqiao Liu reports


Given China's historical tradition of using rhino horn for medicinal purposes, the huge number of potential consumers and their growing purchasing power, the predicted growth in illicit trafficking of horns could be a disaster for South Africa's remaining rhino populations.

China accounted for nearly 80% of the reported seizures of illegal rhino horns in Asia between 2009 and late last year, despite the fact that the Chinese government had banned illicit trade in horns in early 1993.

"The rhino horn trade in China is more active than previously recognised and needs to be assessed more deeply, " said the international wildlife trade monitoring organisation Traffic earlier this year.

Recent research by Traffic and WWF-SA indicates that Vietnam is emerging as one of the major drivers behind rhino horn trafficking. However, China accounted for an estimated two-thirds of the number and weight of horns seized in Asia between 2009 and September 2012, according to figures collated by Traffic.

Thirty seizures of 67 rhino horns weighing 151.93 kilograms were documented in China, including Hong Kong. Over the same period only six seizures were recorded in Vietnam, involving 27 rhino horns weighing 70.86 kilograms.

Hong Kong has emerged as a major conduit in the rhino horn trade to China. In November 2011, a new record was set when customs seized 33 rhino horns and a large amount of ivory chopsticks and bracelets in a ship from Cape Town. Although the customs authorities refused to disclose the final destination, Tom Milliken, a rhino specialist at Traffic, said the rhino horns were most likely bound for Guangzhou province in China.

The smuggling link between Vietnam and China has been evaluated by Traffic, which found "very little evidence suggesting that rhino horns are moving from Vietnam to China: only two seizures involving three horns have been documented to September 2012".

The second instance saw only one rhino horn seized, but it also involved one of the largest consignments of ivory ever seized in China – 707 elephant tusks and 32 ivory bracelets, weighing a total 2 237kg. Smugglers of ivory often use the same pipelines for trafficking in rhino horn, according to Wan Ziming, China's national coordinator of enforcement for the Convention of International Trade in Endangered Species.

And the biggest rhino horn seizure in mainland China, which happened in January 2013, tells a different story. Three suspects, including a Vietnamese national, were caught smuggling 14 rhino horns from Vietnam to China, along with 55.53kg of ivory, a tiger skin and a tiger skeleton.
The trafficking routes
The trafficking routes of rhino horns seized on their way into China vary in every case. Poached in Southern Africa, the rhino horns may be shipped in cargo holds from Cape Town or Maputo. They may also be transported to other African countries like Nigeria first and then shipped among timber or best online casino agricultural products to China. In other cases horns have been mailed or shipped to North America or Europe, and then flown on to China.
"Mailing and cargo holds are the two main channels for rhino horn smuggling into China. The horns can also be transferred among large amounts of ivory," said Wan.
Traffic cites a case involving a Thai national who confessed to smuggling a total of 300kg of rhino horn on 15 occasions through the OR Tambo international airport in Johannesburg, usually using Thai International Airlines. The horns were packed in personal check-in baggage, which was reportedly routed to Bangkok, then on to the Laos, and finally to China.
In Southeast Asia, cross-border smuggling of horns from Myanmar and Vietnam into China has also been recorded.
Chinese smuggling groups have been caught using the United States as a trafficking pipeline. In February 2012, for instance, police arrested a group of seven alleged smugglers at Los Angeles airport. The leader was a Chinese national named Jin ZhaoFeng, who faces charges of attempting to smuggle 12 rhino horns to China.
In February 2013, two Chinese nationals named Li ZhiFei and Wei Shusen as well as an American Chinese named Wang Qing were accused of smuggling rhino horn from the US to Hong Kong and mainland China. Li ZhiFei stands accused of smuggling 20 rhino horns during 2011 and 2012.
Wan said there had been seizures of smuggled rhino horn in China every year since the government officially banned the trade in 1993. He had not noticed a significant increase in seizures over the years. However, "the number of rhino horns seized in all these cases is not proportional to the number of rhinos poached in South Africa", he said.
Wan pointed out that officials in China scan all mailed packages, bulk cargo and shipping containers coming into the country. The Chinese government had signed a cooperation agreement with South Africa to stamp out rhino poaching and the demand for horns in March 2013, and was cooperating with other Southeast Asian countries in joint law enforcement activities against the illegal wildlife trade, he said.
This investigation by the Oxpeckers Centre for Investigative Environmental Journalists was supported by the Forum for African Investigative Reporters and the Wits China-Africa Reporting Project